The same way gathering cassettes is no longer a thing, so is calling a pile of CDs our music library, this is one of the reasons why having a digital music library is valuable. We can find it hard to keep track of the various available audio contents that come our way with formats having different features when it comes to quality, compatibility, size, and other features.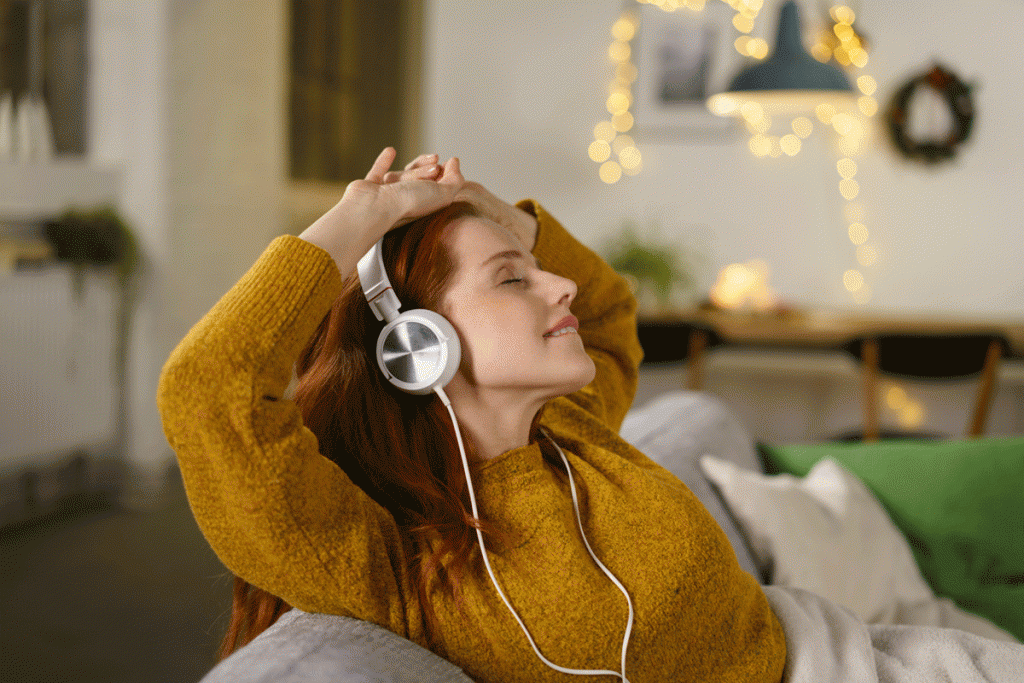 There are some popular formats like MP3, WMA, WAV and other esoteric formats such as FLAC or OGG and a lot more, but one general problem that occurs with audio files is that they are sometimes unsupported by some players or devices.
Some other times we would prefer to control the formats and quality of the audio files we play them on our desktop, tablets or smartphones, this is where conversion of a media format becomes important, and this can be carried out by the audio converter software.
We have tested the ability of a few audio converters with their conversion speeds, ease of use, the file formats they support and their extra features. Now so that you can make your choice of audio converter, we would give you a report on how each software has performed.
---
10 Best Audio Converter for Windows
1. All2MP3 for Windows (Recommended)
All2MP3 for Windows is tagged as the best audio converter software you can find for windows also handle a wide variety of more than 50 audio formats from MP3, M4A, AAC, WMA, FLAC, even high-quality WAV files and a lot more.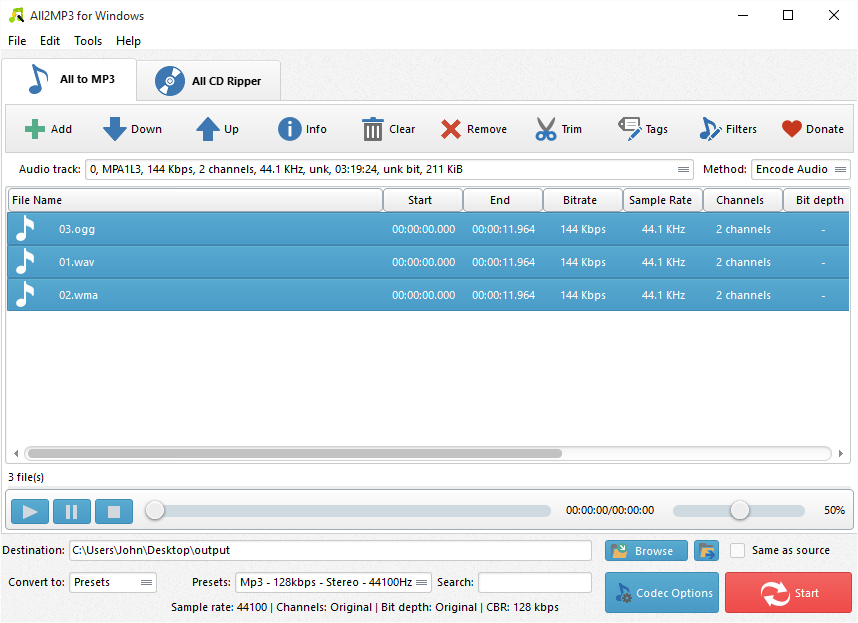 One of the several functions of the All2MP3 of windows audio converter is extracting MP3 files from over 300 video format for playbacks, CD burning, embedding, online posting or further editing.
The program can easily convert files in batches, and also allow you to change the output quality to match your requirements. Also, the best part of this software is that it is absolutely free, just a download and start converting.
Pros
Fastest converter for bulky conversions
Supports over 350 formats
Absolutely free
Edit and enhance audios
Cons
It cannot record streaming videos
---
2. Switch
Switch is another fast converter, especially when it comes to converting large WAV files to MP3 files. The program has a batch converter feature that can handle thousands of data in a queue for conversions when you cannot monitor them.
Switch converter can accept about 40 formats as input and can export 26 audio formats for both Windows and Mac operating system. They also extract audio from some popular DVD formats like AVI, MPEG and MOV.
Pros
Supports several formats
Fast conversion
Record streaming audios
Cons
Interface looks outdated
It cannot record streaming videos
Expensive program
---
3. Freemake Audio Converter
Freemake Audio Converter is a popular free software, probably the easiest audio converter you would come across, all you have to do select the file you want to convert, the output format and then click the proceed button.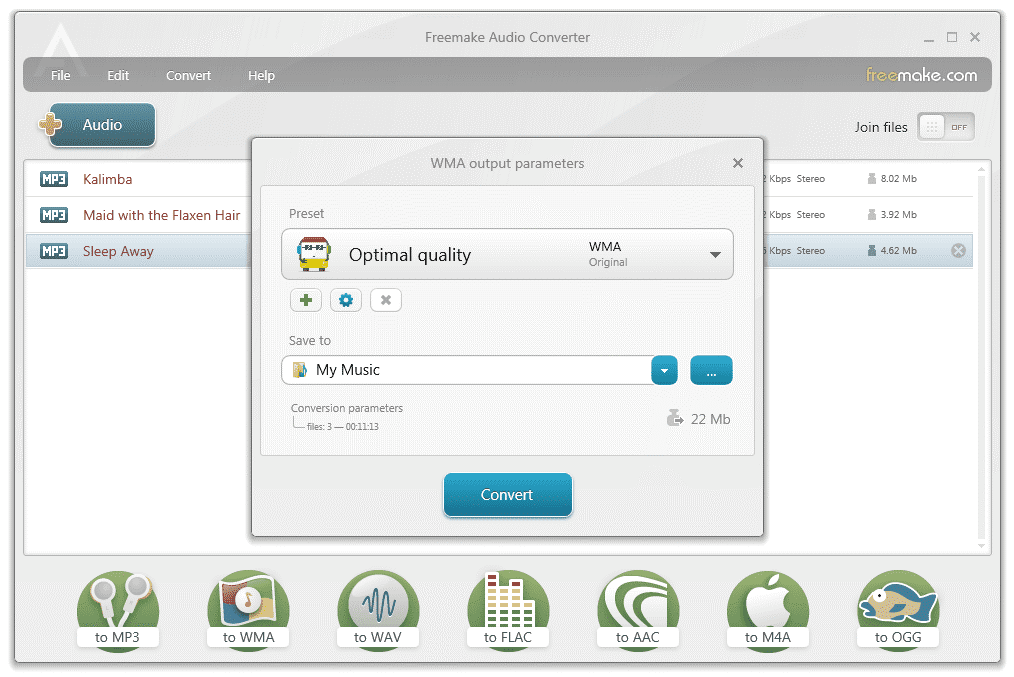 Even though it is a free app, it can import over 50 file formats with eight output formats including MP3, ACC, OGG, FLAC and a few others. The flaw you can find with this software is that it does not feature batch-convert feature which may not be a problem if you are converting only a few files.
Pros
Absolutely free
User-friendly interface
Imports various audio formats
Cons
Slow conversion
Extra programs installed during setup
It cannot record or stream audio or video
---
4. Audials Tunebite Platinum
Although Audials Tunebite Platinum is the best audio converter/recorder when it comes to recording streaming services. Compared to other audio converter software, it is the most expensive. Apart from audio streaming, you can organize your music by song title and artist with this app and extract audios from video files.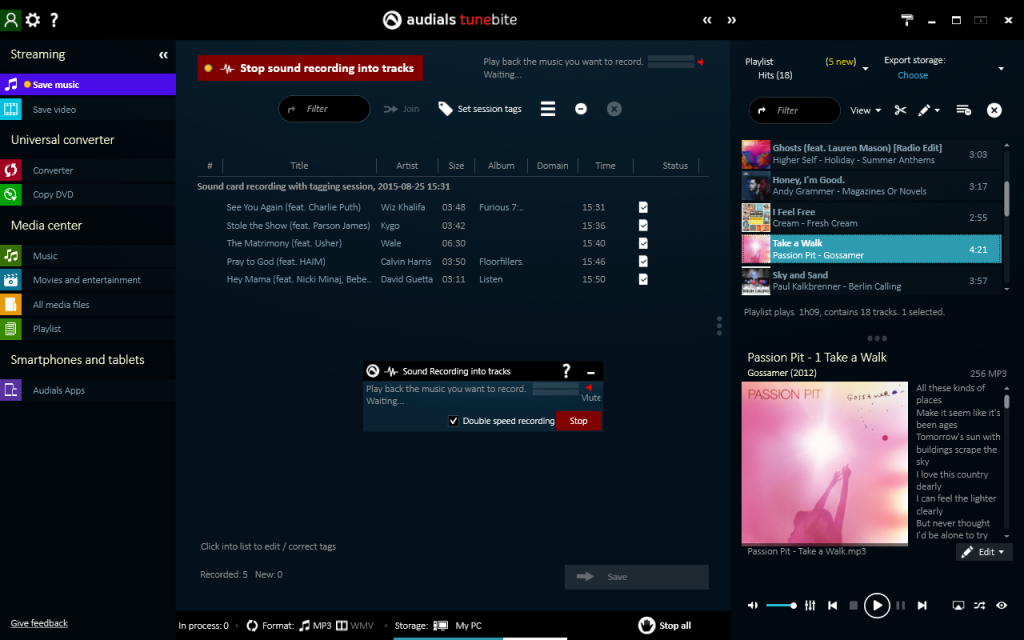 The program supports converting over 40 formats and exports in 11 formats, which covers most of the major file types. It works solely on windows operating systems.
Pros
Records audio and video from several streaming services
Supports various import and export formats
Fast and organized conversion
Cons
Not compatible with Mac
Expensive
The user interface is intimidating.
---
5. Xilisoft Audio Converter
Xilisoft has been identified as the most user-friendly audio converter software with the intuitive layout. It is simple and straightforward allowing you to import your file, and export them in all the popular audio formats.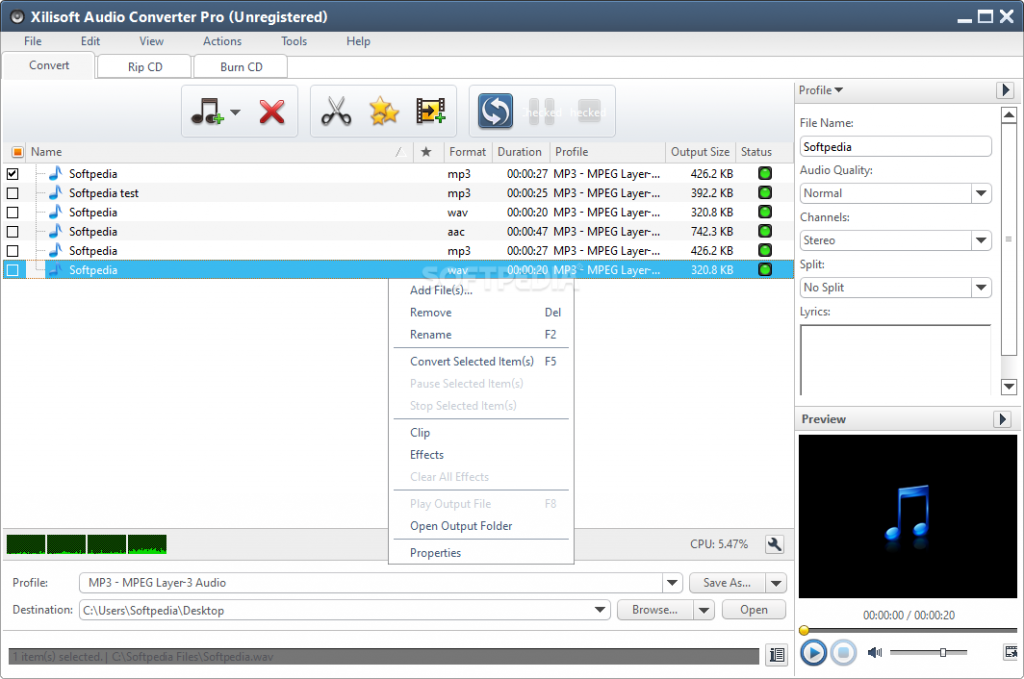 The program allows you to convert a batch of files with one click, extracts audio from various wide ranges of video files, including MP4, MPEG, and WMV, where you can add effects to them. The downside of this application is the speed of conversion and extraction that seem so slow which may make it a challenge to convert multiple large files at once.
Pros
Intuitive interface
Supports several file formats
Extracts audio from video files.
Cons
The conversion process is slow.
Download Xilisoft Audio Converter
---
6. MediaHuman Audio Converter
For a simple windows application with no complications like advanced options or puzzling interface, the MediaHuman is an excellent choice. The conversion process is straightforward, all you do is click and drag the audio file, release it in the software, select your output format and convert.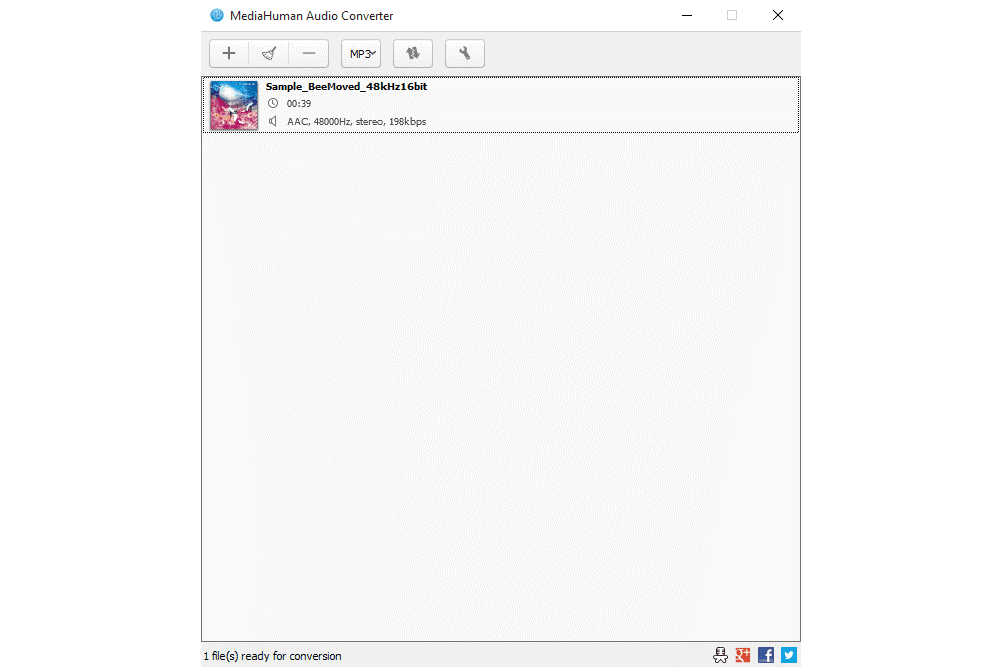 It works on all windows and Mac operating systems and supports a large number of input and output formats. You can customize a few settings like the default output folder
Pros
Intuitive interface
Supports several file formats
Auto-imports songs into iTunes after conversion
Cons
---
7. Hamster Free Audio Converter
For a free audio converter with a simple interface, that can import and export over 11 audio formats, Hamster free audio converter is a great choice. The windows software converts media and can also merge files into one.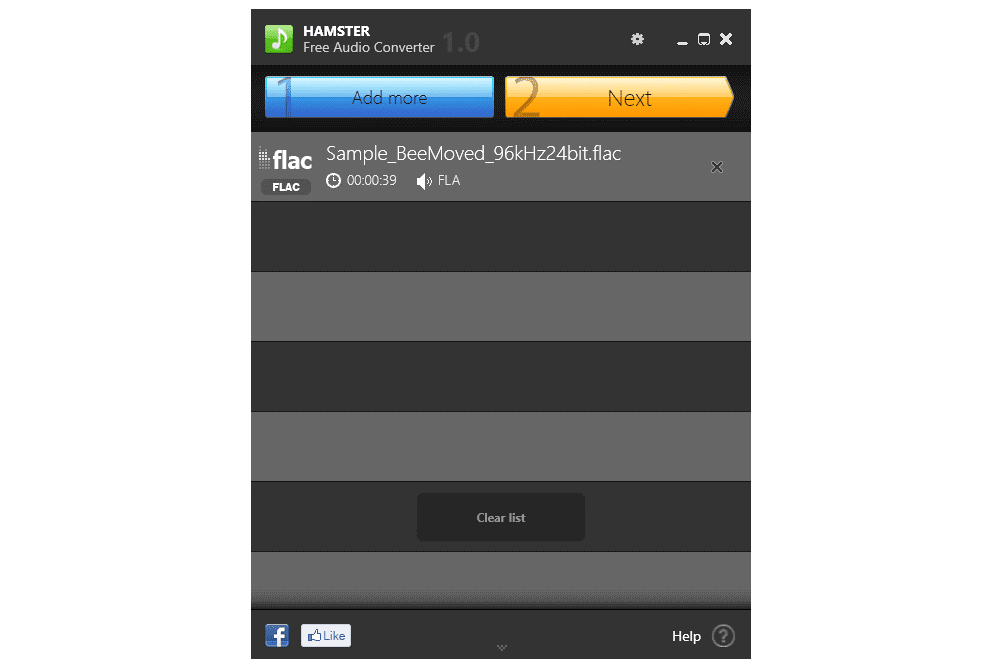 The application is made to be super easy to use where you would select the format that is compatible with your device and the location where you want to save your audio.
 Pros
Easy to use
Convert audio files in bulk
Merges multiple audio files
Cons
It supports only Windows 7 and older versions.
No selection of default location to save converted files.
---
8. VSCD Free Audio Converter
The interface of VSDC Free Audio Converter is uncomplicated with unnecessary buttons like some other converters making the software easy to use. The working process is merely loading up your audio files or the whole folder you need to be converted; you can even convert using the URL for an online record and click on start conversion.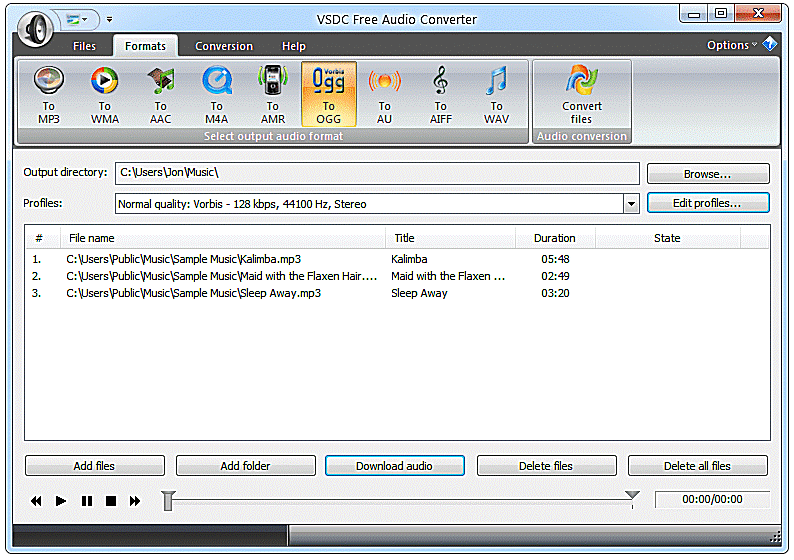 While you are setting up this program, there is a possibility it would attempt to install some unnecessary programs. Regardless, it is a fast converter that allows you to pick from 8 export formats, select the frequency, quality, and bitrate of your output file.
Pros
Fast converter
Supports editing file information
Enough advance options to tweak
Cons
Attempt to install unnecessary files during setup.
---
9. Free Studio
The first thing to know about this software is that is entirely free. Free Studio supports multiple media formats and has a simple and straightforward process. A top attraction of this software is that it uses lame encoder presets to create superior MP3 sound.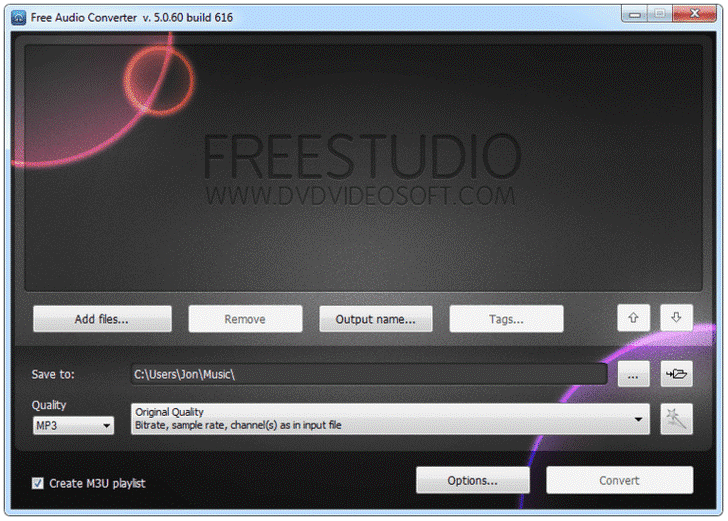 The program is a full studio, so you have to specify the task you want to carry out by navigating through the main menu, clicking on "audio conversion," and it begins to convert. It allows extraction from YouTube, CDS and some video formats.
Pros
Fast converter
Supports audio extraction from videos
Uses lame encoder presets
Cons
---
10.Total Audio Converter
If not for any other reason, just because it supports the rarest of file formats, it is qualified to be one of the best audio converters. Total Audio Converter handles files like OPUS, MPC, MP4, MP3, WAV, WMA, FLAC, and more than 20 more formats.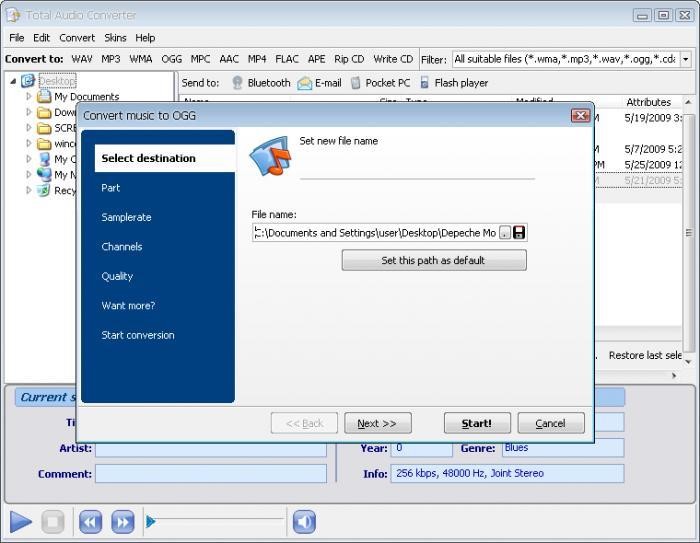 Total Audio Converter has been used by millions over the last ten years to rip audios from YouTube videos and CDs and export in your selected output format.
Pros
Easy to use
Supports some rare formats
Cons
Download Total Audio Converter
---
Download the Best Free Audio Converter for Windows!
All2MP3 for Windows is the best free audio converter for Windows which can handle audio conversion as well as other audio processing work for free. It does not limit you in any way while many other free audio converters do. It can batch convert audio files in almost all available formats around and in 3 steps, you can get the audio converted to the target format with the most satisfying quality.