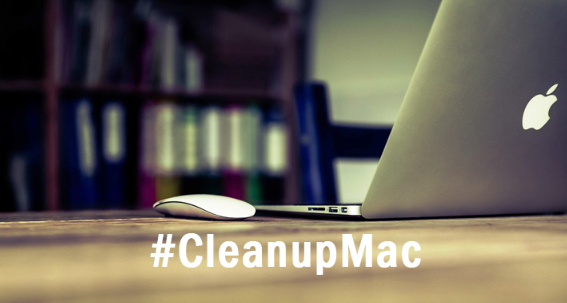 Does your Mac need cleanup? Do you ever feel that it is running slower and slower? How can you live with that if you are a heavy Mac user? Many of us may even rely on Macs to do the designing job so their Macs must in tip-top shape all the time. This post is going to show you some tips on how to clean up mac and get some space spared from your hard drive.
---
Best Ways to Clean up Mac to Make It Faster
1. Optimize Storage
For macOS Sierra users, it will be effortless to clean up their Macs because the feature called "Optimize Storage" can do a lot. It can be used to auto-empty the trash, reduce cluttering due to huge files & downloads, etc. If you are using a Mac laptop with flash storage, Optimize Storage is handy because you won't get as much space on a flash drive as on a hard drive.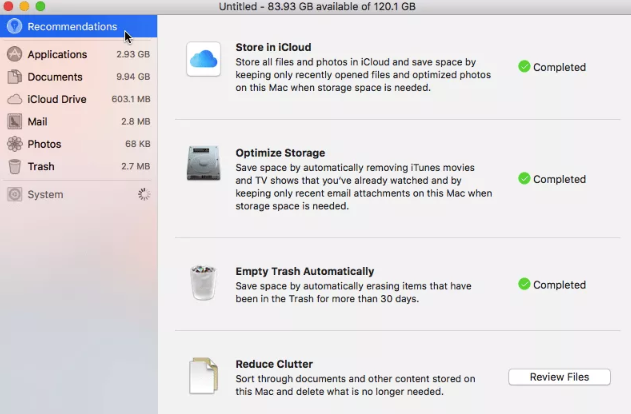 ---
2. Keep Your Desktop Clean
It's a good habit to keep your desktop clean and organized. If you put hundreds of photos on your desktop, it could take you ridiculously long time to use the Finder. If you find it hard to get the desktop cleaned without any help, you can also turn to some Mac desktop cleanup utilities for help.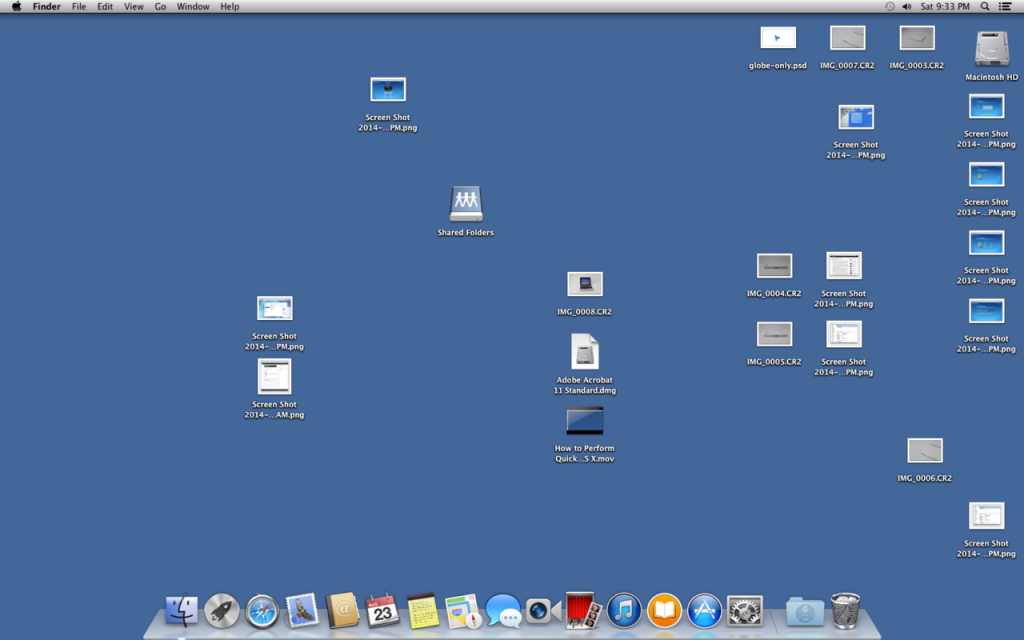 ---
3. Delete Extra Disk Images
Go to the Finder and search "disc image" in the "Downloads" search bar. Then, choose "Disk Image" under "Kinds" header and delete all downloaded DMG files that are occupying your space for nothing.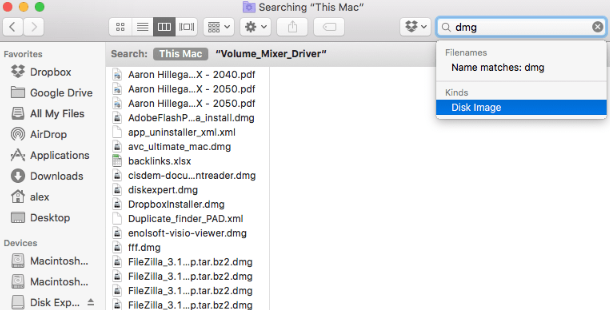 ---
4. Empty Local Mail Files
If you have a large number of emails that come with various types of heavy-sized attachments like video, audio, PDFs, photos/images, Office documentation, etc., chances are they are taking up much of your storage because you have, intentionally or not, double-clicked on them to download them into "Mail Downloads" folder which is hidden in "Library". So, make sure to keep the stuff you actually need and wipe others out.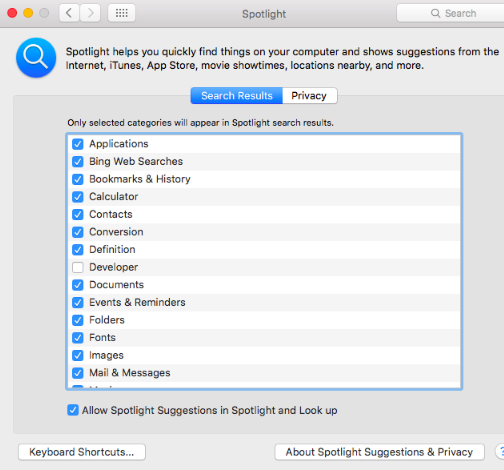 Just use the "Spotlight": press Command + Space and search "Mail Downloads" in the search field. Under the "Folder" section, you can see the folder and delete the data within.
---
5. Keep a Clean Cache
Caches can be handy to allow quick access to a website and other details. However, caches can also cause corruption and you may end up viewing an older version of a website without noticing. It is suggested that you use some third-party Mac cache cleaner tools to clean the caches instead of doing it manually.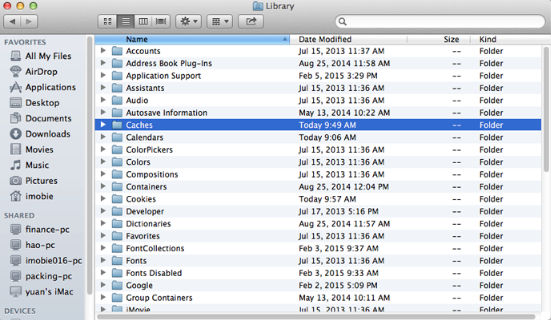 ---
6. Uninstall Unneeded Apps
You may install some apps now and then to try out new things and then forget to uninstall them. If you want your Mac run faster, you must uninstall those apps that you won't use any more. Dragging them from "Applications" to "Trash" is easy, but you must not forget the extra folders & files created by those apps outside their packages – they can be all around, scattering in your hard drives. I suggest using a third-party Mac app uninstaller tool to locate and delete these unneeded residues. Check more details on Mac app uninstallation.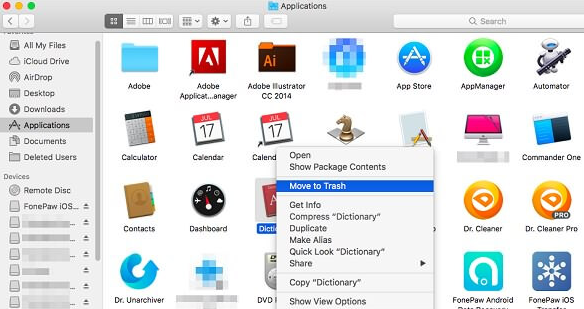 ---
7. Convert Your Music to MP3
If you have some many FLAC, ALAC & other lossless or uncompressed audio files stored on your hard drive, they can take up much space on your hard drive. But the truth is, most human ears can't tell the differences between these formats and lossy MP3. So, unless you have very picky or insist on using heavy-sized audio files for some reasons, I suggest you convert them to MP3.
All2MP3 for Mac is the right tool you need to convert audio to MP3 on Mac for free. You can easily input any lossless or uncompressed audio files to convert them to smaller MP3 files. Let's see how to convert music to MP3 on Mac: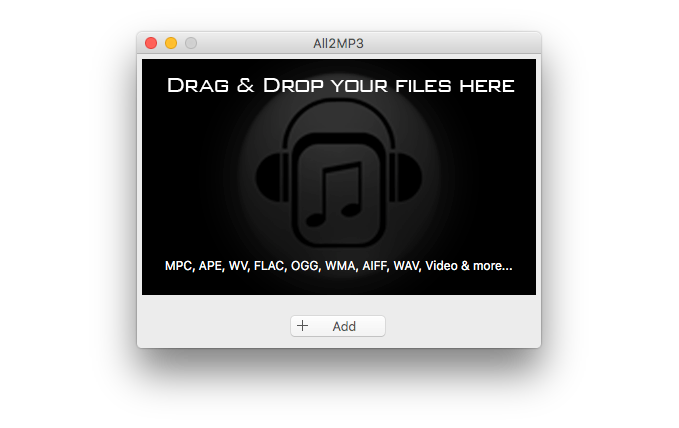 download, install & run All2MP3 for Mac.
drag the audio/music files you need to convert.
choose output quality & folder. Hit "Convert".
---
8. Clean up the Keyboard
Your keyboard may have accumulated dust, hair, grease, soda stains, etc. It may not interfere with your Mac usage & drag down the speed, but if your keyboard gets sticky or keys get stuck, it will cause many troubles to stop you from using Mac as you wish. So, a regular keyboard cleanup and disinfection is recommended. The first thing is to unplug your wired keyboard (or remove the battery of the wireless keyboard). You can blow the dust out with a can of compressed air – the cheaper way is to use a rubber dust blower too blow the dust out or, if you want to go big, use a vacuum cleaner that comes with accessories like a small duster brush to sweep and suck up all the hidden trash. To disinfect the keyboard, you can use the UV light. A waterproof keyboard or a silicone keyboard cover can save a lot of troubles.
That's all for cleaning your Mac up to get it faster. Don't forget to set a schedule to do them regularly!