An audiobook is one thing that gives you the opportunity to enjoy the joys of a good story as well as the convenience of easy listening. Whether you're traveling or having that evening stroll or cooking your favorite dish, you can do so while you listen to your favorite book. One would argue that Audiobooks lack the feel and sweet smell of a traditional book, a perfectly done voiceover does more than makeup for the lack of aesthetics. It is not only an engaging exercise but also worthwhile and convenient on the go. If you're looking to keep yourself sane and add some fun to your busy schedule then just download audiobooks and you will find that it is a good option.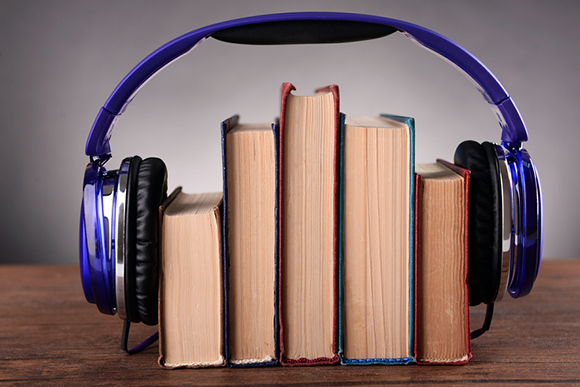 Convert Audiobooks to MP3
You may download audiobooks come in different formats, some of which may not be supported by the software that you're using. In such a case, All2MP3 for Mac is a great tool that you can use to convert audiobooks in various formats to MP3. With this tool, you can convert all music and audio files to MP3 and it is absolutely free. Download it today and enjoy the cool features that it comes with.
---
Audiobook download sites
The internet is filled with quite a number of sites that offer a nice collection of public domain audiobooks in multiple languages. The audio books can be streamed online chapter by chapter, by genre or by popularity. What's more, most books offer ratings and reviews from other listeners, therefore giving you glimpse of what to expect before you hit the play button. In this article, we have rounded up 15 best sites that provide thousands of free audiobooks, ranging from classics to new publications that cut across the demographics.
1. LibriVox
This site has a huge selection of free audio books that are recordings of individuals who have read chapters from books that are in the public domain. The unique thing about Librivox is that it relies entirely on volunteers who upload audio of themselves reading.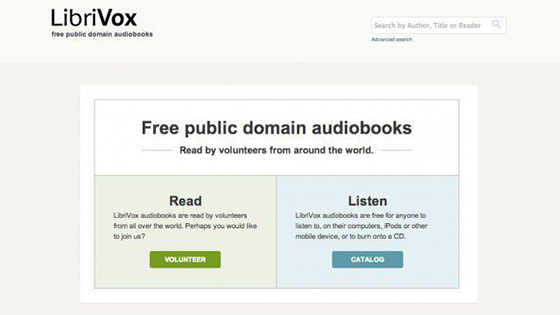 You can download audiobooks of your choice by searching by author, title, genre or language. Likewise, you can browse all the titles in the RSS feed, view only the most recent audiobooks, and subscribe to new releases as podcasts.
---
2. Audible
Audible is an Amazon-owned audiobook site that offers a 30-day free trial which means that you can download audio books of your choice for free during within this period. Audible boasts a great selection of audiobooks that are available for all mobile devices, including Android, Windows Phone, iPhone/iPod and Kindle Fire. After the 30 day trial, you can get one book each month for $14.95 /month, no matter the price of the book.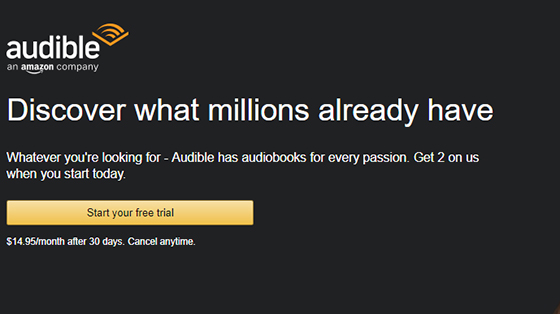 ---
3. OverDrive
We have public libraries that have a subscription to OverDrive which is a great place to download audiobooks from best-sellers. You can access these audiobooks the same way you would a library book and you can you can return at the end of the loan period. OverDrive also offers free music, movies and eBooks.

---
4. Open Culture
If you're looking for a better gateway website for educational and cultural media then Open Culture is your best option. Open Culture compiles content from around the web, with an admirable collection of audiobooks, more so the classics, that you can download audiobooks or stream over the internet. The audiobooks on this site are well organized by genre and alphabetically listed according to the author's last name.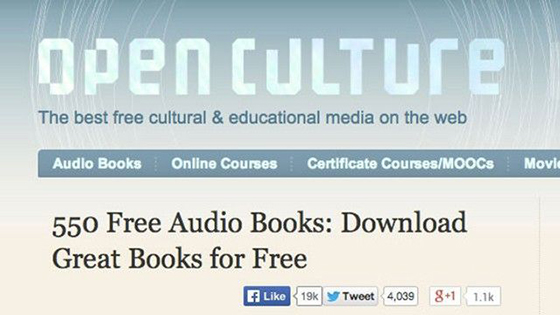 ---
5. Project Gutenberg
This site houses one of the largest and the oldest collections of audiobooks on the internet. Project Gutenberg works in conjunction with fellow pioneers such as LibriVox to break down its wide collection of books by computer-generated narrations. You can browse book lists by title, author's last name and language. You don't have to listen to Ben Carson's Gifted Hand read by an incompetent Siri knockoff.
---
6. Lit2Go
Lit2Go is one of the fine looking free source for audiobooks. This is a throwback site run Florida's Educational Technology Clearinghouse and contains an extensive collection of downloadable poems and short stories that you can browse by title, genre, author, collection and reading level. The bulk of audiobooks on this site can be downloaded as single MP3 or short segmented passages of specific chapters.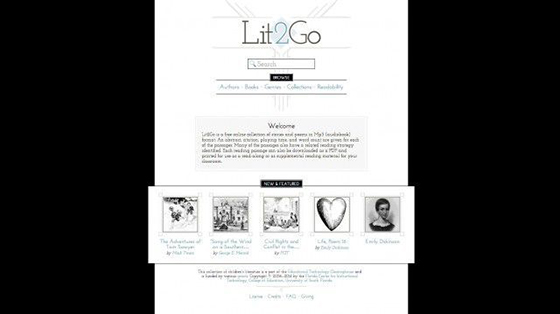 ---
7. Scribl
It was formerly known as Podiobooks. Scribl hosts some of the best, off-the-beaten-path audiobooks the web has to offer, some of which are recent publications. The books on this site are distributed via RSS so you can just click on any of the audiobook links to begin downloading or streaming the audiobook narration. The only setback is that the collection is limited. However, you can browse the book selection by the contributing author, award status, title and release date. You can also donate to your favorite author if you feel like being generous.

---
8. Free Classic AudioBooks
This is self-explanatory, it is a free site that offers recordings such as the Bible, Treasure Island and Huckleberry Finn and many more. Browsing on this site can be a bit difficult, however, if you can put up with some of the most common titles then you're good to go. All the content on this site is free and can be downloaded in multiple formats for listening on various devices. As the name suggests, it is only a good site for old publications.

---
9. Loyal Books
Formally known as Books Should Be Free, Loyal Books is a user-friendly website that serves the needs of the classic literature devotee. You'll get to enjoy a great collection of public domain short stories and novels in different languages, and in different formats. Similarly, you can stream online. Besides, there are ratings and reviews from other listeners, thus giving you a sneak peek of what to expect before playing the audiobook.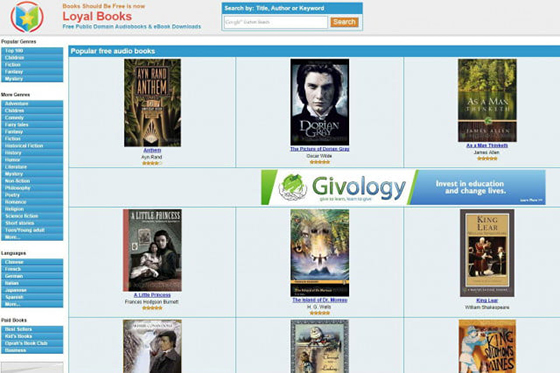 ---
10. Storynory
If you or your kids are fans of bedtime stories then Storynory is your best bet. You may want to read a bedtime story to your kid but can't find time to do so, may be due to the busy schedule, Storynory has a perfect solution for you by offering a collection of original and classic fairytales that are specifically meant for kids. Currently, the site has hundreds of audiobooks to choose from and that number keeps rising day by day as it is routinely publishing at least one new story each week.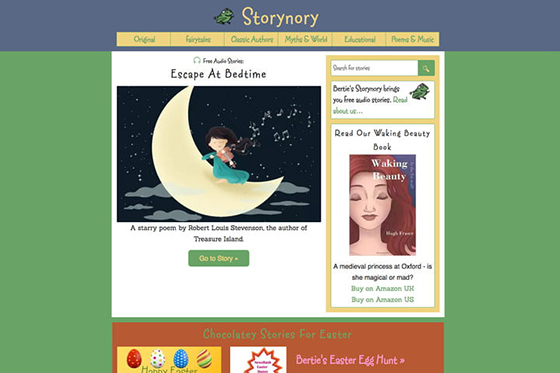 Storynory also hosts some of the best narrators around, and with each an HTML 5 player for playback purposes, you're able to listen to the audiobook of your choosing on any tablet, smartphone or browser available. Better still, Storynory runs occasional story competitions and this encourages listening and creativity among children.
---
11. Digital Book
Formally known as Librophile, is another great free site for accessing classic audiobooks. The site has a clean layout, minimalistic design with an easy to navigate bookshelf. You can browse books based on popularity, user rating and release date. If you want to listen to Joel Osteen for inspiration, you can stream chapters on the go or even download the entire book to listen offline from the comfort of your couch or in the car. Just like the aforementioned sites, Digital Book also has a search bar to help you find the audiobook you're looking for.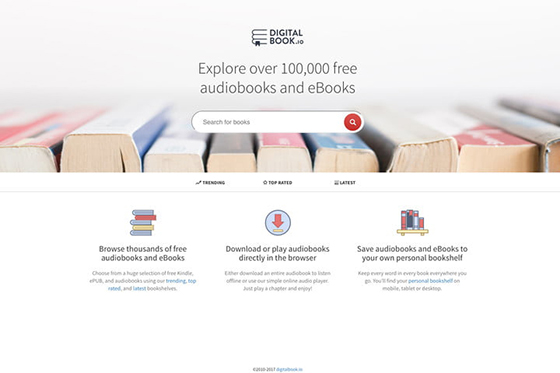 ---
12. BookRix
Unlike other sites, BookRix contains mostly new publications, so if you're looking for something new and slightly different then you can make use of this amazing site. Another good thing about this site is that offers writers to publish their work for free hence allowing a variety of both written and audio content. Also, the site touts a good collection of novels and poems. You can easily filter your search results based on genre, author, popularity and release date. On the other hand, the site has an active user community and comments section which is a great method to engage listeners.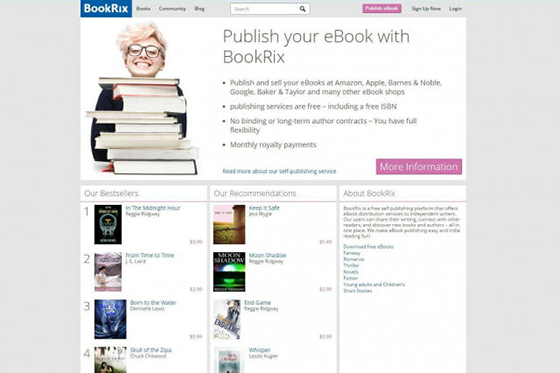 ---
13. Learn Out Loud
This is a hybrid audiobook of a kind. The site has a wide range of audiobooks, more than 30,000, however, they're not all for free. You can download audiobooks from the free the Free stuff tab. The site highlights free audiobook of the month in the left-hand column, at the same time providing a noteworthy selection of part-time foreign language courses as well as video documentaries.
---
14. Internet Archive
The Internet Archive also has an enormous collection of audiobooks that you can trudge through using keywords, subject or the search box. There are more than 15,000 audiobooks on this site. The easiest way to find your free audiobook by sorting the books by view count, which translates to popularity.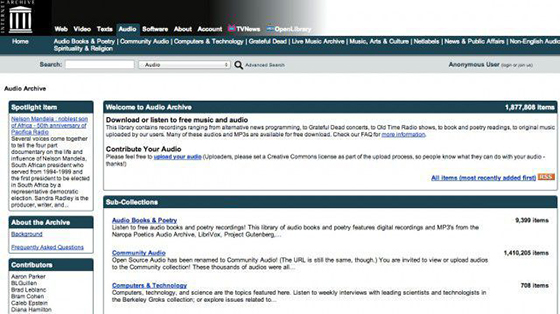 ---
15. Light Up Your Brain
Light Up Your Brain is also another great site that allows you to download audiobooks specifically made for kids. In addition to the audiobook, you're provided with a transcription of the story so you kids can read along with the video. Having a transcription is the site's asset as it comes handy for kids who are still learning how to read. Furthermore, Light Up Your Brain has some cool free games for children which are meant to challenge their mind and keep their brains active.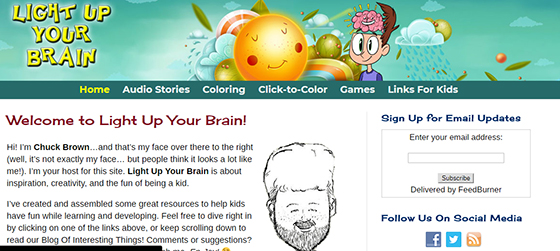 To convert downloaded audiobooks on Mac, All2MP3 for Mac can help.