Audio conversion on Mac is never a difficult task with an appropriate audio converter, but the truth is there are not much reliable audio converter software for mac out there, let alone free ones.In this post we'll introduce you the best audio converter Mac you can get for free, showing you why it's the best and how it works. Meanwhile, we'll provide some alternatives to solve your Mac audio conversion issue.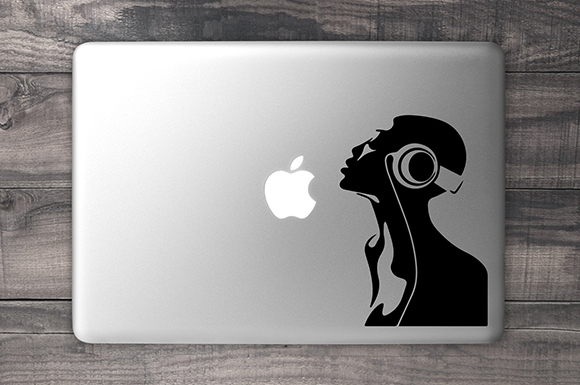 ---
All2MP3 for Mac – Best Audio Converter Mac
All2MP3 for Mac is one of the earliest Mac audio converter software, which has been released for over 10 years and keeps updating since then. With the ease of use and fast conversion, it has become now one of the most popular Mac audio conversion tools, utilized by many millions of Mac users.
---
Why All2MP3 for Mac is the Best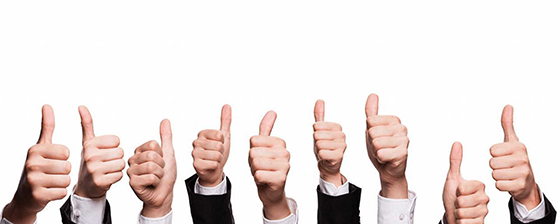 Long History and Development
Since it's born, All2MP3 for Mac has never stopped developing itself. Our technical crew spent years and years to dig deep into the up-to-date techniques and skills, seeking only to make it better. After a long time of finetuning, All2MP3 for Mac is now state-of-the-art.
Easy-to-Use Mac MP3 Converter
Unlike many other similar tools on Mac, All2MP3 for Mac is very easy to use. It enables you to drag and drop audio files so you don't have to use the traditional button to navigate to the folder that the audio files are stored. The quality control is easy to understand for inexperienced users: from 32 to 320, the higher the number is, the better the output quality is. They can just drag the slider on the bar to change the quality. Basically, the default quality works fine for most uses, which means the audio conversion is a 2-step process – drag the audio files in & click "Convert".
Ultrafast MP3 Converter for Mac
All2MP3 for Mac works very fast and can convert a 5-min song in a few seconds. It also does a great job when converting large size audio, using 1/3 less time than others to convert an audio file over 100MB.
Support Various Input Formats
What All2MP3 for Mac can do is not only convert various audio formats into MP3, but convert video to MP3. It is an audio converter/audio extractor. Audio formats like WAV, WMA, MP3, FLAC, OGG, M4A, AAC, etc. & video formats like MP4, FLV, MKV, WMV, 4K UHD, etc. are all supported. As its name stated, "ALL" to MP3.
---
How to Convert Audio to MP3 on Mac with Best Audio Converter for Mac
1.
Install and open All2MP3 for Mac on your Mac. The file uploading is quite easy. Just drag and drop the audio files to the program window. You can also use the "Add" button below to input the files in a traditional way.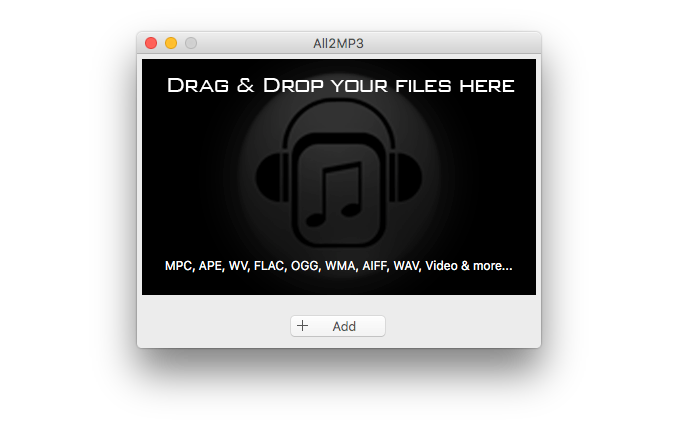 2.
Once the audio files have been added already, you will see an activated window. There you can adjust output quality, choose bitrate and output folder. Also, you can decide to get rid of the original files after conversion or not.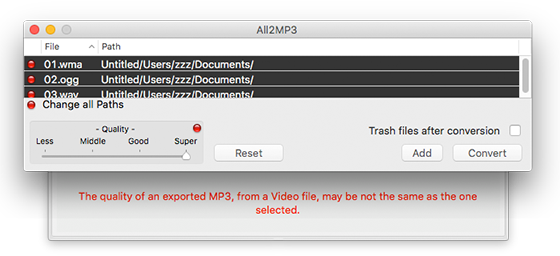 3.
Click "Convert" and the conversion process will get started immediately. Depends on how many files you convert, just wait until it's finished.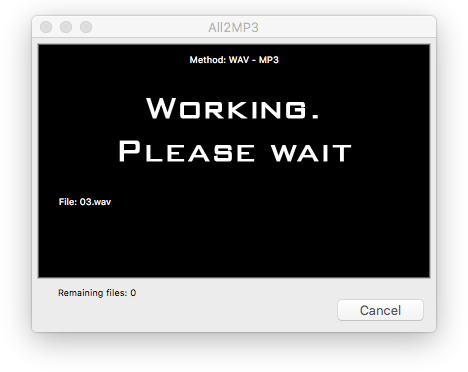 ---
Alternatives
Now we have shown you how the best audio converter Mac works to does your job. But what if you are not willing to install anything on your Mac or for some reason, you can't? Here are 2 alternatives to get what you want.
Use iTunes to Convert Audio Files
iTunes is defaultly installed on every Mac so if you don't want to install another software to convert audio files, using iTunes may be the fastest alternative, although a bit complicated.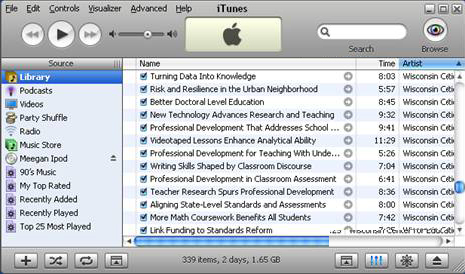 Click "General" tab, go to "Import Settings".
Click "Import Using" menu and choose the output format you want.
From your library, select the audio files that need to be converted.
Choose "File", "Convert" and then "Create [format] Version".
Not that simple for new users, right? Don't panic, let's move to alternative 2.
Use Online Audio Converter to Convert Audio Files
Online Audio Converter service is a quite efficient alternative as long as you have fast and stable internet connections and there aren't too many audio files to convert. You can find plenty of websites that can do this via Google and here is a reliable online for your convenience.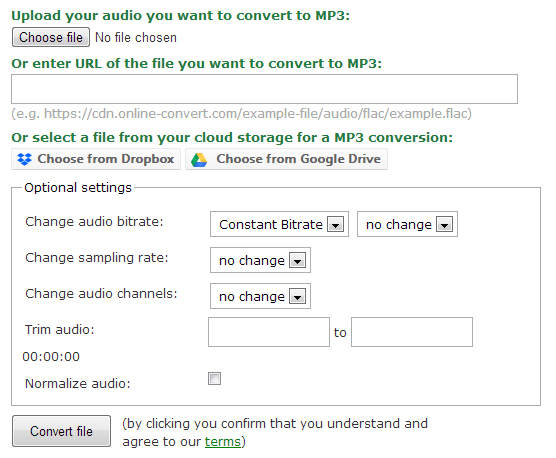 Step 1.
Go to http://audio.online-convert.com/convert-to-mp3,there are three ways for file uploading. Click "Choose file" to choose the audio files you want to convert, or you can enter the file URL directly, or select the file from cloud storage (Dropbox and Google Drive).
Step 2.
There are some optional settings for quality control. you can select audio bitrate, sampling rate and audio channels. If needed, you can trim audio directly to get the wanted part only.
Step 3.
Now, just click "Convert file" to start your conversion.
---
Conclusion
Now we've noticed that both iTunes and online audio converter services have their limits. All2MP3 for Mac is a much more reliable way, the best Audio Converter Mac, to convert audio to MP3, using much less time without the need of uploading and downloading the audio files, and most of all, it can batch convert!