There are many positives to use iTunes for playing music on Mac, but you may find a few downsides and look for the best iTunes alternatives for Mac. You might expect a faster speed when you transfer music to your Apple devices. Or just want to use more intuitive iTunes alternatives to manage your music or movie libraries. Whether you are listening to music on Mac with iTunes, or simply use it to keep your music collection synchronized with your Apple devices, we've covered the best iTunes alternatives for Mac in this article.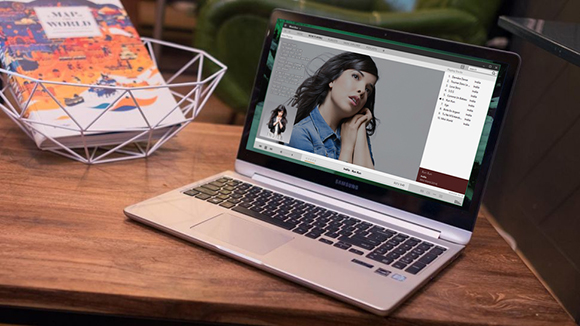 ---
Best iTunes Alternatives for Mac that You Can Choose From
Clementine: Tons of Features for Any User
Clementine is an open source cross-platform and full-featured music app that can play audio CDs and music in MP3, Vorbis, Ogg, FLAC formats and more. You can make it play music from your local library or cloud storage like Dropbox, OneDrive, Google Drive, etc. It also supports a list of Internet radio streaming services including Spotify, Grooveshark, SoundCloud, etc. With this powerful music player, you are provided with robust tagging options, album cover artwork, equalizer, lyrics and podcast services. What's more, you are allowed to create playlists by adding not only music files and folders, but also internet steams. If needed, you can use it on your iPhone, iPod and other portable devices.
---
Musique: Beautifully Simple Player
Musique is a simple music player with a library, but also really like looking at cover art, Musique is well worth a look. It creates its own library and you can see the pictures of every artist. You are allowed to browse your music collection by album or artist, or even browse by folder. It provides an information panel which shows some background info about the artist and album along with the lyrics for the current song. It's a nice package that feels native on Mac—something you can say for each option on the list. It became free recently and it subtly promotes Finetool (an ID3 tag cleaner).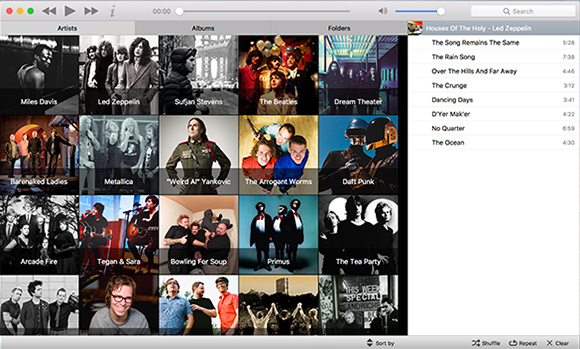 ---
Plexamp: Simple Yet Robust
Plexamp is a mini-player powered by a Plex server in the style of Winamp just as its name implies. It's not the fact that setting up Plex for a music player can be a pain. Actually, once you have Plex set up, you will access to a great player that can stream your music from wherever you want. Its interface is clean with the info of the album art for the music currently being played along with its track and artist name. If there is nothing being played, you can see some recently played artists with some recently added albums. You can set up a Plex server to use Plexamp offline. If you have an internet connection, you can save your music on a home server for accessing it anywhere.
---
Nightingale: Customizable with Tons of Features
Nightingale is an open-source music application and it is available for both Windows and Mac. It puts simplicity in the first place and that's why it is one of the best iTunes alternatives for Mac. Nightingale excels at playing music and organizing music into a library with artwork, tag editing, and many others. It can also play video files if needed. Most common audio formats are supported: MP3, FLAC, AAC, Apple Lossless, OGG Vorbis and WMA. One of its unique features is its built-in web browser which enables you to listen to something else without leaving your current music app. You can extend this tool into almost anything you want including skinning options, equalizers, file ratings, tagging, playlist and more.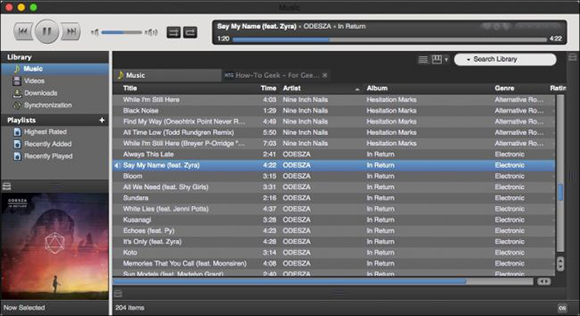 ---
VOX: Mini Player that Can Do Everything
You can find Vox on many lists of best iTunes alternatives for Mac and here you can find the reasons. Vox has a simple-enough appearance packed with many features and the top one is its ability to import music from iTunes and library, and integrate with YouTube and SoundCloud. If you pay $10 for the radio feature, you will get access to 30,000+ Internet radio stations. If that's not you desire, Vox also supports an equalizer, gapless playback and Sonos & Airplay. It is free to use except the LOOP Music Cloud Storage ($4.99/month) with which you can upload as many music files as you want and listen to them wherever you go.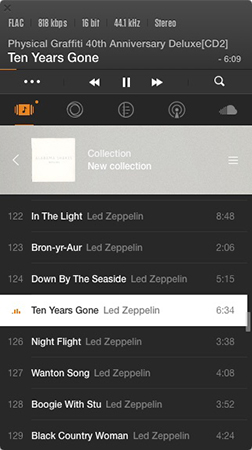 ---
How to Convert Music on Mac with All2MP3 for Mac?
You may run into audio files coming in different formats. Some formats are lossy such as AAC and MP3, and some are lossless like Apple Lossless and FLAC and some are uncompressed like AIFF and WAV. Whether you purchase music from Amazon in MP3 format or download from other sites in FLAC or WAV format, there must come a time when you want to convert your music to a different format. Then All2MP3 for Mac comes in need. It can convert audio files in all types of formats to widely accepted MP3 with faster speed. Users of any level could be in the joy of audio conversion on Mac.
1. Before you use All2MP3 for Mac, download and launch it with just a few seconds. After you open it, you will see a small black window which shows the way for file inputting: drag and drop or use the "Add" button.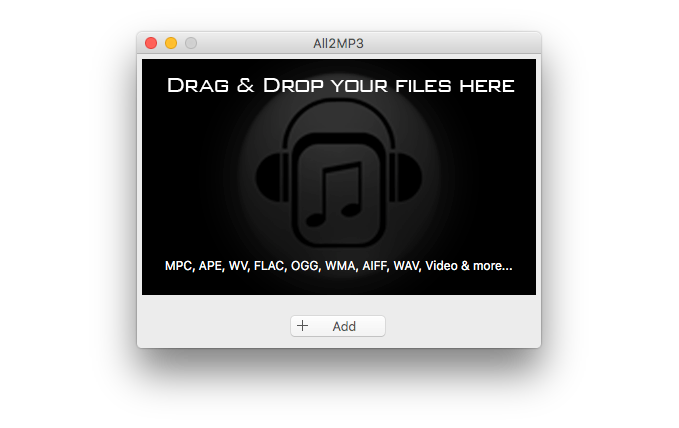 2. Then you will get a simple output quality control with the slider bar in "Quality" field. Click on the "Change all Paths" button to choose a folder for saving all the converted files.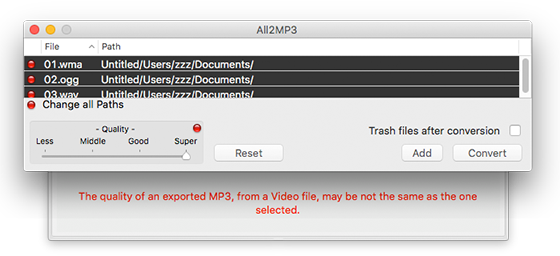 3. Now, a click of "Convert" button will get the process started immediately.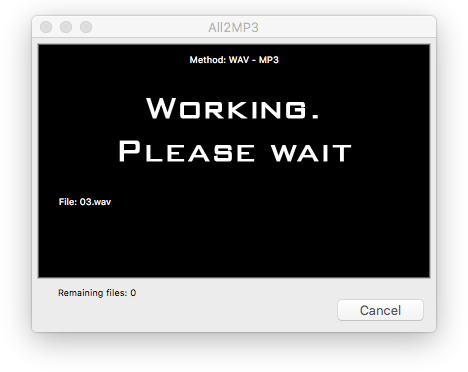 Although you can find more alternatives after days of searching, the above choices are solid replacements that you can get started with because they are by far the best according to our experiences.