There are several things you should known about the best MOV to MP3 converter for Mac: of course you can find a ton of software that claims to convert video to audio but why are we focusing on All2MP3 for Mac? Because it is a robust, trust-worthy, straightforward and cost-free program to fulfill your task. It performs the audio extraction from MOV to MP3 on Mac and can also convert a great majority of video formats into audio formats.
1. Combination of Audio Converter & Audio Extractor – All2MP3 for Mac can not only convert MOV to MP3, but also various video/audio files to MP3, WMA, M4A, FLAC and more audio formats.
2. Batch Process Supported – you are allowed to import multiple video/audio files to convert them in a batch.
3. Free with No Strings Attached – it does not require you to register or provide your personal info to get access to all features. It does not include any forms of malware.
---
Why You Should Not Use Online Converters?
Online Converters Requires Network – they won't work if you don't have network connection; they won't work well if your network is slow or unstable. So why rely on something that has strict requirement on network while you can have offline MOV to MP3 converter software on your Mac?
Unsafe – online converters will store your file and their owners can have full access to your uploaded files. It's far from safe if your files are personal, crucial or confidential.
Poor Quality – online converters does not have many options that you can tweak and the processing ability is doubtable, which leads to poor quality most times.
Various Limitations – they will limit you in file format, size, quantity, etc. in various ways due to their lack of abilities.
Online converters can not compete with the best MOV to MP3 converter for Mac –  All2MP3 for Mac, due to aforesaid reasons.
---
Why You Should Not Use Other Freeware/Paidware?
Other freeware also has the problems that you may find in online converters like it provides poor quality, lacks quality options and has many limitations. What's worse is, most of them are bundled with malware! And a few of them claim to be free but actually not free, requiring you to pay to unlock some basic functions.
Paidware, usually another name for expensiveness & difficulty. They come with so many terms and parameters that most users don't understand and the complex UI is horrible even for experienced users. After you pay, you may even find that you have just bought something that you can get from our free MOV to MP3 converter for free, completely a waste!
---
How to Convert MOV to MP3 on Mac?
Download and install All2MP3 for Mac on your Mac and here are some easy steps to follow to finish your MOV to MP3 conversion. It is now working well on all Mac OS versions.
Step 1. Input Audio Files
Click "Add" and in the activated window choose the video file you want to convert to MP3 and then click "Choose".
Step 2. Specify Output Quality
Drag the slider bar below "Quality" and choose the output quality as you need. Then click the red button in front of "Change all Paths" to choose an output folder.
Step 3. Start Conversion
Click "Convert" to start audio conversion. After that, you can find the converted files named as "xxx.mp3" in the output folder.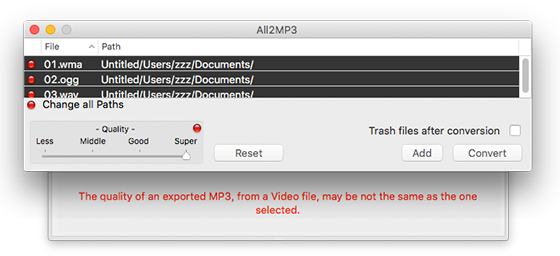 ---
Best MOV to MP3 Converter for Mac – All2MP3 for Mac
The best MOV to MP3 converter for Mac ever! It can perform the easiest MOV to MP3 conversion on Mac and give you the most amazing experience without spending a penny. Now enjoy the MP3 you extract on all music players!