Great musical TV shows have always been a TV staple that can promote singing, dancing, learning and having fun with your close ones. They are entertaining and stress-relieving to watch even for people who don't sing/dance. For so many years, Disney has been producing musical TV shows and movies with satisfying performances and that's why we'll recommend to you some popular ones of them and see if you can find your beloved music and characters.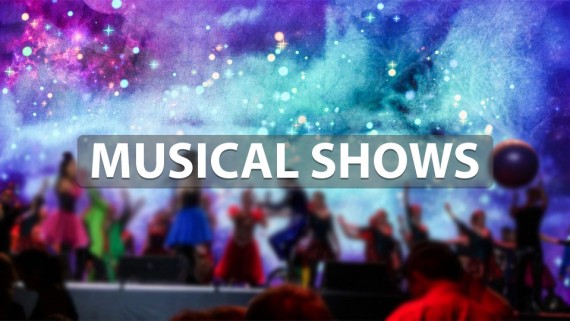 ---
Shake it Up
"Watch Me" (from "Shake It Up")
"Shake it Up" is a 3-season series about two BFF girls (CeCe Jones played by Bella Thorne & Rocky Blue played by Zendaya) fulfilling their dreams of becoming professional dancers. Although Bella Thorne is infamous for "interestingly" changing up her look and showing how sexy she is these days, she presented some good dancing and songs from 2010-2013.
---
Teen Beach Movie
Like Me (from "Teen Beach Movie")
Actually "Teen Beach Movie" is not that great as a movie, full of cliches and cheesy jokes. But hey, there are nice boys and girls singing and dancing funny songs – that's enough. The lyrics of "Like Me" is a bit silly but cute and it reminds me of "Summer Nights" from "Grease", one of my favorite iconic musical movies, played by a skinny John Travolta and charming Olivia Newton-John.
Summer Nights (from "Grease")
Here's another song from "Teen Beach Movie" that looks like a song in "Grease".
Cruisin' for a Bruisin' (from "Teen Beach Movie")
Greased Lightning (from "Grease")
---
Descendants
Rotten to the Core (from "Descendants")
"Descendants" is one of the fantasy musical shows about 4 teenagers who just got out from their island prison adjusting the different life while trying to steal a magic wand to free their villainous parents from captivity. Let's watching the descendants of villains dancing and singing! Different from her long straight formal hairstyle, Dove Cameron's purple hair in "Descendants" looks incredible". This cute girl did a good job playing Ruby, a bitchy and dangerous girl Marvel's Agents of SHIELD Season 5. After learning about her tragic real-life story (her father's suicide & her friend Christina Grimmie's tragic murder), I feel terribly sorry for this girl and wish she hope her do well in her career and gain more happiness in life. And here's a song from with both Dove Cameron and Christina Grimmie's appearance.
What A Girl Is (from "Liv and Maddie")
---
Austin & Ally
You Can Come To Me (from "Austin & Ally")
"Austin & Ally" is a 4 season comedy television series about the life and relationship of two young musicians, the singer/instrumentalist Austin Moon played by Ross Lynch and the songwriter/singer Ally Dawson played by Laura Marano. This is one of the musical TV shows that is hilarious and watching these two different types of persons developing friendship and love while enjoying some great music brings even more fun.
---
High School Musical
Were All In This Together (from "High School Musical")
"High School Musical" is one of the musical TV shows I like and it was Disney Channel's most watched movie in 2006. It is a story about two high school juniors, basketball team captain Troy Bolton played by Zac Efron & shy transfer student Troy Bolton played by Zac Efron, who are trying out for lead roles in the musical held by their high school. I know that Zac Efron is busy with showing his muscles in his recent performance but back in "High School Musical", he's so darn lovable. A funny thing to bring up is, Sharpay Evans (played by Ashley Tisdale), the high school diva, even had her own movie "Sharpay's Fabulous Adventure", in which she finally had her dream come true. Allow me to share this cute moment in the movie when she's singing and dancing in an audition with her puppy "Boi".
My Boi and Me (from "Sharpay's Fabulous Adventure")
If you are a fan of "High School Musical", wait for the coming TV series!
https://www.seventeen.com/celebrity/movies-tv/a13515379/disney-high-school-musical-tv-series/
---
Z-O-M-B-I-E-S
My Year (from "Z-O-M-B-I-E-S")
"Z-O-M-B-I-E-S" is a 2018 Disney Channel Original Movie. The story is about how Zed, the zombie football player played by Milo Manheim, meets Addison, the human cheerleader played by Meg Donnelly, and falls for her. Then they have to work together to lead their respective groups (zombies and humans) to unite and embrace each other regardless of the differences. The songs are fun and the zombies in this movie are so flexible and swift – look at that moves when they dance!! If they eat brains, humans can hardly survive. Like "Descendants", this is a very "colorful" movie and you can see green and pin everywhere.
To download YouTube videos directly on your Mac, AllYoutubeDownload for Mac can help! You may run into music in the format your devices don't suppot. In such a case, All2MP3 for Mac comes in need which can convert music in any formats to MP3 with fast speed and high quality. What's more, it is completely free to download and you can try it now with just a click of button!