Have you ever got an Android phone and now want to sync wanted music on Mac with it? It's not a difficult thing for Windows computer because you can sync almost everything on Android simply by mounting your Android devices with just a USB cable. However, things become complicated when coming to Mac. For the reason that Mac doesn't have the ability to detect Android devices, let alone sync Android music with Mac. Luckily, it might sound too good to be true, syncing music on Android with Mac can be as easy as iPhone. Even better, we provide the methods and tutorial below for helping you out.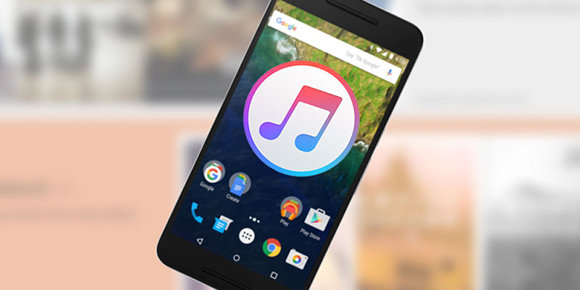 ---
How to Sync Android Music with Mac with DoubleTwist
DoubleTwist is one of the most efficient ways to sync media files like music, photos, videos, etc. between Mac and Android devices. It is a free app for both Mac and Android and it gets another name of "iTunes for Android". It allows you to sync media through USB cable or WiFi (you need to pay $5 for AirSync download).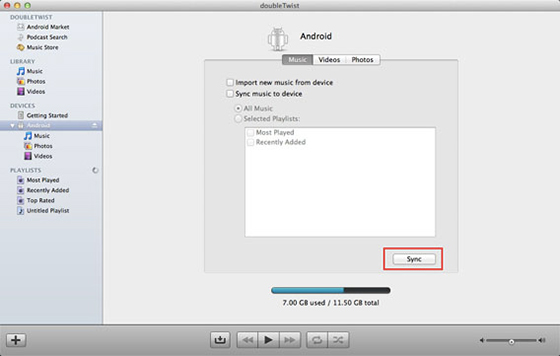 Once you open this program on your Mac, it will automatically scan your iTunes and upload the media files. As it doesn't import your playlists automatically, you need to import them manually. Then, download, launch and open DoubleTwist on your Android phone. Next, download this free DoubleTwist app to your Android phone. Now connect your Android phone to your Mac with a USB cable, and mount your phone to your Mac. Once your Android phone has been mounted, click your device to open the syncing options. There you can sync all of your music or choose different playlists to sync. You can also drag and drop the audio files to your phone directly.
---
How to Convert Music on Mac to MP3
As far as music is concerned, Android devices have made it easier. You can enjoy your favorite music anywhere you want until you realized that you want to grab the music on your Android phone from your Mac. But how to do? What if the audio files are in incompatible formats? Don't worry, All2MP3 for Mac can handle this. It allows you to drop almost any audio file into the program window and convert them to the widely accepted MP3 format easily.
Step 1. Input Your Audio Files
After the easy and fast download and launching of All2MP3 for Mac, open it and you will see a simple user interface. Clearly, you will know two easy ways for audio inputting: drag & drop and use "Add".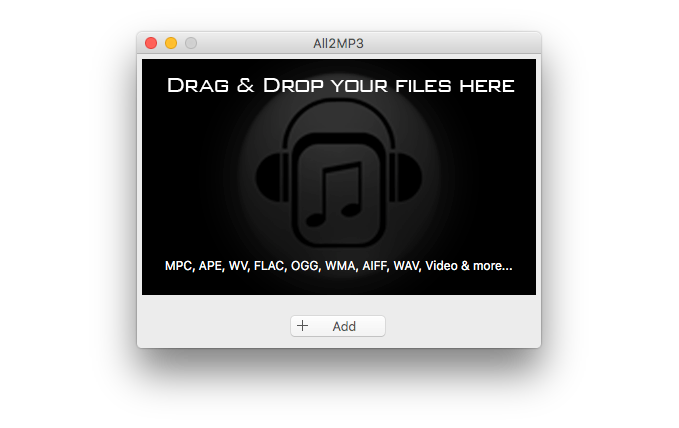 Step 2. Customize Output Settings
In the new window, there are some options for output control. Drag the slider bar of "Quality" to choose a different level. Click on the red button of "Change all Paths" to choose a folder for saving converted files. You can also add more files to convert, restore quality settings and delete source files after the conversion.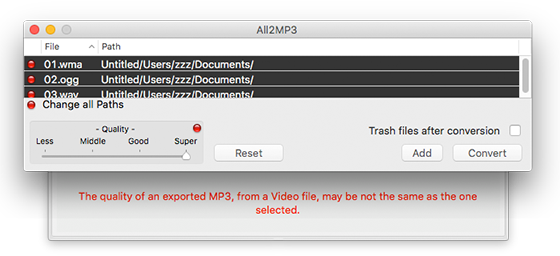 Step 3. Start Conversion
When you click on the "Convert" button, the conversion process will get started. Within seconds, you will get the converted files in your output folder.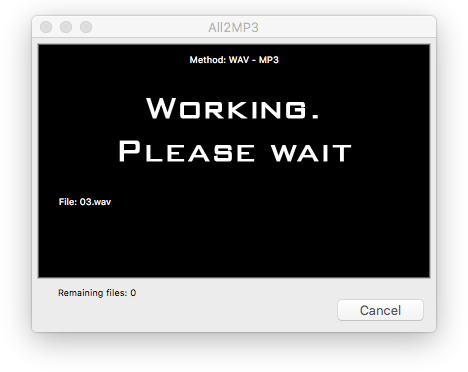 See? It's so easy to sync Android music with Mac and just go ahead to give it a try. Moreover, whether you want to transfer music from Mac to iPhone or iPhone to Mac, go to the link for more details.