Our team loves to listen to various music on YouTube and we keep watching newest music videos. Here we share 10 funny music videos released in 2019 and see if you could find something that interests you. Put on your earphones and enjoy!
---
Top Funny Music Videos 2019 on YouTube
Thank U, Next – Ariana Grande
Thank U, Next by Ariana Grande was released on November 30, 2018, and this is the 2018 music video, but it's so funny and was published at the end of the year – it's kind of new to all of us so we include it in our list. Some say this song can help people get over the relationship after a breakup – sounds healing. Meanwhile, this music video is very funny because it is actually a combined parody of four movies: Mean Girls, Legally Blonde, Bring It On and 13 Going on 30. The music video includes many famous scenes of these movies.
Personally, I've watched two of them, Mean Girls and Legally Blonde and it seems the other two also chick flicks. I remember watching Mean Girls and laughing with my roomies back in university – good old days. At the time, Amanda Seyfried was just a newbie with a small role who's proud of her magical weather-forecasting boobs; Rachel McAdams was the typical bitch in the college; Lindsay Lohan was adorable, without the later alcohol and drug use. Thank U, Next is a music video that will bring back your memories. I love the sexy dancing scenes of these girls in their Christmas outfits.
As for the scenes parodying from Legally Blonde, I'm not a Reese Witherspoon fan but it's very eye-catching and classic when Ariana steps off the car with pink high heels on her.
No Place – Backstreet Boys
No Place by Backstreet Boys was released on January 4, 2019. This one is not about breakup, not at all; it is not a hilarious type either. It is all about love – love of the wife, the kid and the family. This music video deeply touches me with the lyrics, the music and the how they live and love their families.
I literally feel the urge to list all the elements included in this music video that show the love we all can have: the warm sunlight, mountain hiking, family picnic, pool fun, lying on the couch with your wife, kissing, flipping through old photos with kids, push them on the swing, showing them stuff in kitchen, playing toys with them, roast marshmallows on the fire, tumbling on the carpet, raising pets, enjoying delicious food, teaching them guitar, sports, cooking, drawing…
Do you feel love from it? It is a pure song and pure video, full of morality – the things in the video are what all loving people deserve and what we all are seeking. It's a pity that I'm already married or else I will add it to my wedding playlist.
Many of us may be tired or even sick of the late music videos, full of twerking, dirty talking, name-calling, showing bodies, rapping, booze, drugs, stripper, etc. They are not good, in any way. Backstreet Boys used to be so cool that many girls in my class are crazy about them. Seeing them age like us and start their own families, is a funny and cozy treat. Many bands will not last as long as Backstreet Boys while keeping their creativity – let's hope BSB keeps that way!
Nothing Breaks Like a Heart – Mark Ronson & Miley Cyrus
Nothing Breaks Like A Heart by Mark Ronson & Miley Cyrus was released on 29 November 2018. This is an awesome song with meaningful lyrics and a catchy rhythm. In fact, this is the very first music video since Miley Cyrus lost her Malibu mansion during the infamous uncontrollable Woosley Fire in November.
Compared to the song itself, the music video is controversial. In this video, Miley is driving a car while being pursued by cops. Her fans are standing alongside the road and on the overpass with all types of supporting slogans. Calmly, she drives through many places: a strip club full of acting strippers and patrons, a shooting range where kids are learning to use guns (by shooting at the targets with images of other kids), a house of two lesbians who are taking a hot tub bath and kissing each other, and a crowded mall full of mad Black Friday customers who are fighting for all sorts of items. At one point during the driving, Mark Ronson jumps into her car through the moon roof – heads up, this is his only appearance in the video (except for the view of his back later). At the end of the video, the car crashes dramatically, flipping over in the middle of the empty road. Miley & Mark seem unscathed and somehow managed to get out of the car and opens their arms and walk to the fans who are running towards them.
I love the whole police car pursuit thing, and like all of you guys, I think Miley's butt is a treat.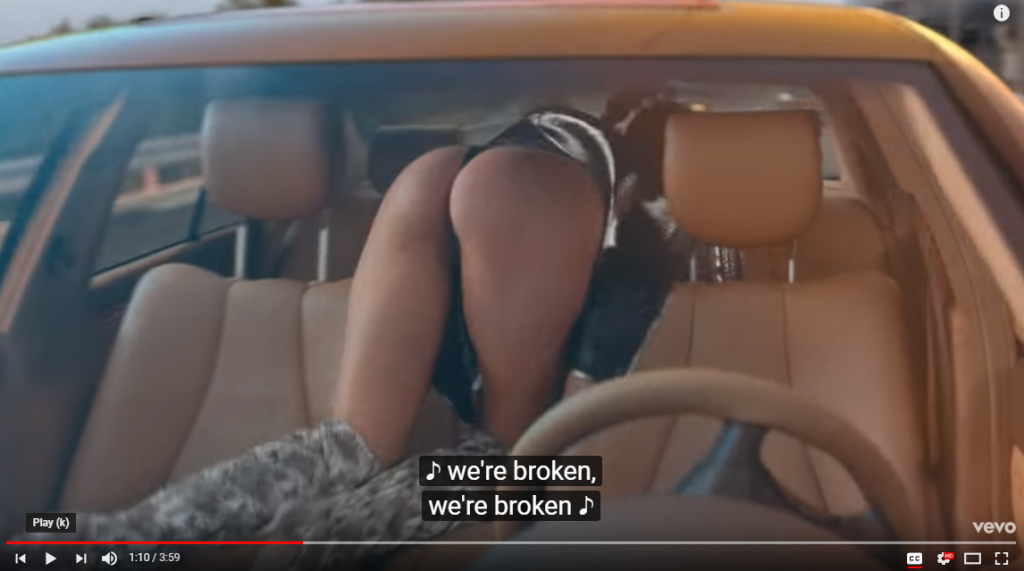 But I don't think this is a video that should be revealed to kids. There are so many violent, porno and inappropriate scenes included. Miley is famous for her role in the TV show "Hannah Montana" as well as her outrageous behaviors. Compare to her Wrecking Ball music video in 2013, Nothing Breaks Like a Heart surely shows much less body, but honestly speaking, this song does not need that to be great. It's a distraction – we all know that Miley is talented in many areas but her intention to show that body here and there does no good to her reputation (see what people say about Bella Thorne, another former Disney star infamous for her inappropriate clothing and behaviors). What does Disney do to these girls to make them so rebelling?
Despite all the drawbacks, driving a car to go through many places without people noticing Miley's there is funny. It tells a complete story and it's a social criticism: do the priest in the strip club remind you of the 2018 scandal of Catholic priests who abused 1,000 Children in Pennsylvania? The children are taking filtered selfies and firing guns, which means our young generations are raised in a violent and sexualized culture (think about the partying life and mass shootings these years). And the Black Friday fight crowd? Believe or not, that looks hilarious in movies and music videos but not in real life because people are behaving like wild animals. Check it out:
All in all, this music video is a very sarcastic piece of work for each of us and our government to think, and maybe make some changes to create a better future.
---
Top Funny Music Videos 2018 on YouTube
Lil Dicky – Freaky Friday feat. Chris Brown
Lil Dicky's "Freaky Friday" featuring Chris Brown is debuting at No. 9 on the Billboard Hot 100. This quirky and weird music video is about their body-switching story, which can make you LOL. There are so many hilarious scenes in this music video: the awkward moment in the beginning in the Chinese restaurant, Lil Dicky's reaction to knowing the fact that he has a kid, the tissue in Lil Dicky's room when Chris Brown wakes up, Lil Dicky's tweeting Chris Brown d**k, etc. It's even enough to make a not bad popcorn movie.
Taylor Swift – Delicate
Taylor Swift's "Delicate" was released on March 12, 2018 and Taylor wrote it along with the producers. In this music video Taylor Swift is playing herself as a celebrity who is surrounded by fans and paparazzi but then all of a sudden becomes invisible to anybody. The lyrics are mainly about wanting something real from a new relationship while being afraid of that previous rumors might affect it. We all know how much Taylor loves to put the feeling and experiences with her EXs into her songs and this one seems perfect for the coming guy(s). Still, Taylor's dancing is not the best but you can feel the free spirit, energy and passion inside of her. The scene she's dancing in the rain reminds me of the famous "Singing In The Rain (Gene Kelly)".
Migos – Walk It Talk It ft. Drake
Migos's "Walk It Talk It" featuring Drake trolls 12-9 on the chart dated April 7 on the Hot R&B/Hip-Hop Songs chart, as Migos's 5th and also Drake's 61st top 10 hit. This music video is a salute to Soul Train, an American music-dance television program. The image of this music video is so 70s and they look like Jackson 5. The rhythmically repeated "Walk It Talk It Walk It Talk It…" impresses me much and who knows, may even enlighten someone to make a ringtone from it. BTW, Jamie Foxx plays the host at the beginning, introducing the performers.
Maroon 5 – Wait
Maroon 5's "Wait" was released to hit radio on January 16, 2018 and but it was released on October 31, 2017 as a promotional single. This music video is mainly about a man begging his (ex)girlfriend not to leave him. In the opening scene of this music video, Adam Levine resurrects from a coffin, shirtless, and tries to bring his love, played by Alexandra Daddario, back to life. Maybe this scene means their departure equals death to him. There are many allegoric scenes you can find: the girlfriend's face made by paint, the group of girlfriends swimming around like a fish shoal, the missiles launched locally bombing everywhere and the best ending scene IMO, everything is unknitted. Alexandra Daddario shows her fierce and intractable side in this video, but still, so hot.
Justin Timberlake – Supplies
Justin Timberlake's "Supplies" was released on January 18, 2018 and this video is like a prophecy with all the end-of-the-world stuff. What it tries to tell us is confusing – was he an Illuminati? Is Illuminati controlling us? Is Justin Timberlake showing us what will happen when the devil arrives? What's with the woman throwing a burning bottle at the pyramid with the All-Seeing Eye of Freemasons? Full of myths. Not a very catchy song for me but the video may include something to dig. The last scene reminds me of Matrix.
One Bit, Noah Cyrus – My Way
Noah Cyrus & U.K. duo One Bit's "My Way" was release on January 8, 2018, focusing on dominance struggle. According to the words of 18-year-old Noah Cyrus in an exclusive Behind-the-Scenes clip, "It's a fun light-hearted video for kind of, like, a meaningful song." Almost everything in this music video is in pastel pink and blue. With the jerky choreography and a team of female and male dancers, Noah Cyrus gives her cutest performance.
Carrie Underwood – The Champion ft. Ludacris
Carrie Underwood's "The Champion" is one of the funny music videos, featuring Ludacris, was released on March 2, 2018 but the song was released on January 12, 2018 as the opening theme for NBC TV broadcast of Super Bowl LII. It's a very positive and motivating song to celebrate the athletes at the top of their games while resonating with people who bravely live their lives and faith. The song is awesome but the video is even better. Carrie Underwood never ceases to amaze us!
Calum Scott – You Are The Reason
Calum Scott's "You Are The Reason" music video was released on 1 January 2018 and then on 9 February 2018, Scott released another version with Leona Lewis. This emotionally resonant piano ballad mainly focuses on lovers and families, our closest and dearest persons. You can see many touching moments in this music video, some of which you may have seen or experienced.
The version with Leona Lewis are more about two lovers and Leona Lewis's voice is perfect.
Rich The Kid – Plug Walk
Rich The Kid's "Plug Walk" was released on March 4, 2018. In this video, Rich The Kid is cooking narcotics in an RV in a middle of a desert… Sounds familiar? Yes, just like a parody music video of "Breaking Bad". But hey, he got an alien looking like ET (Paul?) working with him and a bunch of hot girls dancing and providing service, interesting.
Chris Brown – Tempo
Chris Brown's "Tempo" was released on Mar 2, 2018. Literally, the last one of funny music videos has NOTHING to do with the song itself. Imagine a bunch of weirdos (thieves or robbers) in cosplay costumes dancing in an old couple's house. Chris Brown is in an outfit that reminds me of "Mad Max" and the boy in the beginning scene is on a "Back to the Future" Hoverboard. And, Nachyra Smith's performance is funny.
---
Hope you can have some fun with these funny music videos and remember to share them with your friends.
You can always download funny music videos on Mac with our Mac YouTube Downloader (for Windows Users)
If you already download them and want to convert them to MP3 for audio-only playback, use All2MP3 for Mac to convert video to MP3.