Video production has become increasingly popular over the years, thanks to websites like YouTube, which make it possible for virtually anyone to upload their own content. But, content creators have to be careful with the content they create to ensure that it is not falling into the realm of copyright infringement. The music a creator chooses to use in their content requires careful consideration for this reason. Famous, well-known songs are considered off-limits due to strict copyright laws. To make finding the right free music sites for you, here is a list of the top 10 royalty-free music sites around!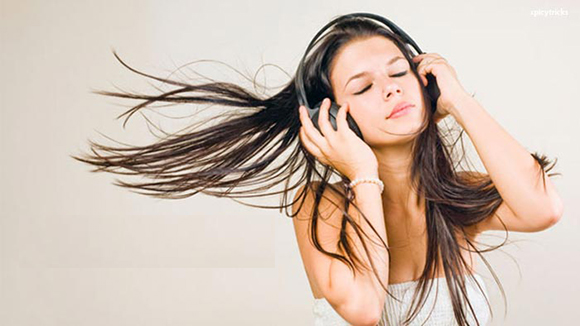 The use of such music in unapproved video content can lead to a multitude of legal issues for the creator. Luckily, however, many sites offer "royalty-free" music to content creators. Royalty-free music is music that creators can use in all types of video projects without the fear of legal repercussions. While some places may ask for a small fee to use the music they offer, many make it available entirely for free to creators.
---
Creative Commons, Intellectual Property, and Public Domain
There are three main categories where copyright content falls: creative commons, intellectual property, and the public domain. Content with a Creative Commons license is for public use, usually as long as credit to the creator is given. However, sometimes it is only meant for personal use rather than commercial use. This type of content can be completely free or require a small fee to own the rights to it. Content that falls under an intellectual property license is copyrighted and includes most music, movies, books, inventions, and countless other types of material. As long as the content is copyrighted, one must pay some fee to use or access it, but this content is not available to content creators to use for their work. If the copyright license of content expires and does not get renewed, it moves into the public domain and is free to use for content creators however they want.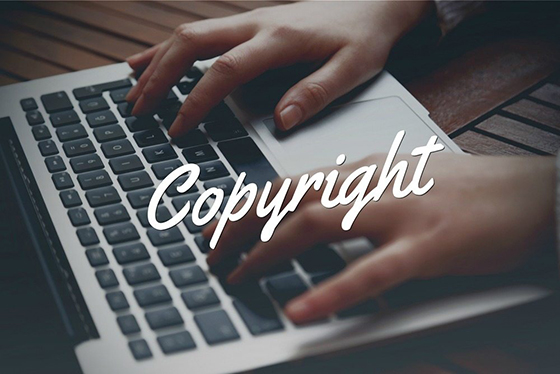 Before You Start Looking
Now, before you start going crazy and downloading songs from the websites below, keep one thing in mind: give credit where it is due. While the sites below offer free music for use, it is important that you check what sort of Creative Commons license it has. In some cases, to legally use the music or soundtrack, the creator will require you to credit them. Some songs may also only be available for personal, also called non-commercial, use. What this means is that you cannot use the music in situations or projects where you are looking to make a financial gain. So, as you go through these sites, be sure to keep this in mind and stay aware of the type of Creative Commons license each song and track has, as well as what sort of use is allowed.
---
1.      ccMixter
ccMixter is an incredibly popular online music community with a massive amount of music available under a Creative Commons license. Here, you can listen to different music, sample it, create your own mixes and mashups, and so much more. Best of all? You can use the music in your video projects without having to worry about any copyright infringement.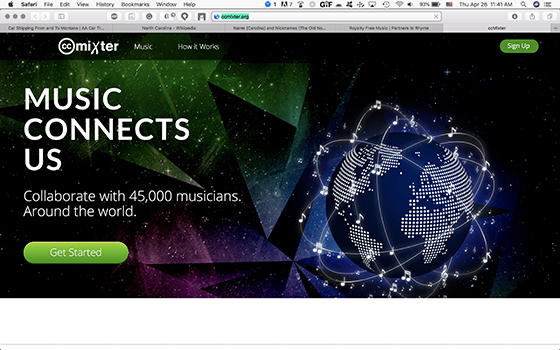 ---
2. Public Domain 4U
At some point, the copyright protection of the content expires. When this happens, the material in question becomes available under the public domain. Anything found in the public domain is free to use in any way you may please, including in videos you plan to upload online. Public Domain 4U has a vast database of content that includes old music whose old copyright protections have expired. But, there is also newer music available for free use to creators, as long as the artist whose work you are using gets the proper credit.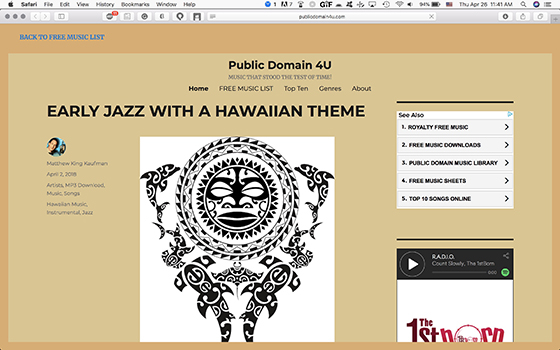 ---
3. Free Stock Music
Free Stock Music has a massive library of free tracks in a wide range of genres and formats, including WAV, MP3, and AIFF. It is free to create an account to surf the site and download various tracks that you may want to use. When you get music from them, there is no attribution required. In other words, you can use the music without having to give credit to the artist on your Mac.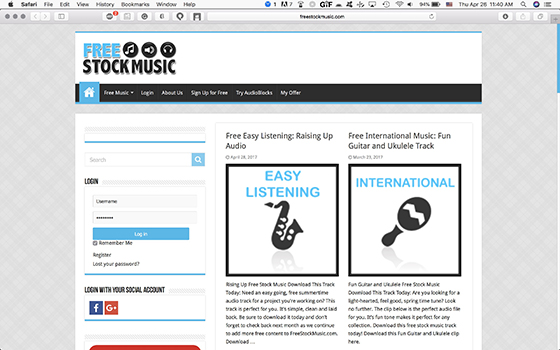 ---
4. YouTube Audio Library
You may not be aware of this, but YouTube itself offers a massive library of royalty-free music for content creators to use. It is one of the incredibly popular free music sites and provides everything from actual music to fun sound effects to use in videos. With the YouTube Music Library, you can search for what you want based on the genre, instrument, the mood you are looking for, length, and even attribution. The sounds can be added to your video directly from YouTube, or you can download them and add them using your preferred editing software or convert them using an audio converter for Mac. Again, be sure to give credit when required!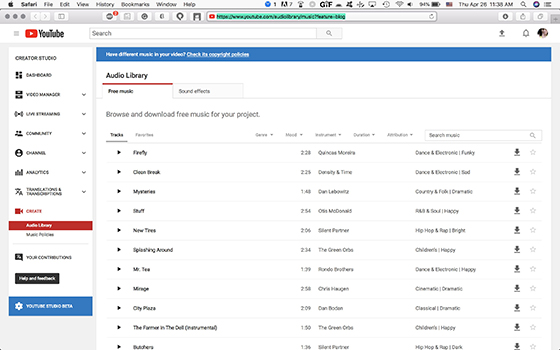 ---
5. BeatPick
If you are looking for music you can use for non-commercial projects, then BeatPick is an excellent website to keep in mind. They offer a free database of licensed music for you to download and use, as long as you do not stand to make a profit from the project you use it in. As it provides a limited number of audio formats, you can use an audio converter for Mac to suit your needs.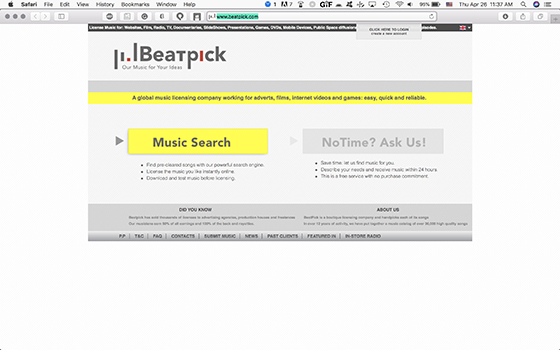 ---
6. Audionautix
Another great option to find free-to-download royalty-free music includes Audionautix. This website allows you to do filtered searches for things like specific genres and moods, and there are hundreds of songs to choose from. All songs come in an MP3 format and are free to use and for Mac users, they don't need to find an audio converter for Mac to solve the incompatible issues, even for commercial purposes. They do ask, however, that you credit them in your work.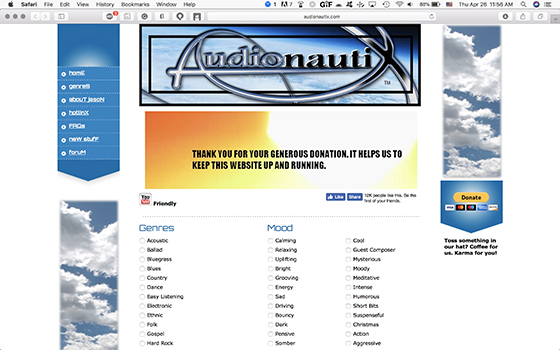 ---
7. Partners in Rhyme
Partners in Rhyme is one of the free music sites we recommend, which offers content creators free music loops that are ready for YouTube and Podcast use. Tracks on this website all come in WAV format, with a wide range of options available or you can use an audio converter for Mac as you need. While the loops are free to use on YouTube, the site creators to ask that you save a copy of their policy and the sample to your computer, just to avoid any potential issues with YouTube that could arise. But, beyond that, music loops found here are also available for commercial use!
---
8. Free Music Archive
The Free Music Archive is yet another database of music available for free use under the Creative Commons license. With such a wide selection available to content creators to choose from, it shouldn't be tough to find the perfect song or sound effect to use in your next video project. As always, do not forget to make sure you give credit where it is due!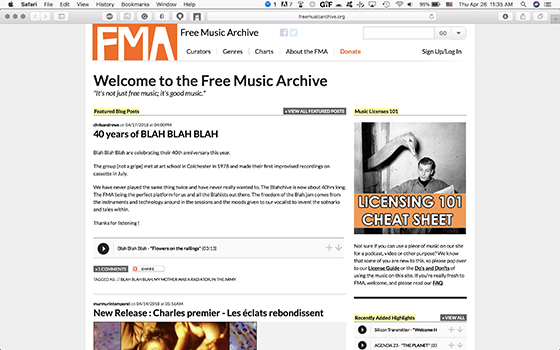 ---
9. Soundcloud
Soundcloud is similar to ccMixter, which was mentioned earlier on this list. With the website, all types of artists can upload their music for people to listen to and enjoy. Sometimes, current major artists upload their new work here to help reach more people, but their work is still considered copyrighted property and are not free to use. But you can find many royalty-free tracks that are available for free download on Soundcloud. You will just have to look for them and filter your searches to be sure you are finding the royalty-free content. Just like with most of these sites, however, you want to be sure you check the sort of Creative Commons license a track has before you go ahead and use it in your content, as some may only be allowed for personal use, not commercial.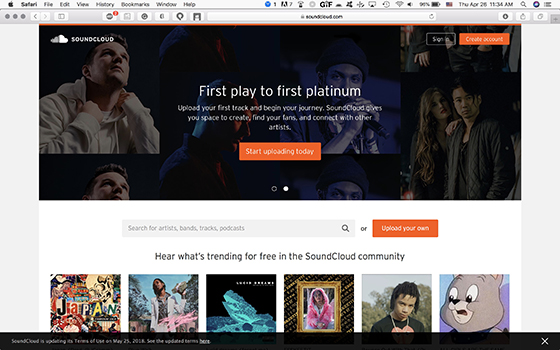 ---
10. Josh Woodward
Josh Woodward is a musician who has personally recorded over 200 original songs made for free use. His music includes music in various genres, themes, and moods, some with vocals and some without vocals. You can search his site for what you are looking for, and all of the content can be downloaded as compressed MP3 files and then added to videos for YouTube. But, you want to make sure not to forget to give him credit and promote his website in the video description and credits.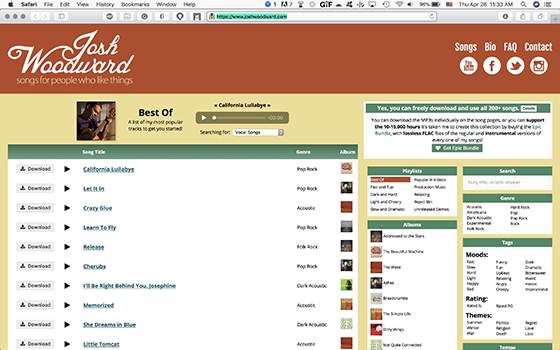 ---
Best Audio Converter for Mac Users
While it is not a website, All2MP3 for Mac Converter is a free software available to Mac users to convert any file, including YouTube videos into an MP3 format. Just be aware that the program does no differentiate between royalty-free and copyrighted music!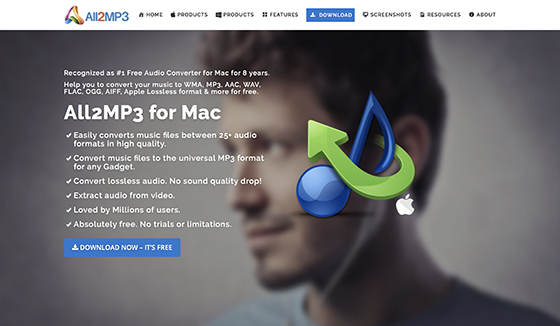 Countless websites offer royalty-free music to content creators under the Creative Commons license. While some may try to charge you for access to this content, many more make it all available for free. These are just 10 of those free music sites where you can find royalty-free music on, but the list is truly endless. Regardless of the type of audio content that you are looking for, however, one of these sites will have what you need, all free to use. What can be better than that? Especially when you are a smaller creator looking to get started in the field. Again, stay aware of the kind of Creative Commons license the content has to avoid any trouble and always give credit when required!