You may find some disadvantages of iPhones born from Apple's closed iOS ecosystem and one of them that may drive you crazy is that you need to rely on iTunes for almost all the music syncing tasks. That is a very unpleasant experience even for a loyal Apple device user like me. You have to use iTunes to transfer music to iPhone on Mac or you can choose to purchase the song in iTunes store.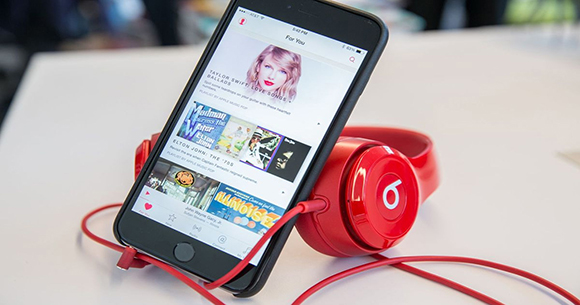 iTunes is an ideal source to get your music and a fine method to organize your music library, but many of us don't want to settle with it – after all, there are so many excellent apps and so much awesome music out there. Are there some alternatives? Don't be surprised but you can actually employ several ways to transfer music to iPhone on Mac without using iTunes.
---
Convert Your Music to MP3 First
Before you try to transfer your music to iPhone, make sure they are all supported. Converting your music to MP3 is the most common and effective way to get the compatibility you need because MP3 is supported by every media player device/software on this planet.
All2MP3 for Mac is a free music to MP3 converter for Mac OS and it can convert all your music and even music video to MP3 so that you can transfer them to your iPhone for audio enjoyment.
How to Convert Music to MP3 with All2MP3 for Mac
Step 1.
All2MP3 for Mac also needs to be downloaded and launched. After that, open it and use drag & drop or "Add" for audio uploading.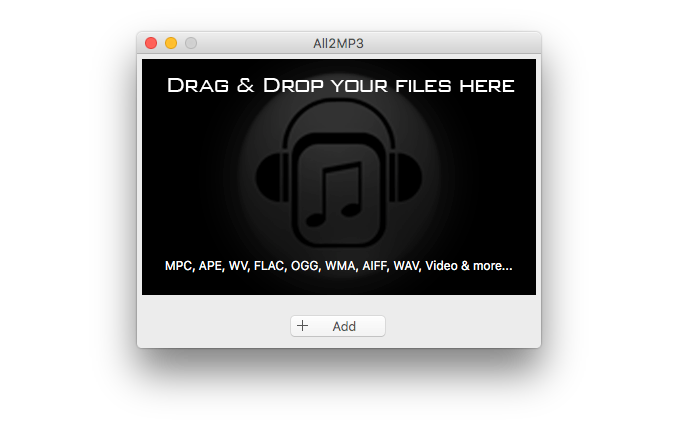 Step 2.
It's quite easy to adjust output settings. You can drag the slider to choose the quality level or bitrate. Find "Change all Paths" and choose an output folder there. There are also other options like restoring settings, adding more files for conversion and trashing files after conversion to satisfy your needs.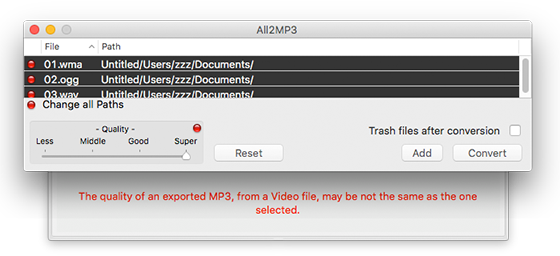 Step 3.
A click of "Convert" will start your audio conversion. Just wait and the process will be completed immediately. Go to your output folder to find the converted MP3 files.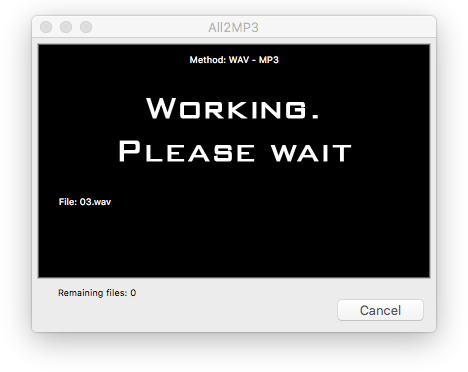 Now you have done the preparation and got your music ready for transfer. Let's proceed to see how can we do that without iTunes.
---
Transfer Music to iPhone on Mac without iTunes
With Cloud Services
You can find many free cloud services which allow you to upload your music and then you can enjoy them on your iPhone online or offline. Here are 3 big names we recommend: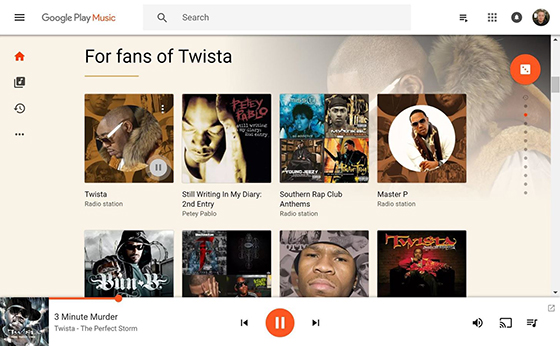 Dropbox – you can upload up to 300,000 music files for free. You won't need an app to play them – just log into your Dropbox account to play them directly in your web browser.
Google Play Music – you can upload up to 50,000 of your music files for free.
Amazon Music – you can upload only 250 music files for free but a $24.99 upgrade is provided to increase that number to 250,000.
---
iTunes Alternatives
Don't want to use any of the big services? Here are a few programs you can use in place of iTunes to transfer music from your computer to your iPhone.
dr.fone (Mac)
Before you use dr.fone (Mac), you need to disable iTunes auto sync first. Then, download, install and launch dr.fone (Mac). Connect your iPhone to your Mac via USB cable. Go to "Music" tab on the top of the program window and you will see all songs saved on your iPhone listed below. Click on the triangle below the "Add" button and from the list, choose "Add". After that, you can see the Mac browsing window with the music collection folder. Choose those ones you need and click "Open" to copy them from Mac to iPhone.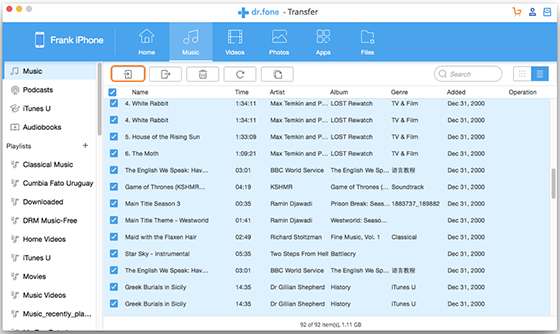 VLC Media Player
There are many media players out there that enable you to transfer music to iPhone via WiFi or FTP. VLC is one of them. More conveniently, it doesn't require the pairing with your Mac. Here we use WiFi transfer as an example.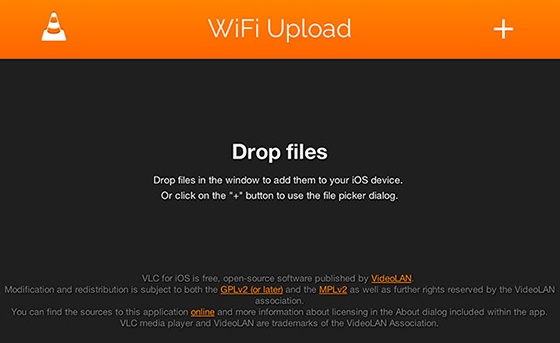 Go to VLC's menu and find the option of "WiFi Upload". After you tap it, there will be a URL that looks like http://192.168.0.x. Provided your Mac is using the same network as your iPhone, you can visit the URL directly in the web browser and drag and drop the media files. Don't worry, this works on any network, meaning that even if you are at your friends' house without a paired iTunes library, it still works. Afterwards, those media files won't show up in your iOS media library.
---
Conclusion
As the above solutions show, there are so many other methods to transfer music to iPhone on Mac without iTunes and you've known how easy they work. Many of the apple users might don't want to be locked down by iTunes regarding its complex operations. Trying the above alternatives one by one is also a good way to improve their iPhone data managing skills.