First of all, let's find out what M4B Audiobooks to MP3 conversion is for: M4B is an MPEG-4 file type for audiobooks which is well-known among those who read and purchase audiobooks from Apple's iTunes store frequently. It is different from M4A (another MPEG-4 file type) because it supports chapter markers to make listeners easily remember the last listening spot instead of repeating the files from the beginning each time.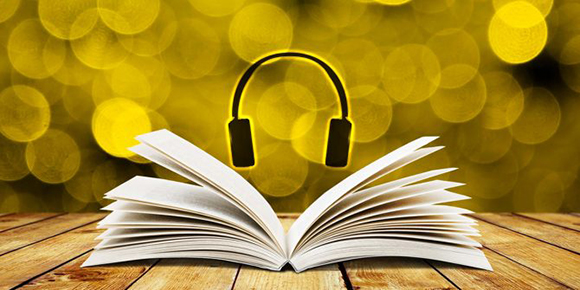 M4B Audiobooks are popular and can be bought and downloaded from iTunes store and some other sources. But given that you just want to listen to your M4B audiobooks somewhere else and finding a compatible player becomes a problem. Obviously converting M4B audiobooks to MP3 is the only way out. That's why we share this article here and you can get all the effective ways as the below shows.
---
How to Convert M4B Audiobooks to MP3
1. Use All2MP3 for Mac to COnvert M4B Audiobooks to MP3 (Best Option)
All2MP3 for Mac is a third-party MP3 converter for Mac which can convert all audio including iTunes M4B audiobooks to MP3 (supported by nearly all media players) on Mac. It provides users better conversion experience, for example, batch conversion mode, faster processing speed, high quality guarantee, more formats supported and many others. It enables you to listen to your audiobooks on any player at any place without limitation. Here are the steps for how to convert M4B Audiobooks to MP3 with All2MP3 for Mac.
Step 1
You can download, install and launch All2MP3 for Mac without paying anything.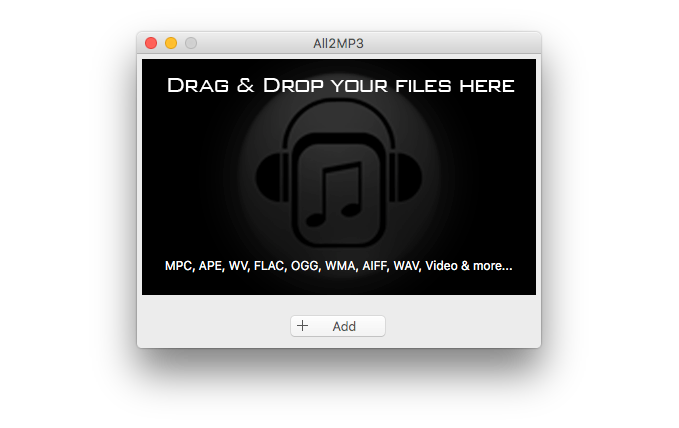 Step 2
Drag your audio files to the program window. After you get the wanted quality level for your audio using the slider bar of "Quality", choose the output folder afterward.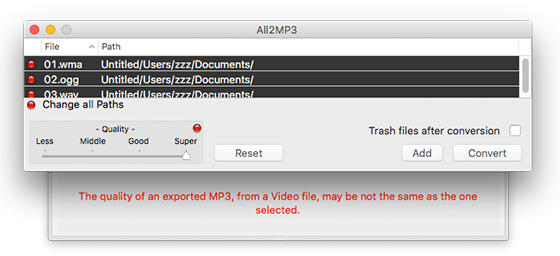 Step 3
With the "Convert" button, you can now start your conversion.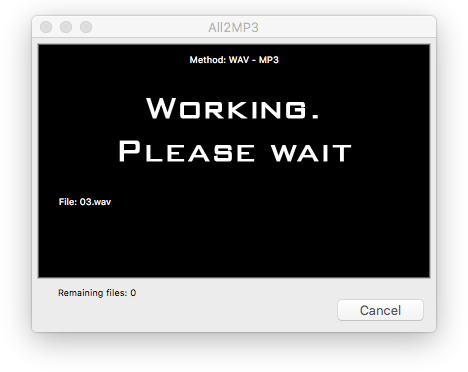 ---
2. Use Online Converter
Apowersoft Online Converter is one of the online converters which can convert M4B files easily online. With the intuitive UI, it can convert audios and videos to any format you want. You don't need to wait for so long because this tool can process with relatively high speed and the output quality will not be disappointing. Moreover, it sets no limit on the how large and how many files you should convert, so you are allowed to convert as many files as you want at one time.
Go to its official website and you can see many video and audio formats listed there, click "Add files" and choose the M4B files from your computer for uploading. After that, click "Format" and choose "MP3" from the menu. Click "Convert" and the process will start immediately.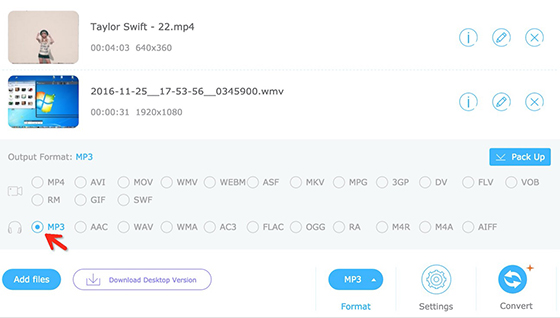 ---
3. Use VLC Media Player
Although VLC is well-known as a media player, it can be another good option to convert M4B Audiobooks to MP3. It can run on multiple platforms including Windows, iOS, Mac and Android. For those who just want to listen to their audiobooks without any further re-encoding, they can just download and install the right version of VLC. For those who insist on file conversion, follow the instruction below.
Open VLC, press Ctrl + R on your keyboard to activate the "Open Media" window. Click on "Add" button and input your M4B files then click "Convert/Save". In the popped up window, you will see a drop-down menu of "Profile", select "Audio–MP3" from it. Then, click "Browse" to choose an output folder. Now, click "Start" to get VLC convert your M4B files to MP3.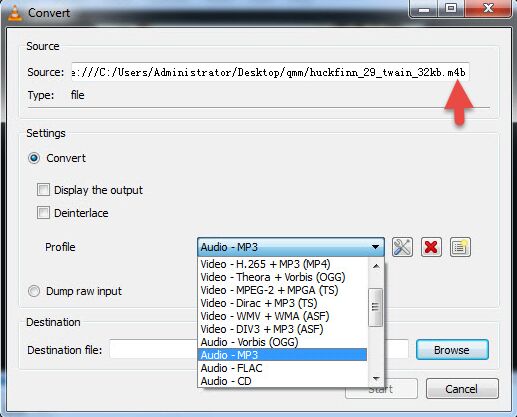 ---
4. Use iTunes
iTunes can also handle some basic conversion jobs for Mac users. To use it to convert M4B to MP3, you just need to open it and input your M4B files or just drag them into iTunes library. Go to "Edit" tab, click "Preferences – Import Settings". In the menu of "Import Using", select "MP3 Encoder". Then, go to "Book – Audiobooks" and click on the file you want to convert. After that, drop down "File – Convert – Create MP3 version". Your audiobooks will be converted to MP3.
As iTunes supports only a few file formats and you may run into crashes sometimes, it is not a recommendable way to convert audio files. Plus, compared to online converters, it is not that easier to manage your file conversion.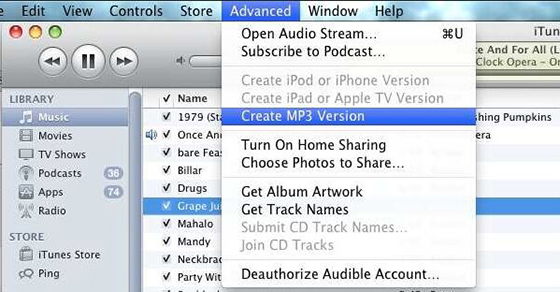 ---
How to Transfer MP3 Audiobooks to An MP3 Player on Mac
What if you want to listen to your audiobooks on the go? You can transfer audiobooks to your MP3 players by manually copying the files. Finder can help you do that and just follow the easy steps below.
First, you need to plug your MP3 player into your computer with a USB cable. Open Finder and go to "Documents – My Media – MP3 Audiobooks". Open another window and in the "Devices" panel in the left, you can find your MP3 player. Just drag the audiobook from the folder of "MP3 Audiobooks" to your device. If you've got a problem in transferring, try dragging the contained MP3 files individually instead of the whole audiobook folder.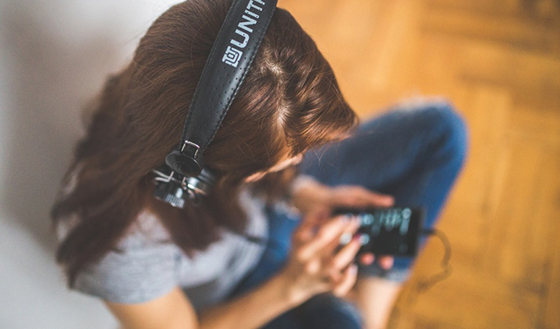 ---
Conclusion
The above are workable solutions for converting M4B audiobooks to MP3 and you can choose the one suit your needs most. In addition, if you are interested in other conversion scenarios, here's how to convert WMA to MP3, FLAC to MP3, M4A to MP3, MP4 to MP3, MOV to MP3, WAV to MP3, FLV to MP3, etc., All2MP3 for Mac can help you out.
---
Top 10 Audiobook Websites to Find Free Audiobook Online
When comparing hard copy books to audiobooks, the first consideration you may have is the convenience of easy listening the audiobook offers. You readily listen to audio records of your favorite books while you take care of your chores, cleaning, cooking, on a long drive or even making a run.
While you are on a journey, carrying all your books in hard copies would pose as impossible, but audiobooks are a better form of enjoying your reading where you can pick out your favorite book the same way you choose a music track. You wouldn't have to read it yourself; you only have to download and listen.
Most readers prefer to use audiobooks since it allows you to continue being a bookworm no matter how busy your schedules might get, and it also saves time.
Audiobooks are not always free; they come with expensive price tags, luckily several websites can help you find and download them legally for free. We would discuss ten sites that offer audiobooks with permission from their authors. Some of these books come as MP3, WMA or AAC files so that you can play them on your computers, MP3 players, tablets, phones or iPods.
---
Where to download free audiobooks online
Although the internet is filled with audiobooks, we have rounded up the top ten websites that offer free audiobooks. We would give more detail about each site, but we would begin by listing them.
Now we would discuss further!
Audible offers a great selection of audiobooks for a 30-day free trial period where you can have two books within that period. The audiobooks you get from Audible are downloadable to your mobile device or computers, so you can have them any time you want.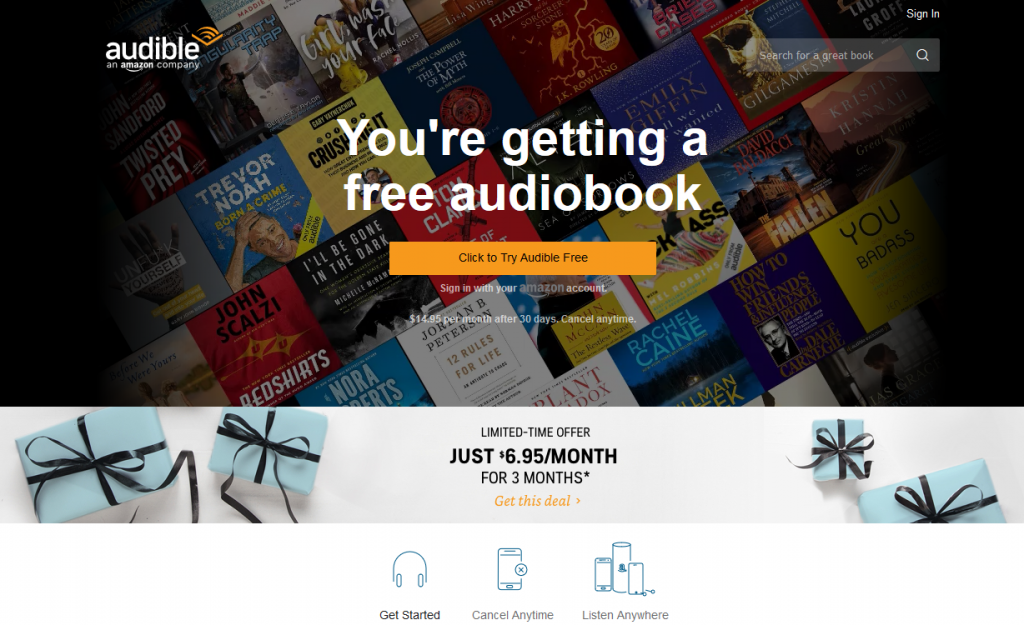 The trial period expires after a month, but you can still get your audiobooks at about $15 per month regardless of the prices of the individual books. Offering two books within 30 days is not a bad deal if you really think about it!
---
You can find free audiobooks in different languages at LibriVox that can be streamed on the go, or downloaded on your iOS and Andriod devices. The website has a selection of free audiobooks in the public domain with each chapter recorded by volunteers, so you can download a specific section when you don't need the whole book.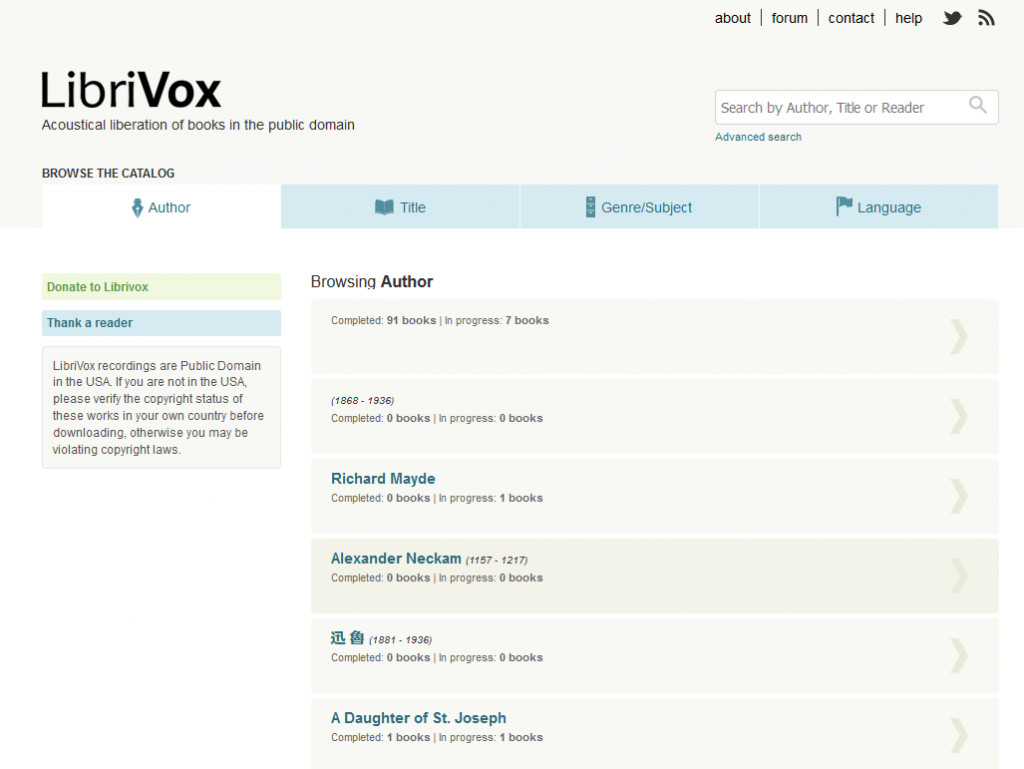 When you want to get an audiobook from LibriVox, search for it by the title, author, subject or language. If you want, you can get your audiobooks in ZIP files. You can also get to view the most recent audiobooks and subscribe to new releases.
---
Formerly named Podiobook, Scribl distributes audiobook through RSS, where you can begin to stream or a download with a click. Scribl lets you filter your audiobooks by language, contributing author, genre, release date, and title from a search, you also have lots of filtering options for character information or audio style.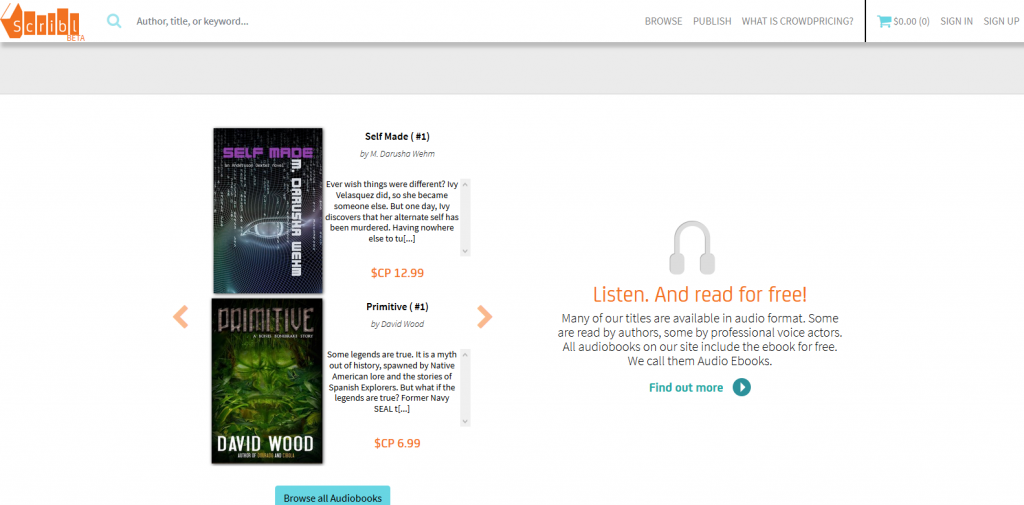 Not all the audiobooks on Scribl are free, some of them are available at a cost, regardless, the website presents some of the best audiobooks the internet has to offer. If you want, the site allows you to donate to your favorite author.
---
Open Culture isn't like other websites; they offer a list of popular titles that are copyright free with their download link. Some of the links provided would allow you to stream and download your audiobooks, while on some other links offers only streaming or downloading.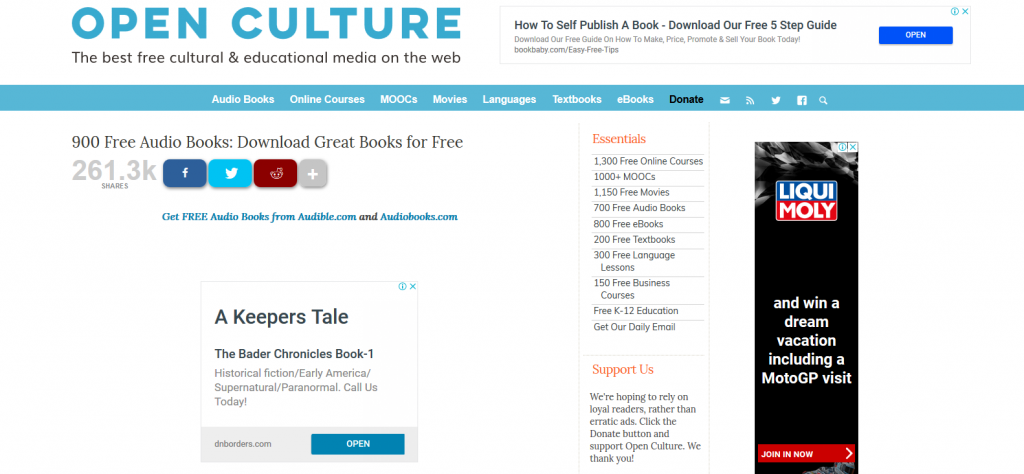 You get hundreds of free audiobooks listed in alphabetical order on Open Culture. The free audiobooks on this websites include fiction, non-fiction and poetry audiobooks that are frequently updated. Apart from audiobooks, you can also get free movies, language lessons, ebooks, and online courses on Open Culture.
---
Storynory is the best way to take care of bedtime stories for children when you don't have time to read to them. The website offers a collection of original short novels, educational books, classic books, and fairy tales mainly for kids.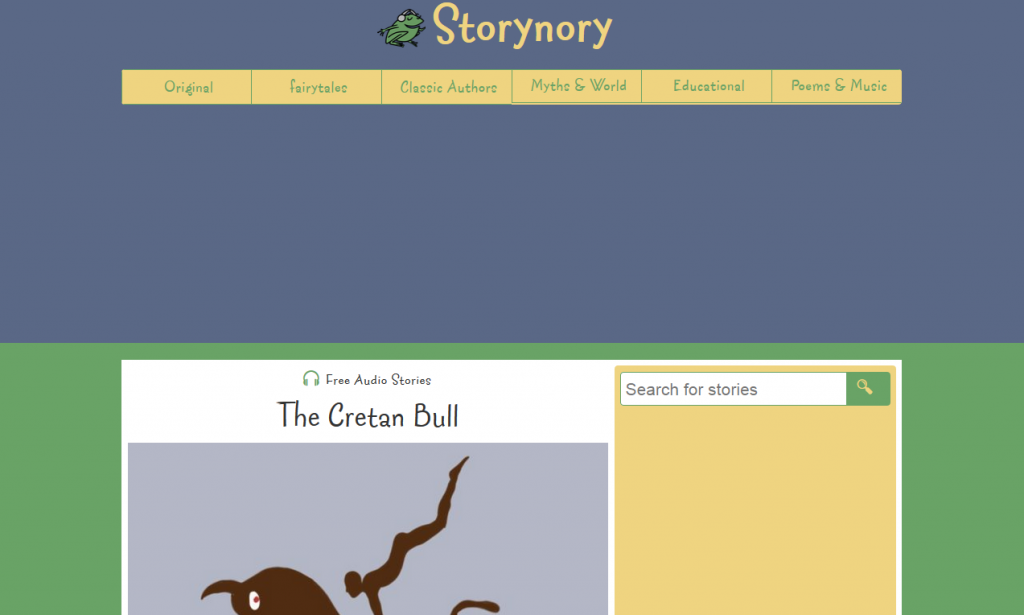 You have options to pick from the steadily increasing hundreds of audiobooks on Storynory since there is a routine to publish at least one new story every week. The stories are recorded by exuberant narrators to encourage listening.
---
Lin2Go contains a collection of downloadable poems and short stories. Florida's Educational Technology Clearinghouse controls the website. There are some ebooks in PDF versions in case you want to read alongside the audiobooks.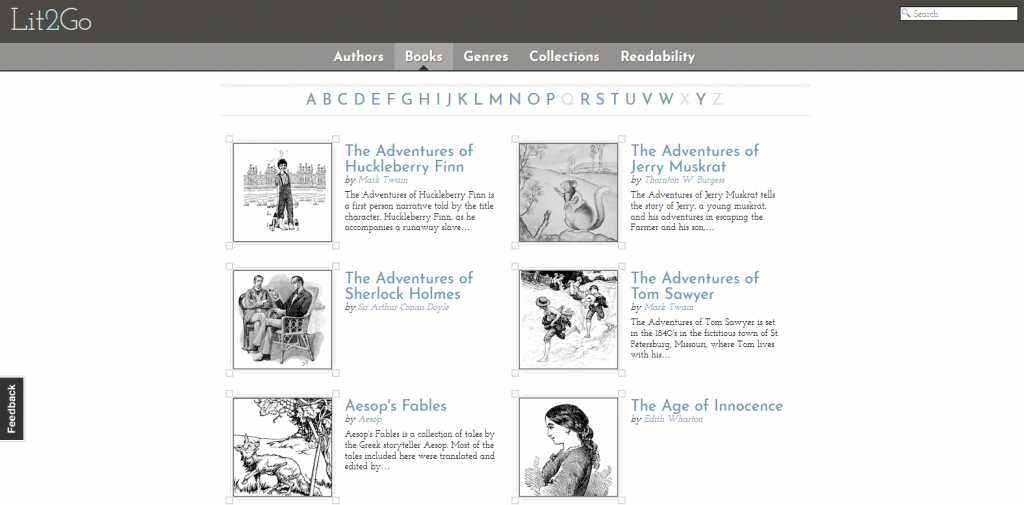 Although the website doesn't allow you to download the whole book at once, you can also download them by their chapters. The homepage has a black and white artwork with a search option to access the title, author, collection, genre, or reading level of your desired book.
---
Some of the books that may attract you to Instant Archive includes Adventures Huckleberry, Moby Dick, The Adventures of Sherlock Homles, The Swiss Family Robinson, Dracula, The Art of War and thousands of other free audiobooks.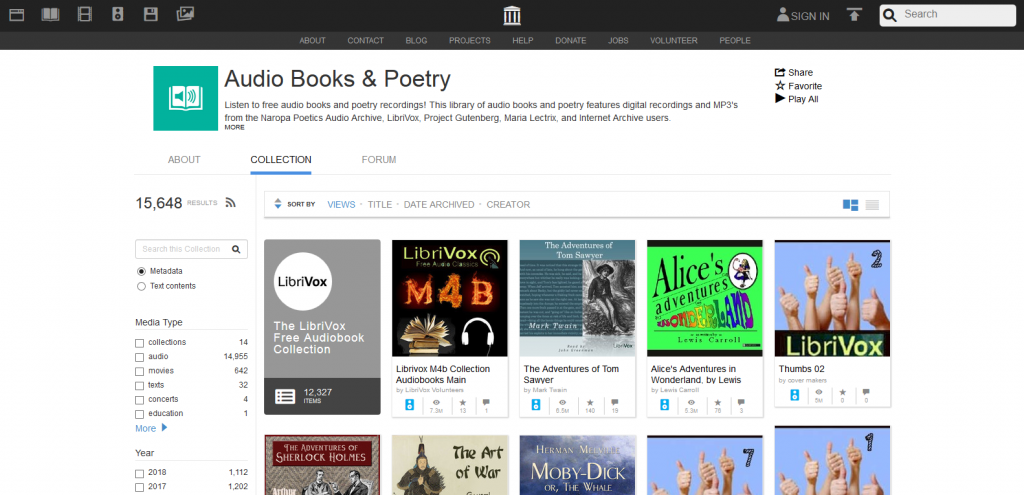 The website offers several audio formats while you download individual chapters of your free audiobooks or in bulk. There is an option to search for your favorite audiobook, but you should not that some of them may be poorly named and difficult to recognize at first.
---
Another renowned website for distributing free audiobook is Digitalbook.io. The site was formally known as Librophile, but it has always been an excellent source to download and listen to both popular audiobooks and the lesser-known ones.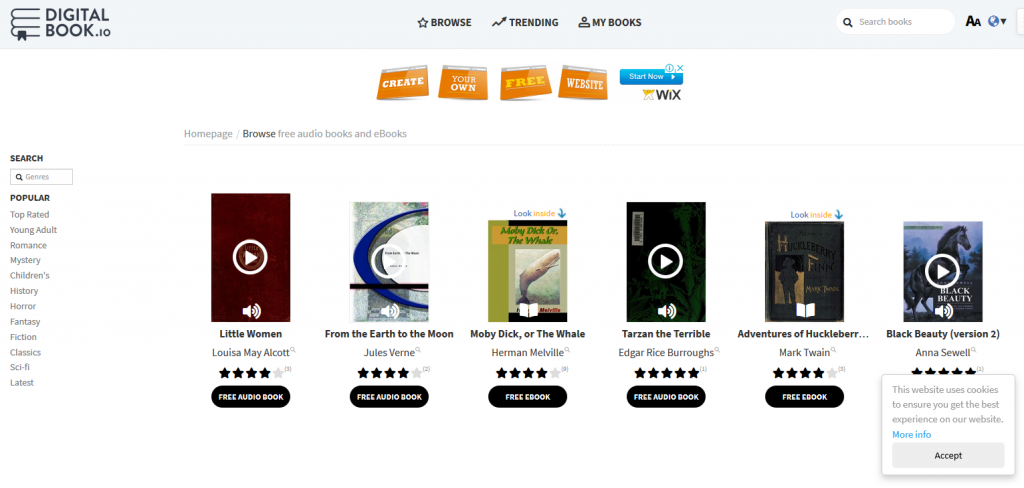 Digitalbook.io shows you the list of trending or recently added audiobooks, to allow you to find the one you like. It also allows lets you get them as a whole so you can listen to them on your device, or listen directly to them on the website in pieces.
---
For more serious stuff like science, politics, religion, and philosophy, Learn Out Loud would be appealing to you. They go beyond providing thousands of audiobooks; they also get you quality materials like free documentaries, speeches, courses and a lot more.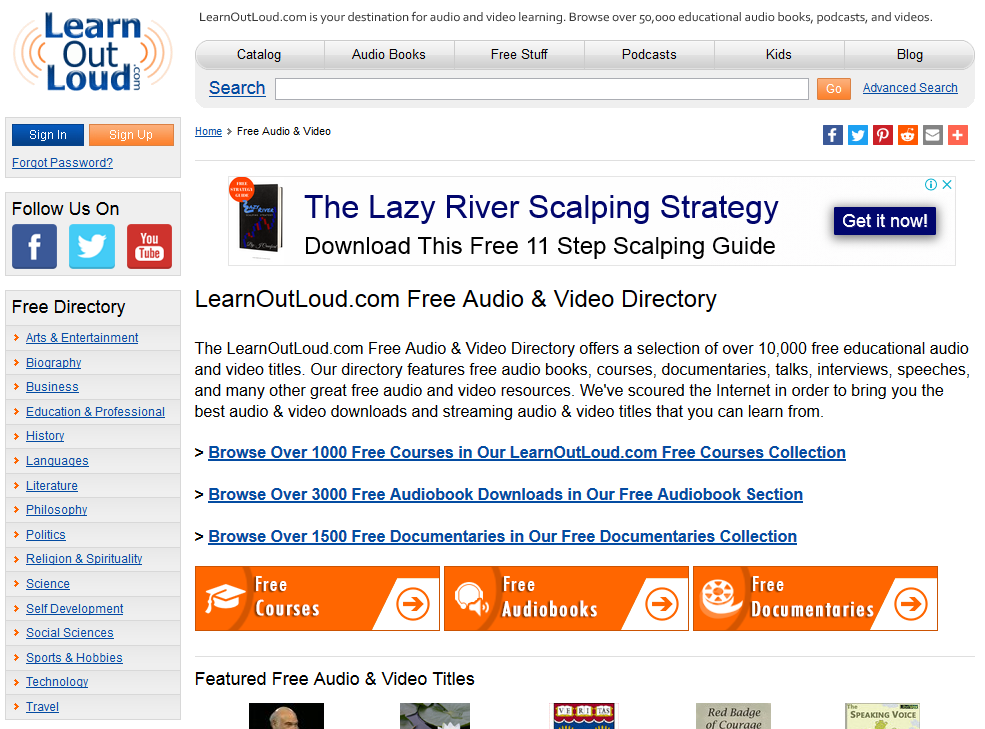 You get several options of sorting or searching for free audiobooks including recently added, most popular, random or alphabetically. To obtain materials from Learn Out Loud, you only have to have to create a free user account, and you can download your needs.
---
Loyal Books used to be called Books Should Be Free. Every single book here is family friendly, perfect for classic literature lovers. You can choose to stream novels and short stories on this website from your iPhones and Androids in a variety of languages, or download them in MP3 and MP4 formats.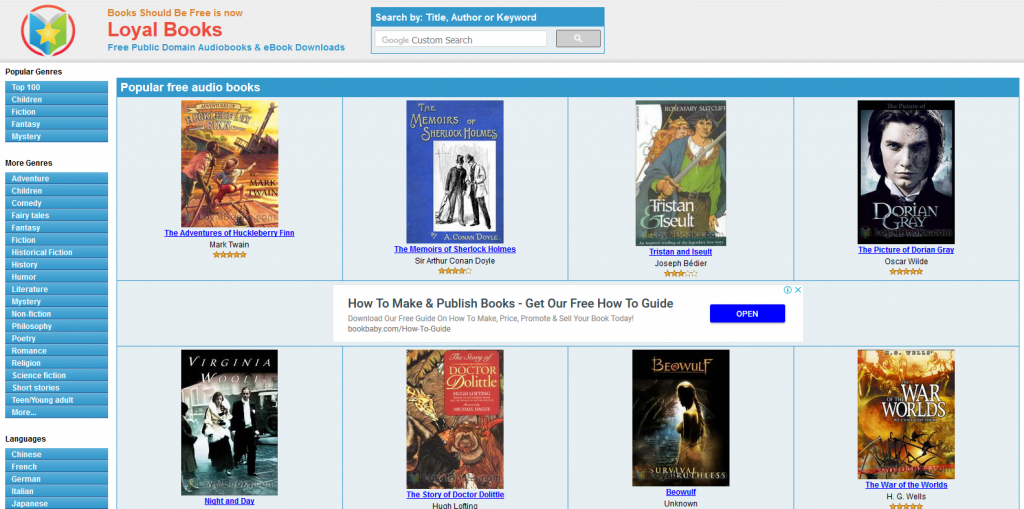 The audiobooks on Loyal Books can be organized by reading level, language, popularity or categorized in a unique genre. Apart from audiobooks, the website also features a Google search engine at the top of the page, podcasts and an RSS feed that you can subscribe to. There is also a rating system to help you quickly locate the audiobook you are looking for and their review from other listeners.
---
Wrap-up
For you to easily to find your favorite audiobooks and download them from your website to your iPhone or Android, you can save the bookmarks to remember their locations. Some of the site mentioned above may not hold the book you want, but they would provide you with the appropriate links where you can download them.
Apart from these, there are other websites you can check out for Free Audiobooks like Gutenberg Audio, Podiobooks, Librophile, Audiobooks.net, KiddieRecords, FreeClassicAudioBooks.com, FreeAudioBooks.co.uk, Thought Audio, FreeAudioBooks.ws, Audio Literature Odyssey, Miette's Bedtime Story Podcast, BookBox, and Kids Audio Books.
With a little research, you would find some available Audiobooks app with easy to use interface that can help you locate and download your materials.