First of all, let's find out what M4B Audiobooks to MP3 conversion is for: M4B is an MPEG-4 file type for audiobooks which is well-known among those who read and purchase audiobooks from Apple's iTunes store frequently. It is different from M4A (another MPEG-4 file type) because it supports chapter markers to make listeners easily remember the last listening spot instead of repeating the files from the beginning each time.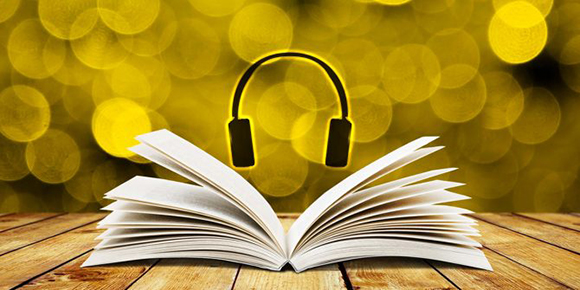 M4B Audiobooks are popular and can be bought and downloaded from iTunes store and some other sources. But given that you just want to listen to your M4B audiobooks somewhere else and finding a compatible player becomes a problem. Obviously converting M4B audiobooks to MP3 is the only way out. That's why we share this article here and you can get all the effective ways as the below shows.
---
How to Convert M4B Audiobooks to MP3
1. Use All2MP3 for Mac to COnvert M4B Audiobooks to MP3 (Best Option)
All2MP3 for Mac is a third-party MP3 converter for Mac which can convert all audio including iTunes M4B audiobooks to MP3 (supported by nearly all media players) on Mac. It provides users better conversion experience, for example, batch conversion mode, faster processing speed, high quality guarantee, more formats supported and many others. It enables you to listen to your audiobooks on any player at any place without limitation. Here are the steps for how to convert M4B Audiobooks to MP3 with All2MP3 for Mac.
Step 1
You can download, install and launch All2MP3 for Mac without paying anything.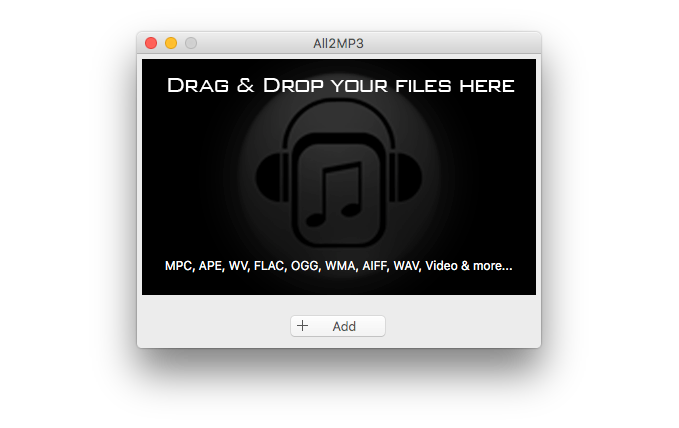 Step 2
Drag your audio files to the program window. After you get the wanted quality level for your audio using the slider bar of "Quality", choose the output folder afterward.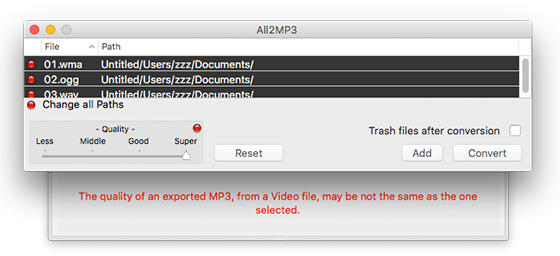 Step 3
With the "Convert" button, you can now start your conversion.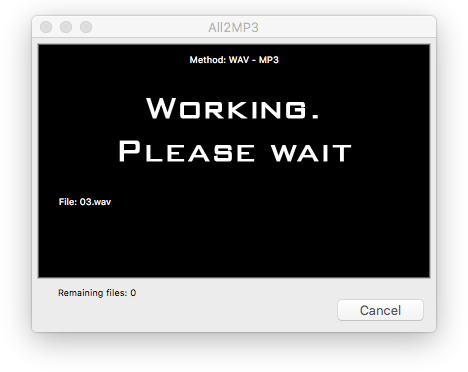 ---
2. Use Online Converter
Apowersoft Online Converter is one of the online converters which can convert M4B files easily online. With the intuitive UI, it can convert audios and videos to any format you want. You don't need to wait for so long because this tool can process with relatively high speed and the output quality will not be disappointing. Moreover, it sets no limit on the how large and how many files you should convert, so you are allowed to convert as many files as you want at one time.
Go to its official website and you can see many video and audio formats listed there, click "Add files" and choose the M4B files from your computer for uploading. After that, click "Format" and choose "MP3" from the menu. Click "Convert" and the process will start immediately.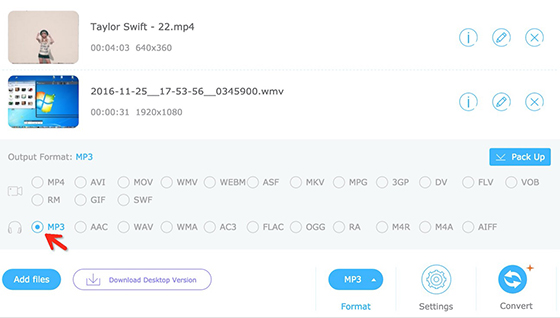 ---
3. Use VLC Media Player
Although VLC is well-known as a media player, it can be another good option to convert M4B Audiobooks to MP3. It can run on multiple platforms including Windows, iOS, Mac and Android. For those who just want to listen to their audiobooks without any further re-encoding, they can just download and install the right version of VLC. For those who insist on file conversion, follow the instruction below.
Open VLC, press Ctrl + R on your keyboard to activate the "Open Media" window. Click on "Add" button and input your M4B files then click "Convert/Save". In the popped up window, you will see a drop-down menu of "Profile", select "Audio–MP3" from it. Then, click "Browse" to choose an output folder. Now, click "Start" to get VLC convert your M4B files to MP3.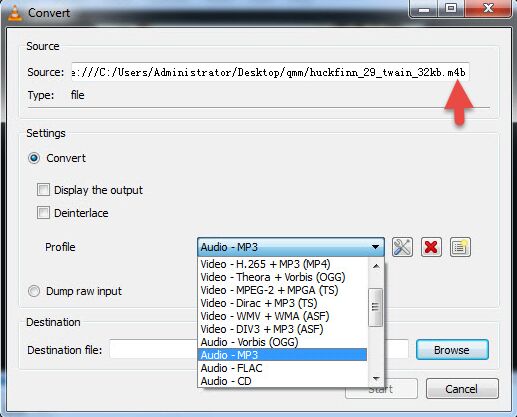 ---
4. Use iTunes
iTunes can also handle some basic conversion jobs for Mac users. To use it to convert M4B to MP3, you just need to open it and input your M4B files or just drag them into iTunes library. Go to "Edit" tab, click "Preferences – Import Settings". In the menu of "Import Using", select "MP3 Encoder". Then, go to "Book – Audiobooks" and click on the file you want to convert. After that, drop down "File – Convert – Create MP3 version". Your audiobooks will be converted to MP3.
As iTunes supports only a few file formats and you may run into crashes sometimes, it is not a recommendable way to convert audio files. Plus, compared to online converters, it is not that easier to manage your file conversion.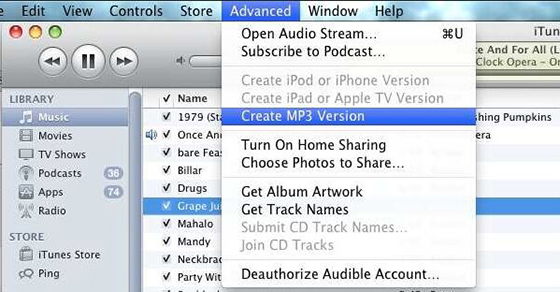 ---
How to Transfer MP3 Audiobooks to An MP3 Player on Mac
What if you want to listen to your audiobooks on the go? You can transfer audiobooks to your MP3 players by manually copying the files. Finder can help you do that and just follow the easy steps below.
First, you need to plug your MP3 player into your computer with a USB cable. Open Finder and go to "Documents – My Media – MP3 Audiobooks". Open another window and in the "Devices" panel in the left, you can find your MP3 player. Just drag the audiobook from the folder of "MP3 Audiobooks" to your device. If you've got a problem in transferring, try dragging the contained MP3 files individually instead of the whole audiobook folder.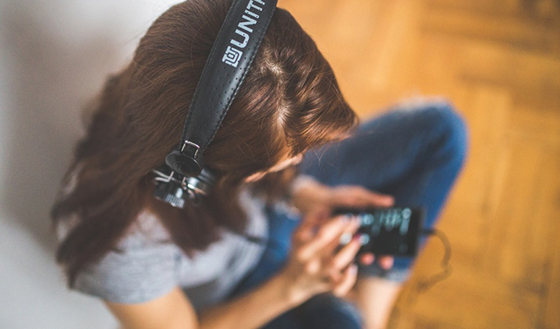 ---
Conclusion
The above are workable solutions for converting M4B audiobooks to MP3 and you can choose the one suit your needs most. In addition, if you are interested in other conversion scenarios, here's how to convert WMA to MP3, FLAC to MP3, M4A to MP3, MP4 to MP3, MOV to MP3, WAV to MP3, FLV to MP3, etc., All2MP3 for Mac can help you out.
---
Top 10 Audiobook Websites to Find Free Audiobook Online
When comparing hard copy books to audiobooks, the first consideration you may have is the convenience of easy listening the audiobook offers. You readily listen to audio records of your favorite books while you take care of your chores, cleaning, cooking, on a long drive or even making a run.
While you are on a journey, carrying all your books in hard copies would pose as impossible, but audiobooks are a better form of enjoying your reading where you can pick out your favorite book the same way you choose a music track. You wouldn't have to read it yourself; you only have to download and listen.
Most readers prefer to use audiobooks since it allows you to continue being a bookworm no matter how busy your schedules might get, and it also saves time.
Audiobooks are not always free; they come with expensive price tags, luckily several websites can help you find and download them legally for free. We would discuss ten sites that offer audiobooks with permission from their authors. Some of these books come as MP3, WMA or AAC files so that you can play them on your computers, MP3 players, tablets, phones or iPods.
---
Where to download free audiobooks online
Although the internet is filled with audiobooks, we have rounded up the top ten websites that offer free audiobooks. We would give more detail about each site, but we would begin by listing them.
Now we would discuss further!
Audible offers a great selection of audiobooks for a 30-day free trial period where you can have two books within that period. The audiobooks you get from Audible are downloadable to your mobile device or computers, so you can have them any time you want.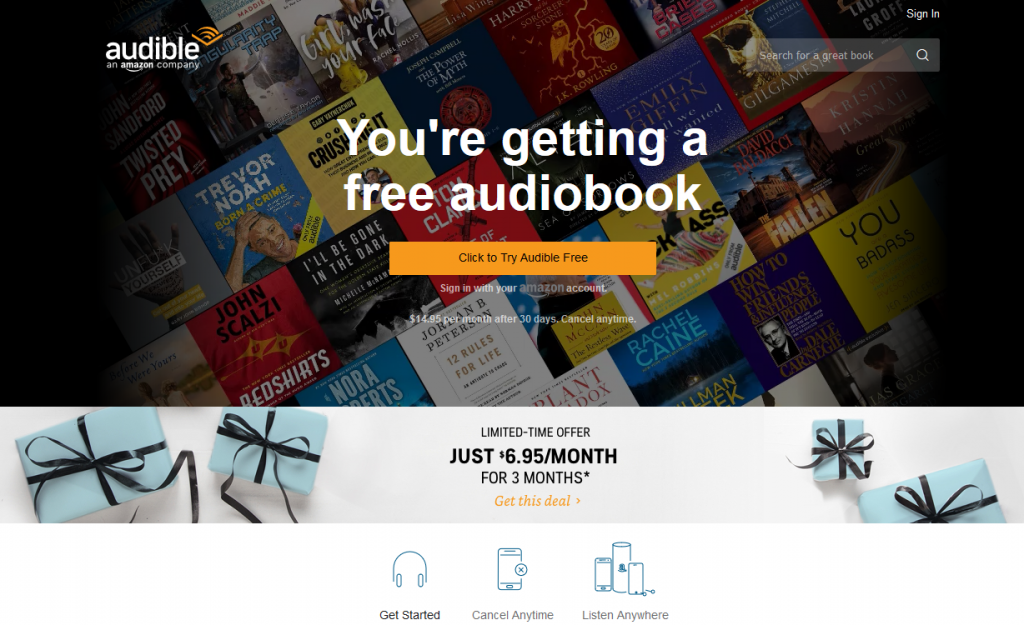 The trial period expires after a month, but you can still get your audiobooks at about $15 per month regardless of the prices of the individual books. Offering two books within 30 days is not a bad deal if you really think about it!
---
You can find free audiobooks in different languages at LibriVox that can be streamed on the go, or downloaded on your iOS and Andriod devices. The website has a selection of free audiobooks in the public domain with each chapter recorded by volunteers, so you can download a specific section when you don't need the whole book.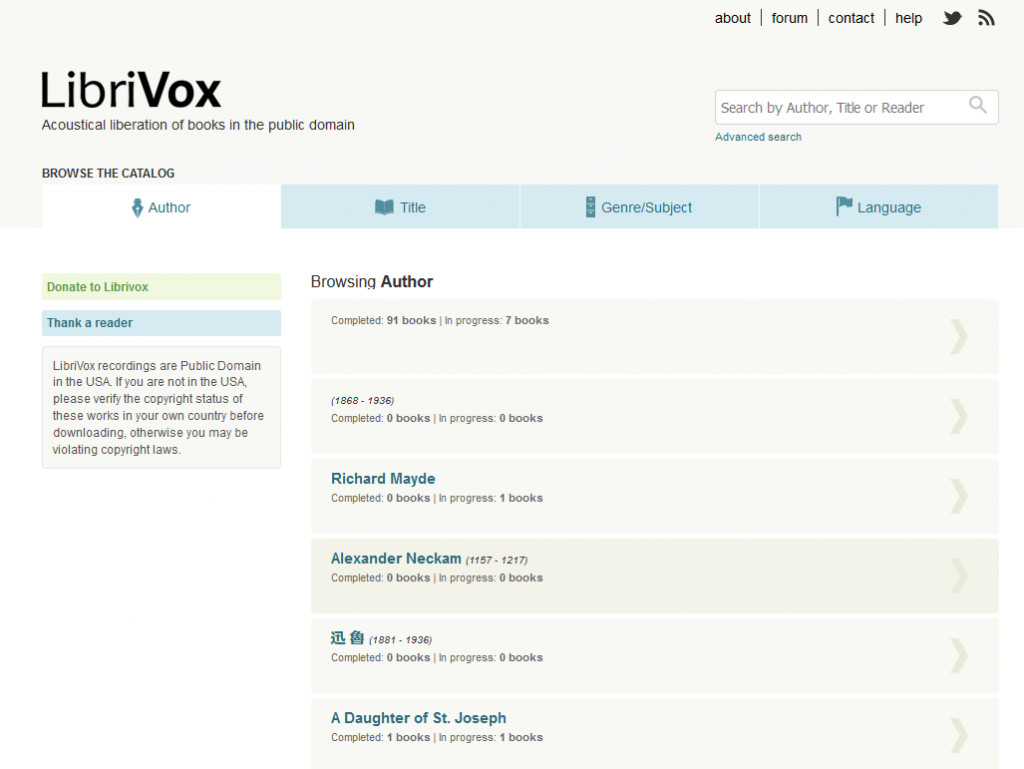 When you want to get an audiobook from LibriVox, search for it by the title, author, subject or language. If you want, you can get your audiobooks in ZIP files. You can also get to view the most recent audiobooks and subscribe to new releases.
---
Formerly named Podiobook, Scribl distributes audiobook through RSS, where you can begin to stream or a download with a click. Scribl lets you filter your audiobooks by language, contributing author, genre, release date, and title from a search, you also have lots of filtering options for character information or audio style.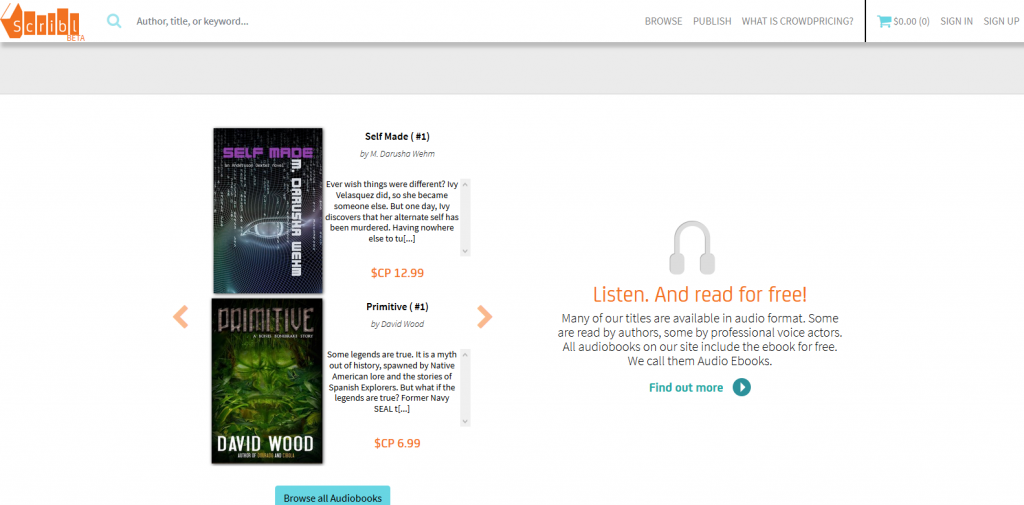 Not all the audiobooks on Scribl are free, some of them are available at a cost, regardless, the website presents some of the best audiobooks the internet has to offer. If you want, the site allows you to donate to your favorite author.
---
Open Culture isn't like other websites; they offer a list of popular titles that are copyright free with their download link. Some of the links provided would allow you to stream and download your audiobooks, while on some other links offers only streaming or downloading.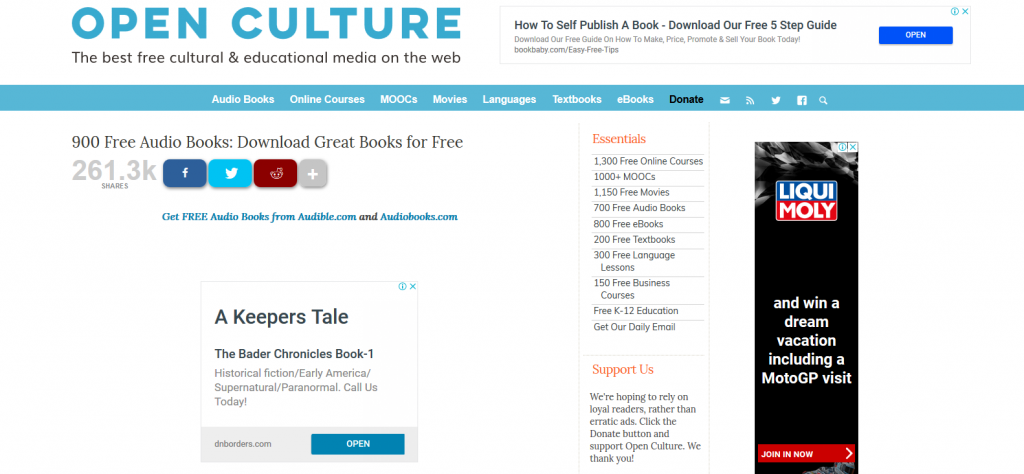 You get hundreds of free audiobooks listed in alphabetical order on Open Culture. The free audiobooks on this websites include fiction, non-fiction and poetry audiobooks that are frequently updated. Apart from audiobooks, you can also get free movies, language lessons, ebooks, and online courses on Open Culture.
---
Storynory is the best way to take care of bedtime stories for children when you don't have time to read to them. The website offers a collection of original short novels, educational books, classic books, and fairy tales mainly for kids.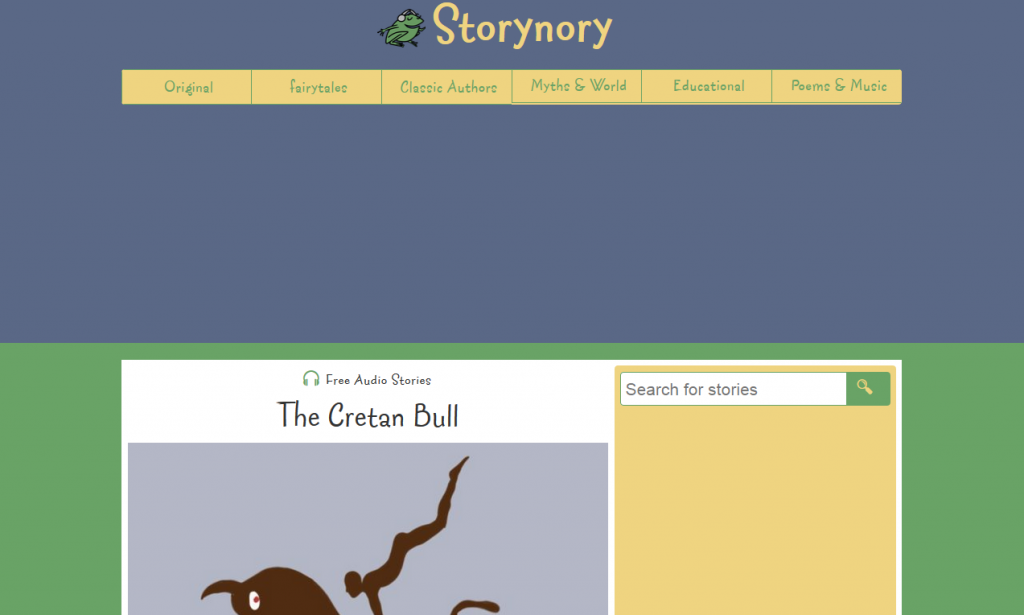 You have options to pick from the steadily increasing hundreds of audiobooks on Storynory since there is a routine to publish at least one new story every week. The stories are recorded by exuberant narrators to encourage listening.
---
Lin2Go contains a collection of downloadable poems and short stories. Florida's Educational Technology Clearinghouse controls the website. There are some ebooks in PDF versions in case you want to read alongside the audiobooks.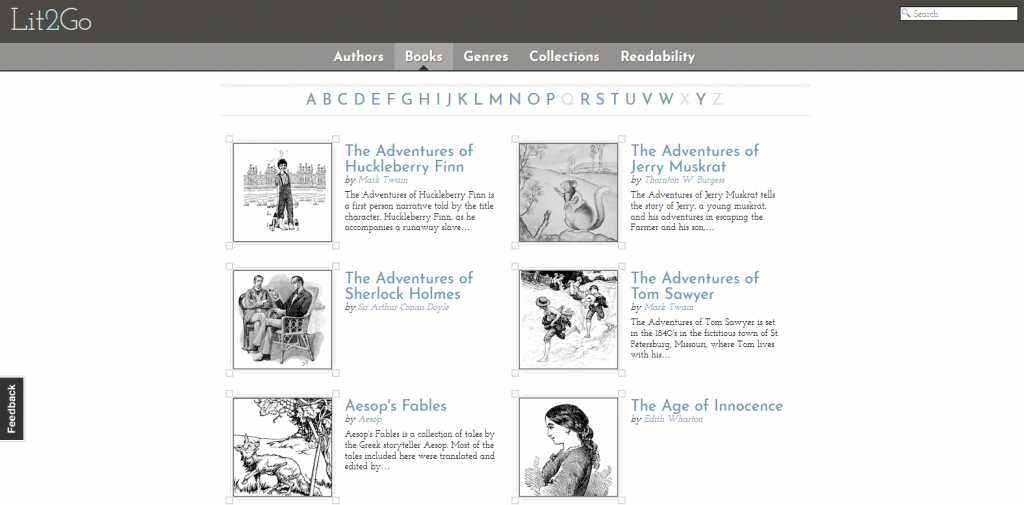 Although the website doesn't allow you to download the whole book at once, you can also download them by their chapters. The homepage has a black and white artwork with a search option to access the title, author, collection, genre, or reading level of your desired book.
---
Some of the books that may attract you to Instant Archive includes Adventures Huckleberry, Moby Dick, The Adventures of Sherlock Homles, The Swiss Family Robinson, Dracula, The Art of War and thousands of other free audiobooks.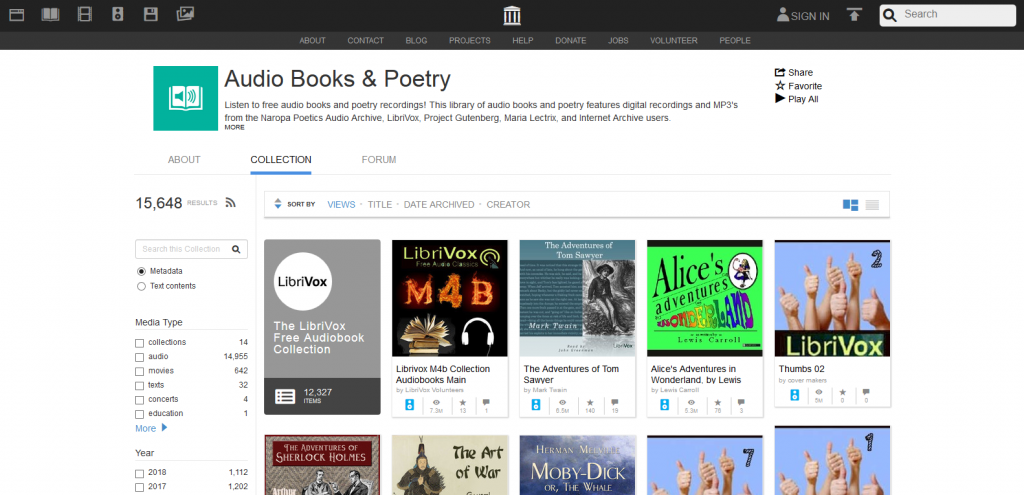 The website offers several audio formats while you download individual chapters of your free audiobooks or in bulk. There is an option to search for your favorite audiobook, but you should not that some of them may be poorly named and difficult to recognize at first.
---
Another renowned website for distributing free audiobook is Digitalbook.io. The site was formally known as Librophile, but it has always been an excellent source to download and listen to both popular audiobooks and the lesser-known ones.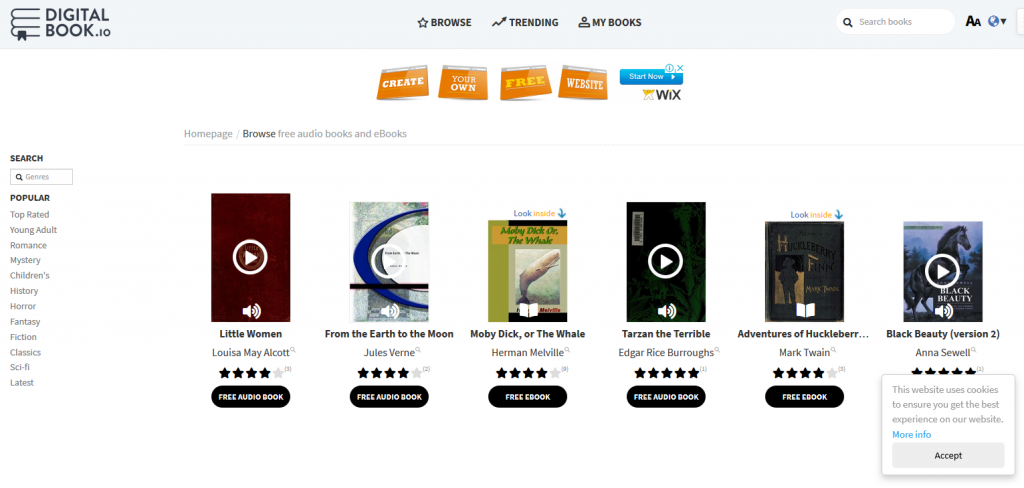 Digitalbook.io shows you the list of trending or recently added audiobooks, to allow you to find the one you like. It also allows lets you get them as a whole so you can listen to them on your device, or listen directly to them on the website in pieces.
---
For more serious stuff like science, politics, religion, and philosophy, Learn Out Loud would be appealing to you. They go beyond providing thousands of audiobooks; they also get you quality materials like free documentaries, speeches, courses and a lot more.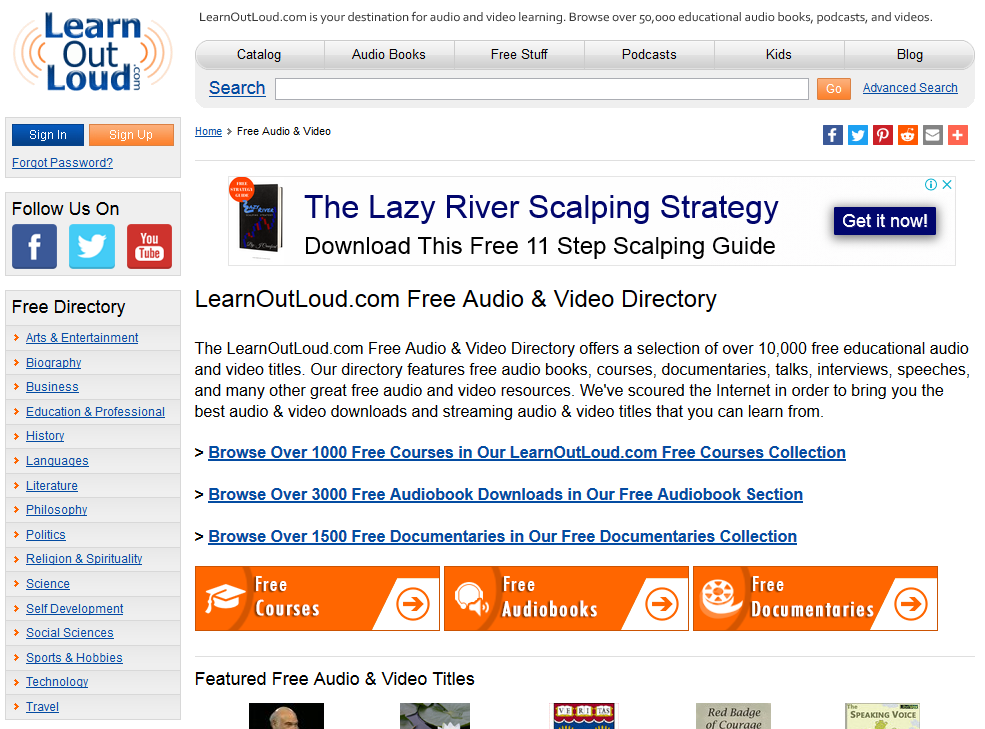 You get several options of sorting or searching for free audiobooks including recently added, most popular, random or alphabetically. To obtain materials from Learn Out Loud, you only have to have to create a free user account, and you can download your needs.
---
Loyal Books used to be called Books Should Be Free. Every single book here is family friendly, perfect for classic literature lovers. You can choose to stream novels and short stories on this website from your iPhones and Androids in a variety of languages, or download them in MP3 and MP4 formats.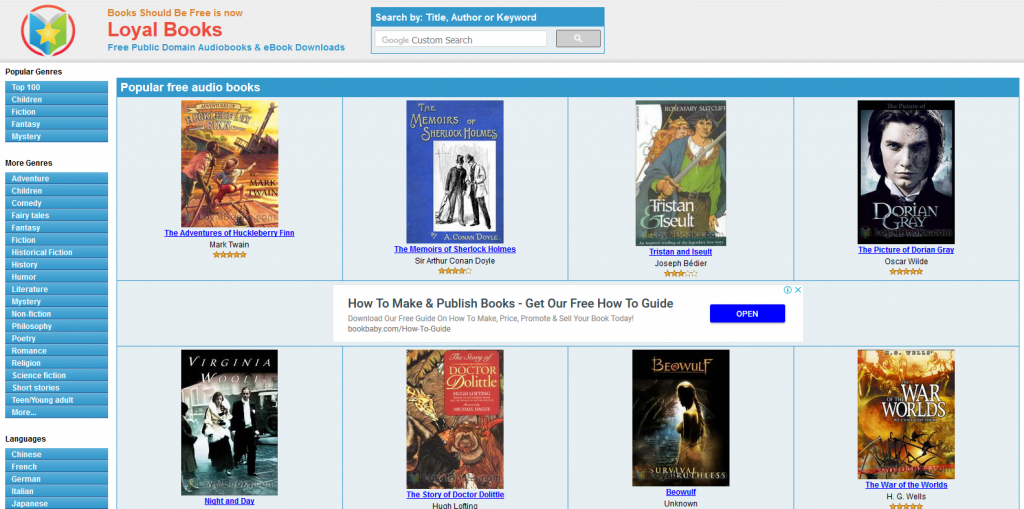 The audiobooks on Loyal Books can be organized by reading level, language, popularity or categorized in a unique genre. Apart from audiobooks, the website also features a Google search engine at the top of the page, podcasts and an RSS feed that you can subscribe to. There is also a rating system to help you quickly locate the audiobook you are looking for and their review from other listeners.
---
Wrap-up
For you to easily to find your favorite audiobooks and download them from your website to your iPhone or Android, you can save the bookmarks to remember their locations. Some of the site mentioned above may not hold the book you want, but they would provide you with the appropriate links where you can download them.
Apart from these, there are other websites you can check out for Free Audiobooks like Gutenberg Audio, Podiobooks, Librophile, Audiobooks.net, KiddieRecords, FreeClassicAudioBooks.com, FreeAudioBooks.co.uk, Thought Audio, FreeAudioBooks.ws, Audio Literature Odyssey, Miette's Bedtime Story Podcast, BookBox, and Kids Audio Books.
With a little research, you would find some available Audiobooks app with easy to use interface that can help you locate and download your materials.
---
Tips to Get Started with Audiobooks
Many audiobooks readers used to complain that they don't have the patience to sit long enough for an audiobook due to distraction and defocus. Don't rush into a conclusion that you are not an audiobook type person. Take some steps before getting into audiobooks to form your habit – it's easier than you thought.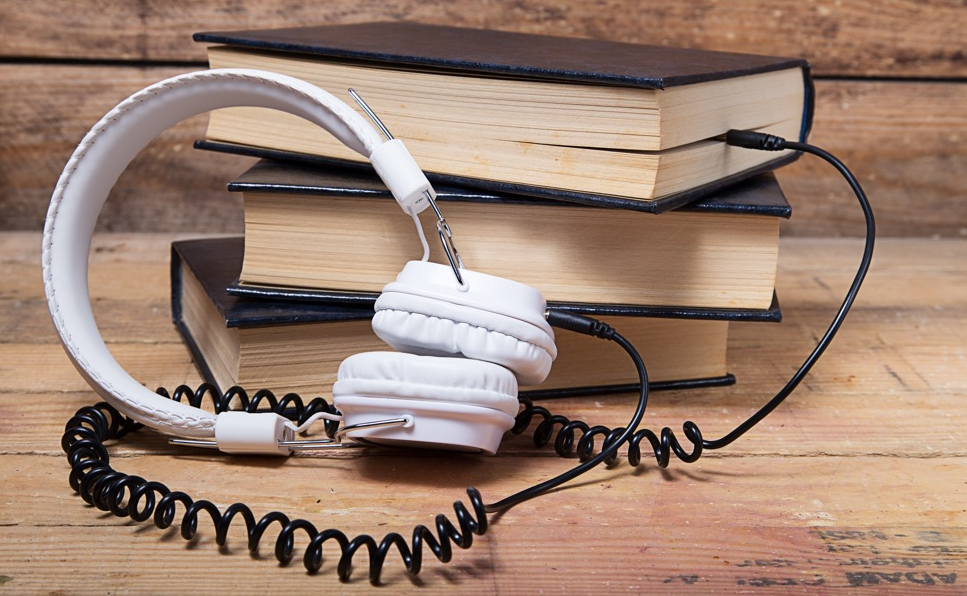 1. Listen to Radio Comedy Sitcoms
People love funny things and jokes. Listening to music doesn't require much attention unless you want to memorize the lyrics, but you surely don't want to miss a cue in a joke or a hilarious anecdote. There are many alternatives like stand-up comedies out there, but radio sitcoms are a better choice to stay tuned due to the diversity.
2. Go on with Radio Dramas
Radio dramas provide you with excellent content, attractive stories and successive scenes. It will help you focus and get you into longer and unabridged audiobooks. BBCRadio4 is a recommended source for quality radio dramas.
3. Find a Live Audiobook
Find yourself an audiobook that was read to audiences in a live stage or online programme. A live version audiobook is always more enthralling than the recorded version produced in a studio. It will bring you more sense of substitution and make you feel as if you are in the seat with all the other audiences, empathizing with the reactions of the people & interacting with the story.
4. Find a Biographic or Technical Audiobook
It is suggested you begin with a biographic or technical audiobook. Biographies of the people you look up to or have craze interest in are the best! You will be focusing on the details of their lives. A technical audiobook can also be a great alternative because people are more focusing when they are gathering new useful & entertaining information.
5. Choose a Familiar Story
Now, a recorded audiobook. Go to the best audiobook sites listed in this post, choose some books with the stories that you've already known, listens to the samples and select the narrators (if possible). Choosing a familiar story can help you build the "listening" habit without worrying about missing a few parts of the whole story.
6. Get a New Fiction
Have you done all the steps before? It's time to let your ears taste something fresh. Choose an audiobook with a new story. Now you are entirely qualified to enjoy millions of audiobooks like all the others while taking your time doing some chores.
---
101 Best Audiobooks – Recommended!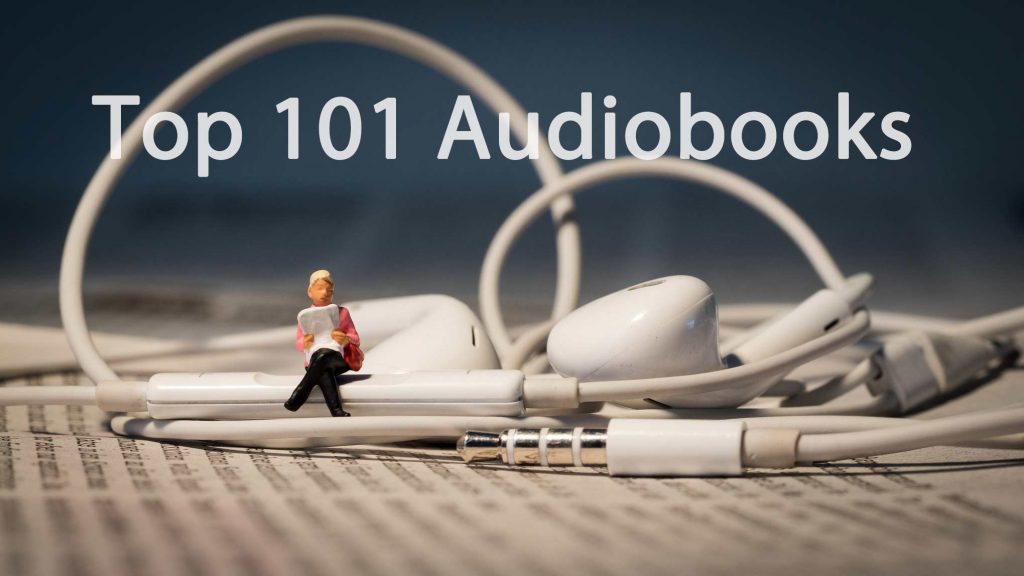 There are too many choices of audiobooks? If you have enough time to waste on cheesy novels, you can try whatever you want; but if you value time as much as money, spend your time on those worthy audiobooks – being picky is not a crime! Check the 101 best audiobooks and find out what's your favorite. You can even play the audiobook samples!
---
Why Audiobooks
Audiobooks and printed books are not competitors – they are more like companions and supplements of each other. Listening to audiobooks does not mean that you have to ditch the classic way of reading. That's why I encourage people who still read books to give audiobooks a try, which can bring diversity to their reading time. There are many reasons why audiobooks, the revolutionary reading habit, should be a part of your life.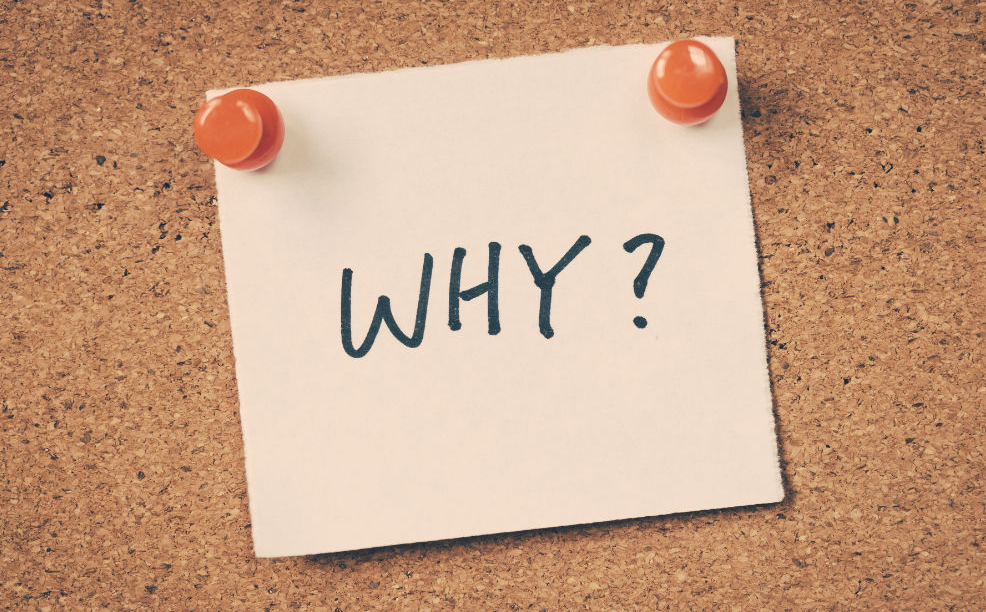 Free your hands from holding books and flipping pages.
No need to use your eyes when they are tired.
Enjoy yourself during commuting, a road trip, or any activities that occupy your time.
A reading companion for kids who can't read yet.
An assistant to relieve the eye strain for far sighted or short-sighted people.
Enable people who lose their sight, for the time being or for good, to read without learning braille.
A great way to rediscover the classic books.
A method to learn new languages.
It helps improve your oral reading.
It trains you to be a good listener.
An easier way to get reluctant readers into books.
You can store countless audiobooks in your cell phone.
You can listen to audiobooks when the light is too dim or too bright to read.
An alternative to reduce screen time and protect your eyesight.
Reading an audiobook after you've read its textual version gives you better retention.
Customizable reading speed can help you get more info without affecting your comprehension.
(Although audiobooks are convenient and come with lots of benefits, it is not recommended to read them while you are walking, driving or doing anything that is potentially dangerous or very crucial.)
---
What Makes a Good Audiobook
A good audiobook provides more than just a way to enjoy a good story. Let's put personal taste aside and figure out the elements that consist of a good audiobook.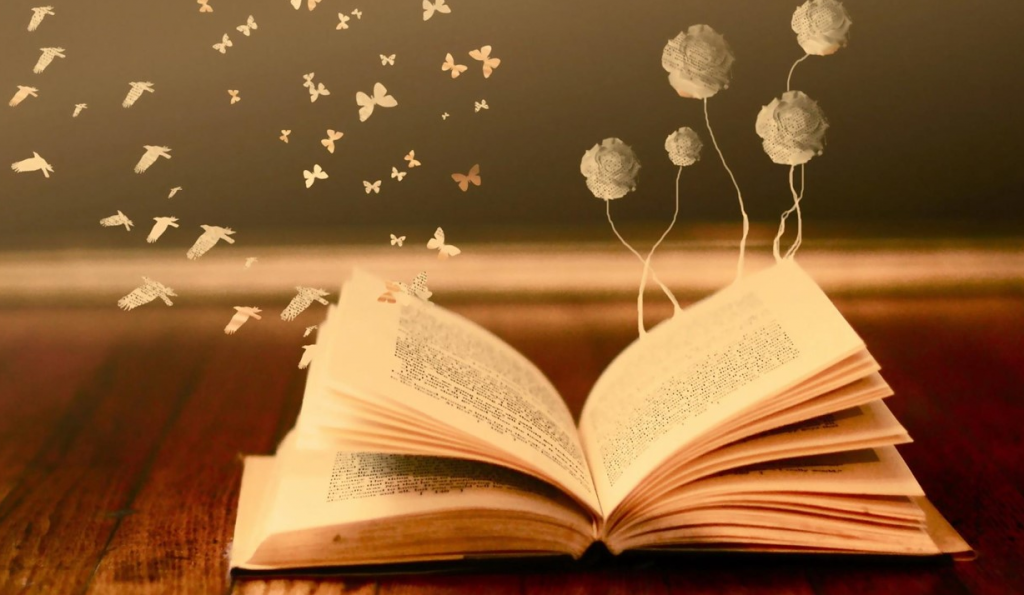 Content
Content that's suitable for audio is necessary. Obviously, content like complex charts, phone books & data analysis form will not make a pleasant listening experience.
Narrator
A natural sounding voice of the narrator is a good start and can create a soothing experience. The reading techniques of an excellent narrator can bring the story to a next level.
Style
This is more an individual thing. There are plenty of types of audiobooks: romantic story, historical drama, science fiction, biography, fantasy novel, life manual, health handbook, etc. Choose what you love.
---
How to Fit in More Audiobooks
If you want your audiobook hobby a leisure, enjoying the natural voice and tasting the emotions between the lines, I suggest you take your time, brew a coffee and lie down on the couch; if you want to squeeze more books into your brain in a limited time, there are some tricks to help you out.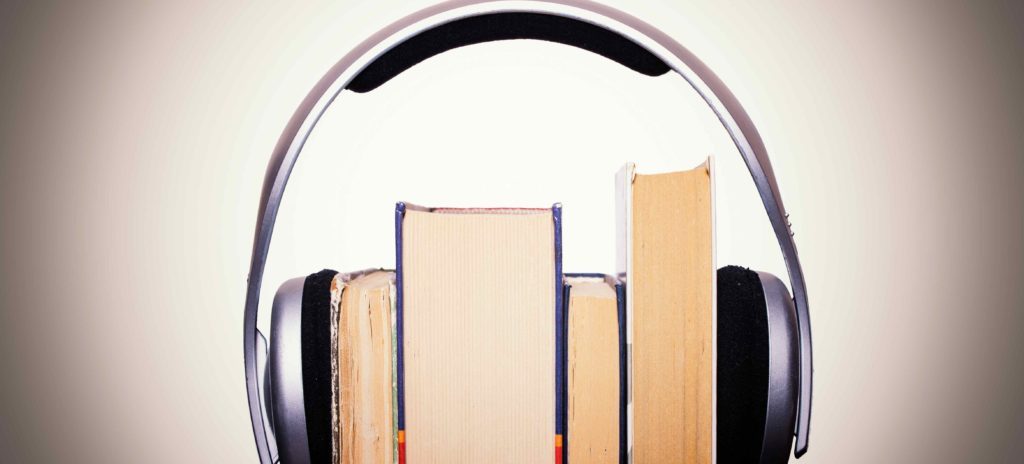 1. Download Several Audiobooks on Your Devices
If you are always on the go and you are an audiobook person, you may have experienced this issue: you've started an audiobook but for some reason, you don't find it attractive anymore, be it the story, the voice, the pace/speed, or other factors. In this case, you may not continue to listen to anything because you don't have any other audiobooks stored on your devices as a backup plan. That's why I suggest you download at least 2 (the more, the better) audiobooks to your devices in case you find one of them is not that appealing. Make sure you download them to your devices instead of saving them in your account of an audiobook site/app because you won't have an internet connection everywhere you go, especially when you are traveling or commuting.
---
2. Choose a Series
If you are into series of books, you may be used to reading more than 3 or 4 books in one series; but for some people, it's not an easy task to finish reading a series. However, when it comes to audiobooks, reading a series becomes more enjoyable and pleasant. You should download at least one series of audiobooks, which suit your taste so that you can listen to them one after another due to reading inertia, stimulating more interest in audiobooks.
---
3. Listen with Your Kids
It always brings more fun when you listen to audiobooks with your kids. There are many types of audiobooks that are not children-compatible, so you should prepare some children's audiobooks. Spend some quality audiobook reading time with your kids and discuss the storyline with them. Children's books usually don't require much attention to know the details so you can keep your hands busy with your chores. Listening with your kids will drive more interest and it would be better if you all explore in a classic, timeless all-age story.
---
4. Listen during Your Exercise
Many of us may be fond of listening to music when they exercise because the rhythm and the pace of the music can help motivate you to exercise; meanwhile, some of us need something more distraction to forget how sore their muscle is and how short their breath is. Audiobooks are the ideal alternative to music. Many contents can be read during a 40-minute workout – if you need more exercises, you need to listen to more audiobooks, and vice versa.
---
5. Speed up
The best thing about using audiobook sites like Audible is that you can choose the reading speed of the audiobooks. Many of us are listening at normal speed, but if you want to read as more books as possible, 1.75x or 2x is more practical. With a little practice, you can get used to the narrator's faster reading without missing any details. Audible also provides 3x speed-up, which is too fast to enjoy for me, but if you got that "talent" in you, go for it!
---
What Makes A Good Narration

Female Voice
Female voice is better for most books. Many of us tend to prefer female narrators mainly because they can also voice male characters without sounding ridiculous. Most male narrators cannot voice female characters as naturally as the way female narrators voice male characters due to some physiological reasons. Female narrators can sound like men by slightly changing the pitch without a sweat, while male narrators' "female" voice is either breathy or weak as a sigh. That's why we suggest female narrators, especially for an audiobook with a lot of female characters. They may not sound completely like a man but at least the characters can sound naturally, with their voices under control.
---
Slow Narration
Better narrators read a bit slower than a bit fast. Appropriate pacing is important to enjoy your audiobook you choose. Romantic stories surely won't share the same pace with adventure/action novels. Even different scenes in a book may require different narration speeds according to the content. However, generally speaking, a slower narration is better than a speedy one. After all, you can change the reading speed on most of the audiobook sites or in the audiobook apps – if you want an audiobook read faster, go for 1x or 2x speed; but it won't sound natural if you turn the originally fast narration slower.
---
Authentic Accents
An indecent accent can ruin a whole book no matter how great the content is; meanwhile, an authentic accent will add depth to the characters and their behaviors, catch your interest and drag you into the story. Accurate national/regional accents are one of the key factors to portrait different roles from different cultures vividly. The ability to imitate various accents makes a narrator suitable for all kinds of voicing, e.g., it won't be enjoyable if you hear a southern American accent from a character who should be a British in a story happened in London.
---
Smooth Narration Editing
Some of the narrators may take a month to narrate a book and the most efficient ones can finish 4 to 5 books. The narrators won't be able to finish all the reading without incident, even the best ones. However, different pieces of narration recordings should be joined together smoothly & seamlessly, without irregular gaps between sentences & chapters. Some poorly produced audiobooks may even contain all sorts of weird noises while the volume of different chapters varies. Smooth editing will make the audiobook an intact work of art; the poor editing, instead, will ruin the devotion of the narrators and the immersion of the readers.
---
Narrator Enjoyment
If you listen carefully, you can tell if the narrators are fond of the story they are telling: completely unforced tone, volume, pitch, pace, etc. these are the signs that narrators are enjoying the story. A narration without emotion will make a Shakespeare story dull and mediocre. That's why you should always listen to the sample of an audiobook to tell if the narrator is touched and drunk into the story and decide if this is the narration you want for an audiobook you might be listening to for several days.
---
How to Maximize Your Audiobook Retention
If you listen to audiobooks just for fun and relaxation, it's OK if you miss some details or can't remember most of the content after you finish the book; but if you are listening to the audiobook for educational purposes, you may have to memorize a thing or two. Don't just put on your headphones and pour book into your brains.
It's perfect if you have a day job that allows you to put on your earphone/headphone and dive into the whatever learning material you have; if not, you can also listen to them during commuting, which usually takes us 30 minutes to 1 hour, enough for you to memorize some useful information. With the help of audiobooks, it is a bit less hard to create your own business while working for your boss.
Reading a physical book is a better way to keep yourself engaged and learn something, but if for some reason, you have to listen to audiobooks, you do it the right way. By following the tips below, you will be enabled to turn audiobooks your secret learning weapon and outmatch your competitors who cannot be used to filling idle time with audiobooks. Before we jump into other tips, there is one thing you should keep in mind: focus, focus & focus! Our brains prefer visual than audio material, so it is freaking easy to lose focus & get distracted while listening to audiobooks.
Tips to Enhance Your Audiobook Experiences
Take a break.
Do not cram too much new stuff into your brain until you take some time out to digest what you've listened to. Hearing the words is good, but understanding the meaning is more important. You should stop for 5 to 10 minutes after every 20 to 30 minutes of audiobook listening. The time required is flexible. If you are quite talented in constant listening and memorizing,you may not even need the break; but if you are learning a second language, it is highly likely that you need a pause after every long sentence.
Invest in your headphone/earphone.
A good pair of headphones/earphones can help enjoy the audiobook. It is not necessary to read your books but instead of a shoddy gadget, a decent one always makes you more willing to put it on. There is no need to put too much money on it – just upgrade your equipment to an appropriate and affordable level.
Take notes.
Taking notes is a good habit if you want to learn something from audiobooks. You can either go the traditional way with a pen & paper, or go the modern way with your cellphone, tablet or laptop. Noting the information down can help to memorize them, and it would be easier for you to come back to the notes than re-listen to the audiobooks.
Re-listen if necessary.
It is impossible for most of us to get all the information from an audiobook on the first time. If you don't get it, re-listen to it. Don't be afraid of wasting your time when you are trying to extract knowledge that's quite useful for your business or life. It's not a shame to re-listen to it, but it is to skim the content while it's worth of intensive reading.
Custom the narration speed.
Many audiobook sites and apps allow you to change the narration speed. A proper speed of voice can help you accept and memorize the information. Usually, the 1.25x to 1.5x speed is fine for most of us. If you can handle higher speed without feel uncomfortable, you can pursuit 2x. The Audible app even provides 3x speed, which enables you to finish a 6-hour book in 2 hours – of course, it requires some training and talent to go for 3x or else you may lose many details and feel tired. Meanwhile, there are also choices for slow listeners like seniors, children, people who don't enjoy fast reading and who have to learn things from books with lots of terminologies. They can choose slower narration speed like 0.75x for better understanding as long as the voice sounds natural.
Listen before bed.
Sometimes you don't have time or not in the mood for audiobooks: your day work is too busy, public commuting is too crowded to enjoy, you don't want to listen to anything when driving due to safety reasons and maybe you are simply not a multi-task person to listen to audiobooks while doing your chores. How can you find that time for your listening? Well, as a famous Chinese dictum goes "Time is like water in the sponge; if you squeeze harder, there is always more". Bedtime is one of the perfect times to enjoy audiobooks. You can set all the worries aside and turn off the light. Usually, you have 10 to 20 minutes before falling asleep. According to a research by Harvard Medical School, recently learned information can be reactivated in dreams, which could improve mind power.
Share, discuss & teach what you learned.
When you finish an audiobook, it would be perfect if you have a group, some friends or some family members to discuss it. Sharing your experience with this audiobook can strengthen the retention. Their opinions on this book can also help you understand the book from different angles. It's even better if you can teach someone what you've learned from the book. According to a research, we can absorb about 90% of what we teach but if you just read the number drastically drops to about 10%. It's a more efficient method than re-listening to share, discuss and teach what you learned.
Exercise.
Multi-tasking is not recommended for most activities, but exercise + audiobook is an exception. Walking, jogging, dumbbelling, riding an exercise bike… these cardio workout routines were born perfect partners of audiobooks. They don't require much attention so you can focus on your audiobooks while burning some calories. A study by Goethe University in Frankfurt also shows that light exercises can increase your cognitive prowess.
Take actions.
Now you know all the tricks to improve your audiobook retention and have better listening experience. Don't just stick to your old habits without trying one or two them. Make some changes to see what surprise they can bring to your life.
---
Several Jobs that Allow You to Listen to Audiobooks
Although we keep saying that listening to audiobooks can be done while you are busy with work or daily stuff, it is always pleasurable if you can find some time, lie down on your couch, make yourself a drink and put on your headphone, doing nothing else but delving deep in the story.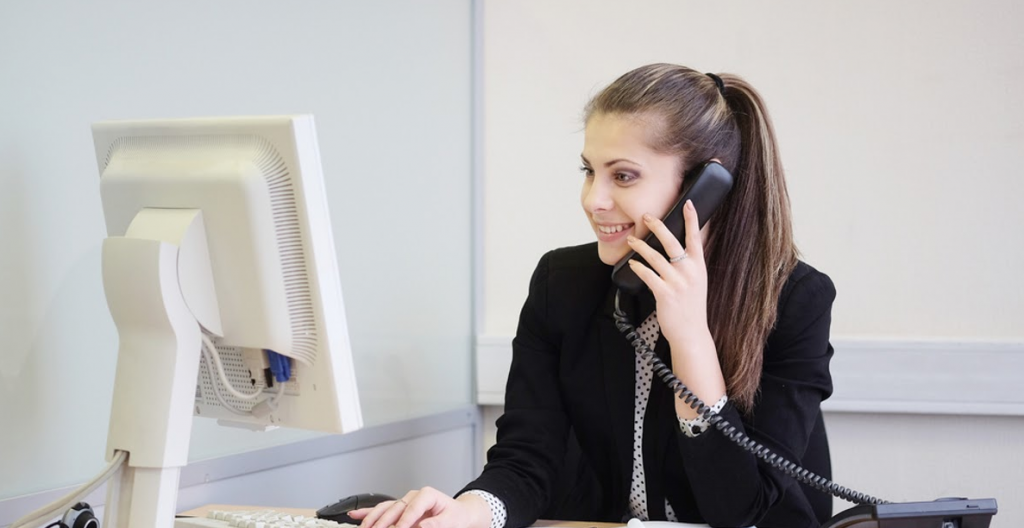 Normal reading as well as relaxing audiobook enjoyment takes time, which needs you to let go of what you are doing and focus on the listening. Fortunately, there are still many day jobs that allow you to have some audiobook fun. If you are on a job hunt and trying to find a position that gives you time to study from audiobooks, consider the jobs we are about to bring up; if you are working in one of the listed jobs and haven't picked up the habit of listening to audiobooks yet, be grateful and get started now without hesitation. In fact, we are suggesting employers & employees from all businesses that come with a slack season listen to audiobooks.
The Bookstore Keeper
If you work in a bookstore, you may be busy with dealing with books and watching your readers. On one hand, that does not give you much time to sit down to read a paper book; on the other hand, you get to listen to audiobooks all the time. Reading a book without having to manually turn a page in a place full of books, what a fun!
The Receptionist
If you are working as a receptionist at a front office desk, you may be feeling the need to fill your time with some useful knowledge for better service, promotion and even job-hopping. If your business does not have that many visitors to greet and telephone calls to answer, you should go for audiobooks from time to time because mostly, you are waiting.
The Flower Shop Owner
Provided that you are an owner of a flower shop, what would you do when you are not taking care of flowers? Put your earbud on for some audiobooks.
The Truck/Taxi/Uber Driver
Don't mistake here, I'm not suggesting that you should listen to audiobooks while you are driving – it's potentially dangerous. However, if you are a long-haul trucker, you may need to stop the truck somewhere and rest for a period (sometimes spend the night on the truck) – perfect chances to et audiobooks going. If you are a taxi/Uber driver, you will frequently need to wait for the customer to get in the place, why not fill the gap with audiobooks?
The Stay-at-Home Mom
If you are a full-time mom, listening to audiobooks can always release you from the tiredness of taking care of kids (especially smaller babies) and doing the household duties. Meanwhile, if you plan to go back to work when the baby is old enough, it will do you much good if you charge yourself with some working expertise and skills from audiobooks. If you are not a full-time mom, but just doing a nanny job, we suggest you completely focus on the baby.
The Student
Technically, this is not a job, but obviously, you will have more time than working adults. Don't vanish all your time on addictive games and pointless parties. Learn something from the audiobooks for your future!