FLAC stands for Free Lossless Audio Codec, which is a kind of lossless audio format. Compared with MP3 and other audio formats, although it has relatively high audio quality but is less compatible. Along with APE, ALAC, WavPack and WMA Lossless, this format is praised among music fans. Despite its advantages, FLAC is annoying for some users because it isn't compatible with all kinds of Apple devices like iPhone, iPad or iPod. That's why you need a FLAC to MP3 Converter for Mac to do the conversion job to transfer FLAC to a more compatible format.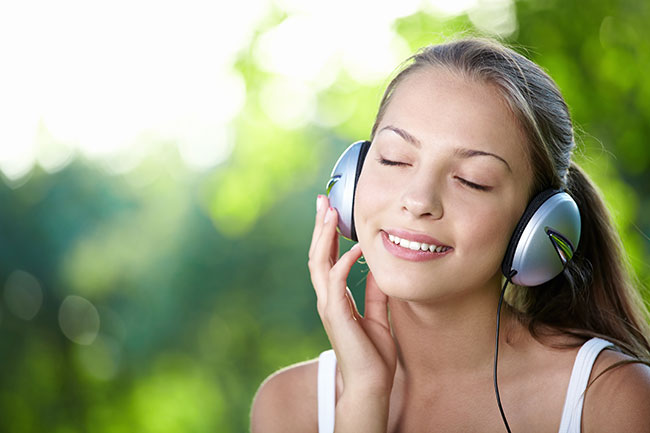 ---
Why Don't You Choose FLAC?
Although FLAC is superior to its lossy rivals when it comes to audio quality, ripping a CD to FLAC means the file will be 10 times larger. FLAC can compress music files without any quality loss, but its available players are limited. It can't be recognized by quite a few programs like iTunes, iPhone, iPad, iPod, etc. Moreover, few burning programs can burn an audio CD from FLAC files.
---
The Needs to Convert FLAC to MP3
When it comes to popularity, MP3 is the most preferred format to listen to music anywhere you want and nearly all audio devices and multimedia players support MP3 playback. The solution is to convert the FLAC to MP3 format, which will save you space and make your music playable in more places.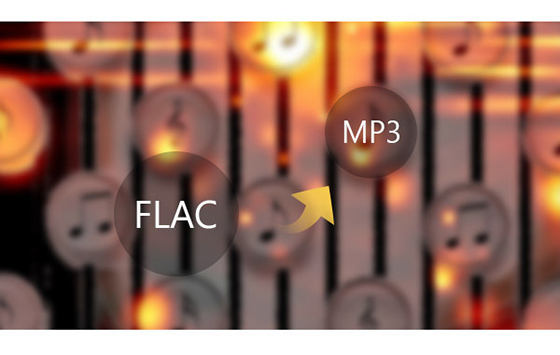 Thankfully, there are a myriad of ways you can convert FLAC to MP3 and it is a necessity to make use of a competent tool. You have dropped in the right place as we will recommend to use a professional audio converter like All2MP3 for Mac to convert FLAC files into MP3 on Mac with ease. It can be the most efficient tool for any kind of requirement. What you need to do is just wait for your FLAC files to be played on many devices, media players or other platforms.
All2MP3 for Mac, this better-than-average audio converter software, aims to convert FLAC and 50+ other audio formats to MP3 on Mac just as the reviewer from download.cnet.com said. It has an ultra-intuitive layout, and it only takes a click of the mouse to change the output quality. The process for making the conversion couldn't be simpler that you are allowed to input the audio files by a drag & drop. As a bonus, you can pull audio straight from a video file and convert it to the wanted format.
---
What Sets All2MP3 for Mac Apart from Other Audio Converters?
If you've checked out various audio converter programs, why not try a universal audio converter which can convert pretty much everything? All2MP3 for Mac has the ability to convert pretty much every audio file like WMA, WAV, OGG, AAC, M4A, FLAC, AIFF, APE, WV and 50+ other audio formats as well as a plethora of video files.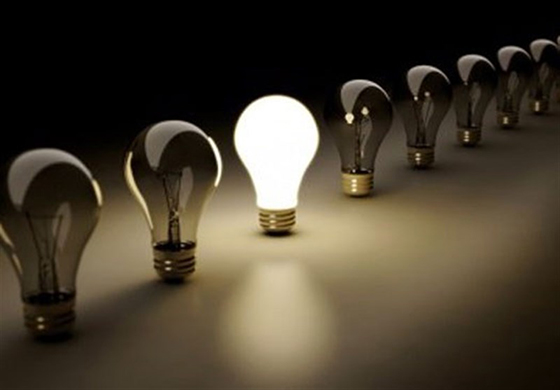 Audio quality is paramount for audio conversion software, but the program should also run at a faster speed. A fast program can save you valuable time in the long run especially when you have many large files to convert. Thanks for the special technology used, All2MP3 for Mac makes the conversion process super fast and there is no need to wait anymore!
Convenience may be nothing more than great features, but for some beginners or users without any technical skills, ease of use is the most important thing to consider. All2MP3 for Mac always keeps things simple from converting a handle of audio files to adjusting the quality presets that just a few clicks will be needed.
---
How to Convert FLAC to MP3 on Mac with FLAC to MP3 Converter for Mac?
If you need to convert FLAC to MP3 in Mac OS X for free, just grab All2MP3 for Mac – the best free FLAC to MP3 Converter for Mac, and follow the below tutorial and you will have converted your FLAC files in no time with total simplicity. First of all, download All2MP3 for Mac.
Step 1. Input FLAC Files
Click "Add" and in the activated window choose the FLAC files you want to convert and then click "Choose".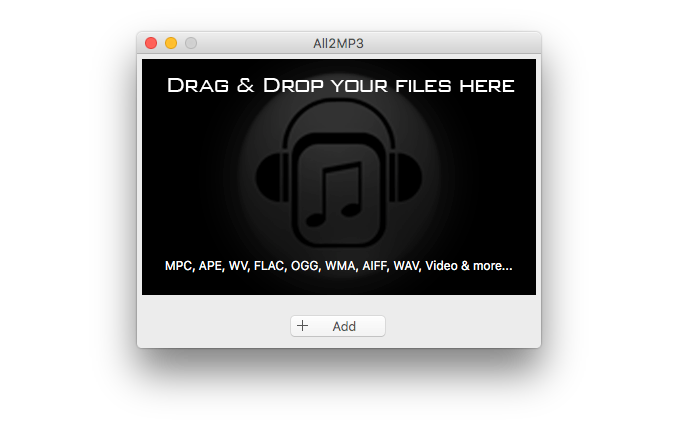 Step 2. Adjust Quality Presets
Drag the slider bar below "Quality" and choose the output quality level. Then click the red button in front of "Change all Paths" to choose an output folder.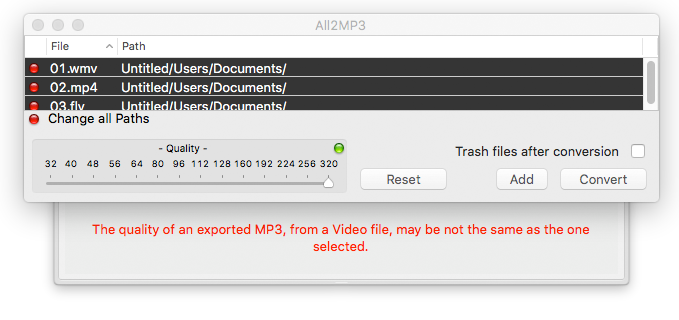 Step 3. Start FLAC to MP3 Conversion
Click "Convert" to start audio conversion. The converted files will be converted into MP3 and saved in the output folder with the name of "xxx.mp3".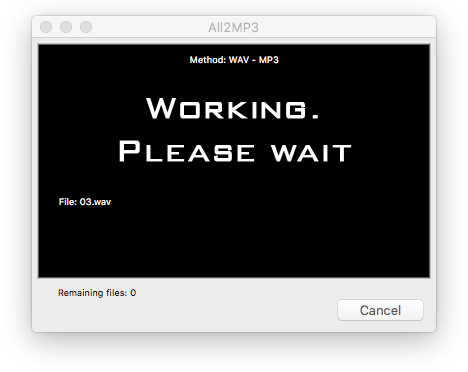 That's how the best FLAC to MP3 Converter for Mac works. It also supports a ton of other audio and video formats as input.
---
Conclusion
Do you work with FLAC files frequently? If so, the above easy tool we've shared must be helpful to you. Especially when you need to convert large number of files, a desktop converter like All2MP3 for Mac can be the top option. Now you don't have to figure out a way to use the FLAC files which get you stuck with!
---
FLAC Tips
Differences Between ALAC & FLAC
If you are an audio fan who's crazy about lossless High-Definition audio and always chasing better quality, you must be wondering if ALAC better than FLAC or the other way round. Now let's use a form to see how different they are.
| | Open source | Compression | Encoding Rate | Decoding Rate | Presets | Tagging | Error Handling | Hybrid/Lossy | RIFF chunks | Multichannel | Streaming | Hardware Support | Software Support | OS Support | Developed by |
| --- | --- | --- | --- | --- | --- | --- | --- | --- | --- | --- | --- | --- | --- | --- | --- |
| FLAC | | 57.0% | Very Fast | Very Fast | 9 | Vorbis Tags | | LossyWAV | | | | Good | Good | All | Xiph.org |
| ALAC | | 57.8% | Fast | Fast | 2 | iTunes | | | | | | Good | Good | All | Apple Inc. |
The truth is, regarding audio quality these two formats are not that different – they are almost identical especially when the audio is compressed form the same original recording. So basically, human ears can't even hear the difference. Apple fans usually prefer ALAC while iTunes does not support FLAC. Choosing which format depends on your  personal preferences and devices you use.  ALAC is suggested is you have tight relations with iOS-based devices & iTunes.
---
How to Convert FLAC to ALAC
on Mac using iTunes
FLAC is not natively supported in iTunes. We've offered an efficient way to convert FLAC to MP3 for easier playback using All2MP3 for Mac. However, if for some reason, you have to convert FLAC to ALAC or you insist using lossless formats, you can convert FLAC to ALAC using iTunes on Mac.
---
How to Convert WAV to ALAC
on Mac using iTunes
Sometimes you don't get a high-quality FLAC file to turn into ALAC, instead, you may have a uncompressed WAV which is very large in size. You can convert WAV to ALAC on Mac using iTunes.
---
ALC VS. FLAC / MP3 / WAV
I know you all are doing the "conversion" thing from time to time but do you really understand the differences between these popular formats? DO you really need to convert them between each other? Let's figure this out in this video.
---
How to Convert FLAC to MP3 Online
Sometimes you may need to convert FLAC to MP3 immediately but you don't want to install any application on your Mac. What you can do is put your faith in an online FLAC to MP3 converter. Online converter can be very convenient when you have a stable and fast network connection. All you need to do is upload your FLAC file, choose the output format and quality, convert FLAC to MP3, and download the resulting file.
Online-Audio-Converter is one of the easiest and fastest audio converter to convert FLAC to MP3. It can also convert WAV, M4A, M4R, AMR & MP2 formats.
---
1. Upload FLAC.
When you open the homepage, click "Open files" to add your FLAC file or drag and drop it here. You are allowed to add multiple files at once. It supports importing audio from Google Drive and Dropbox.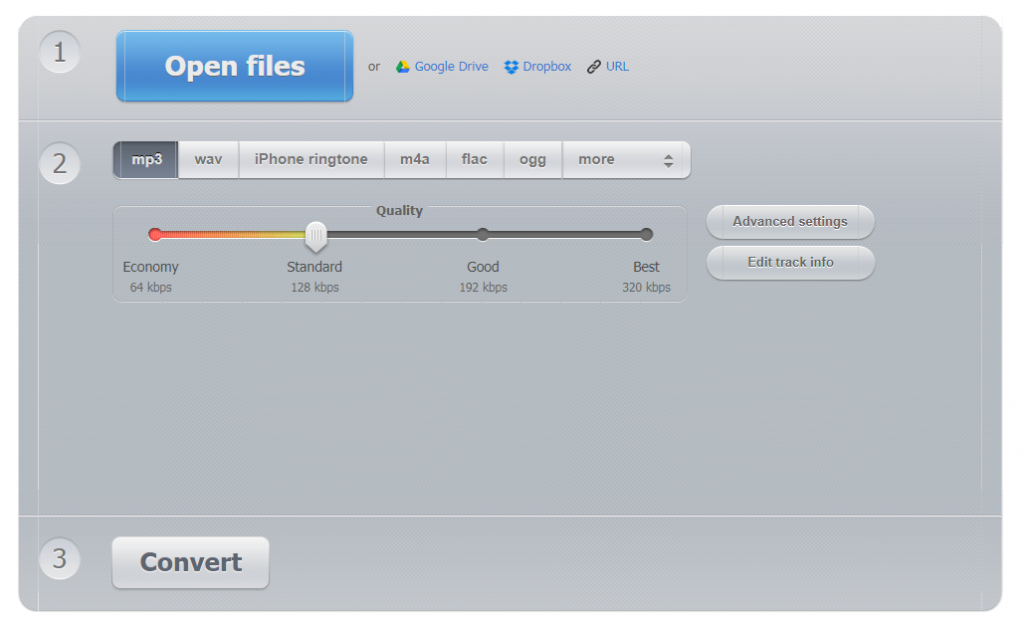 Then, wait until the uploading is finished (when the blue processing bar reaches the end).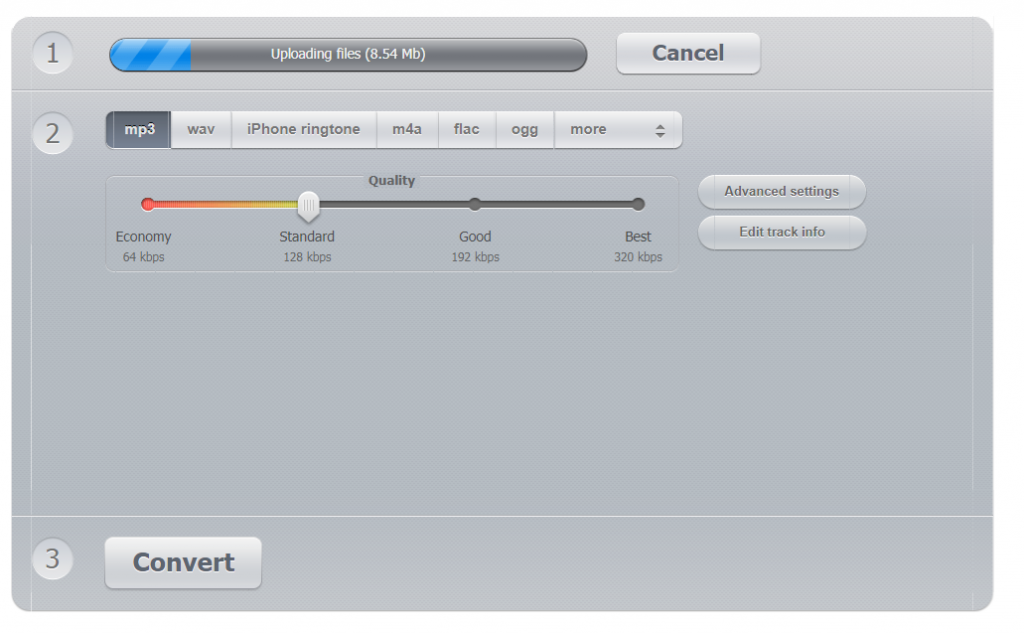 2. Choose the output format as MP3 & set quality.
Click the "mp3" tab and drag the slider below to select the output quality from Economy, Standard, Good & Best. If these simple presets can't meet your needs, click the "Advanced settings" button on the right to unfold the quality adjustment section, where you can change the Bitrate, Sample rate, Channels and apply some audio effects including Fade in, Fade out, Fast mode, remove voice & reverse. If you need to edit tag info, click "Edit track info" (tag editing is available for a single-file task; the button will turn unclickable if there are multiple files in the task list).

3. Convert FLAC to MP3.
When you are done with all the settings, click "Convert" to start FLAC to MP3 conversion and wait until the process is complete.
4. Download MP3.
Click "Download" button to download the resulting MP3 file to your hard drive. You can also save it to Google Drive or Dropbox. Click "Convert more files" if you have more audio files to process.