When it comes to the use and popularity, MP4 and MP3 formats are two kings for video and audio formats respectively. Almost every software/video player device recognizes MP4 and MP4 uploading is supported by all video sharing sites. You can receive and send video on your cell phone as well. At the same time, there are some circumstances when the users may require MP3 audios instead of MP4 videos. You can easily solve the issue and to  convert MP4 to MP3 on Mac seems the best possible way.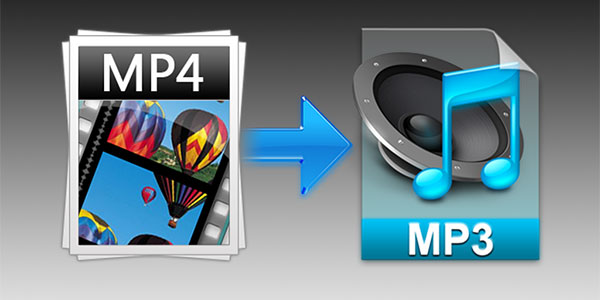 ---
MP3 vs. MP4
MPEG-1 Audio Layer 3, shortly named as MP3, is a coding format (audio) that adopts data compression. MP3 files are highly efficient at storing audio, so they play an important role and have become the de facto quality for music streaming sites, digital audio players and music software, and widely used for storage and audio streaming now. No matter which device you own or operating system you use, you can be certain that the MP3 files will work perfectly without any kinds of problems.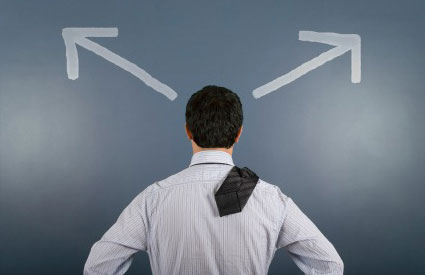 MP4 is an important digital multimedia format that normally deals with video, audio, text and image, which significantly differs from MP3. Thus, MP4 files do not have a specific coding handling way for the files. They rely on particular codes to control how the compression and coding will be handled.
For that reason, when to use MP4 or MP3 basically depends what you're going to use for them. You can use MP3 if you prefer smaller file size and listening to music or something like this on MP3 player. However, MP4 will be a suitable format for you, if you think more about lossless audio quality.
---
How You Benefit from Converting MP4 to MP3 on Mac/PC
There are many reasons, but here are some common and popular reasons why people need to frequently convert MP4 to MP3: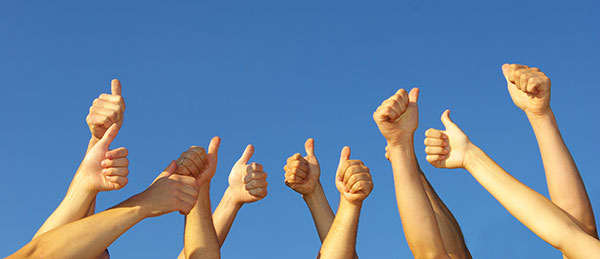 You got some exclusive MP4 music videos and desire to put them to your cell phone or music player, but you do not find the suitable audio version of them;
You're trying to create some interesting listening materials or educative topics out of your favorite moves as you're planning to learn a foreign language;
You're watching a great movie during your free time and you run into a theme music or theme song that attracts you a lot, but the OST of the movie may not be released;
As a reporter, you've just finished an exclusive interview. Now you need to extract the segment of audio from the video footage;
Many videos contain audio only (for example, some songs you may download from popular video sites or YouTube). You can easily preserve the original audio quality when you convert them to audio format with the relatively smaller size.
If you're a music/video producer and need to regularly upload them, then you will have to extract voice and sound from video to add to the stock audio library;
You're just doing some voluntary works for your friends and help them convert MP4 to MP3.
---
What Do You Actually Need to Convert MP4 to MP3 on Mac?
An efficient MP4 to MP3 converter software is needed for it. There are many choices for Windows users as they can choose their desired software from a range of options, which are completely free! However, as a Mac user, you may have to spend lots of time learning and searching. You will find numerous MP4 to MP3 converter software in the market that can do the job, but All2MP3 for Mac will be the most suitable option for you as it works best as a Mac MP4 to MP3 converter and it's probably the easiest Mac audio converter.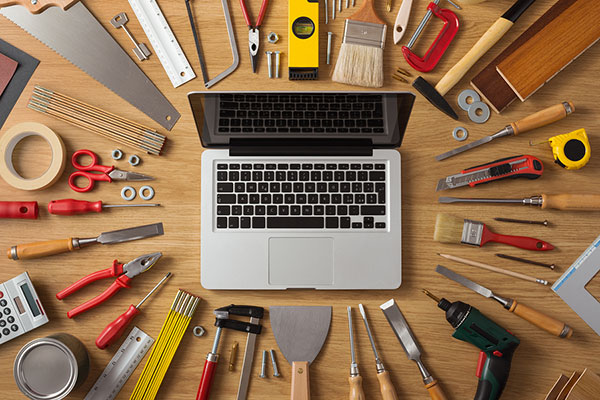 All2MP3 for Mac is capable of converting your MP4 to MP3, but it's not limited to it. You can convert all video formats and audio formats to MP3! In addition, All2MP3 integrates the latest MP3 coding technology that works really fast. You can check what actually All2MP3 for Mac does for you.
---
How to Convert MP4 to MP3 on Mac
Step One
Download and install All2MP3 for Mac on your Mac.
Step Two
Launch All2MP3 for Mac as per guidelines and drag your MP4 files you like to convert and drop them to the software.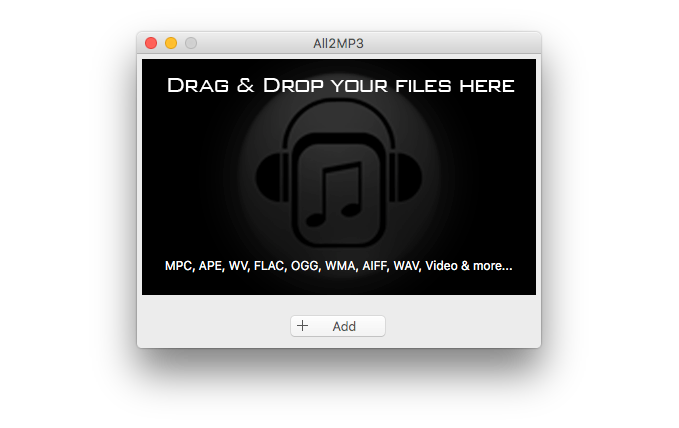 Step Three
Choose the output folder and output quality as you like.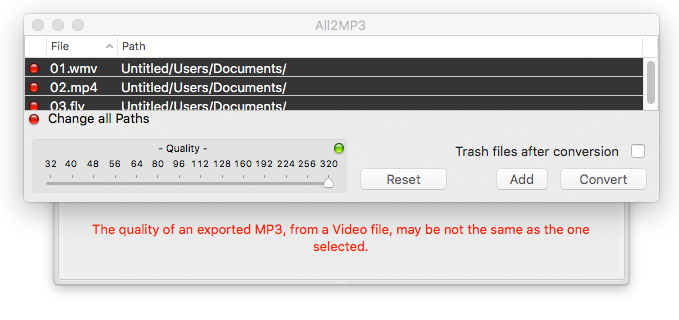 Step Four
Start the conversion, just wait for a while and it's done!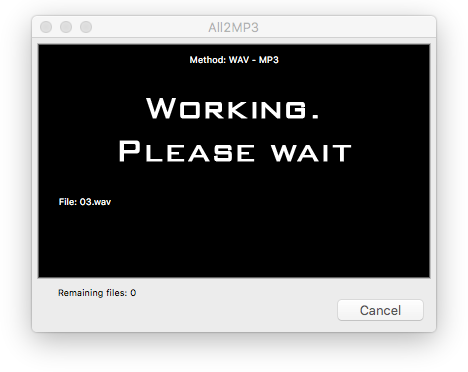 ---
How to Convert MP4 to MP3 on Windows
Step One
Download and install All2MP3 for Windows on your PC.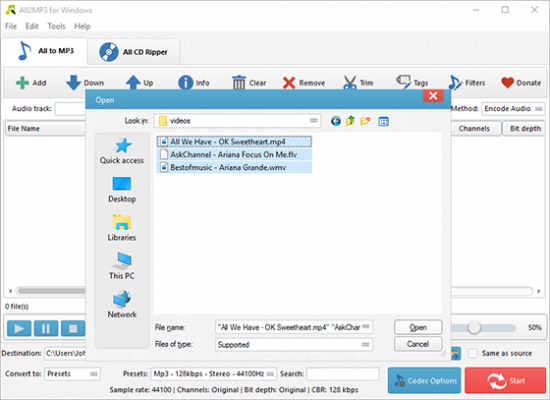 Step Two
Launch All2MP3 for Windows and drag your MP4 files you wish to convert and drop the files to the software.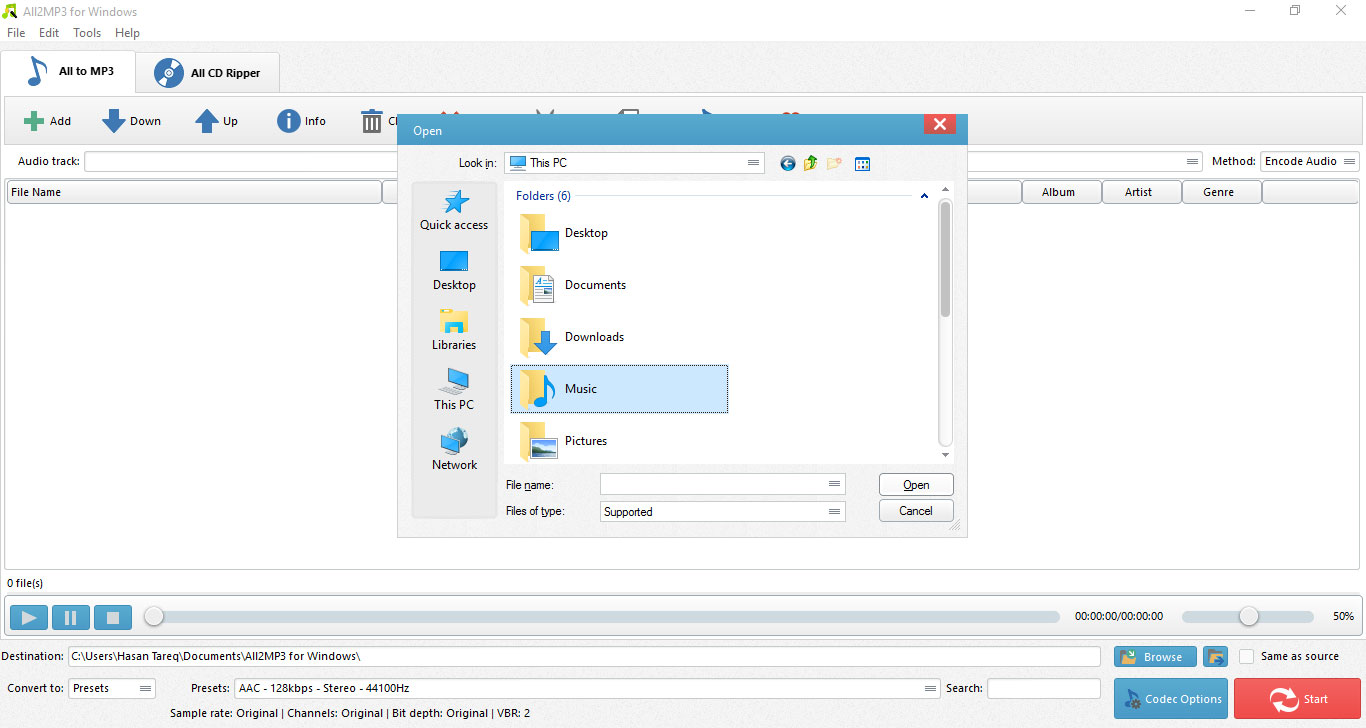 Step Three
You have to specify the output settings as per easy guidelines and choose the output quality as you wish and the output folder as you want.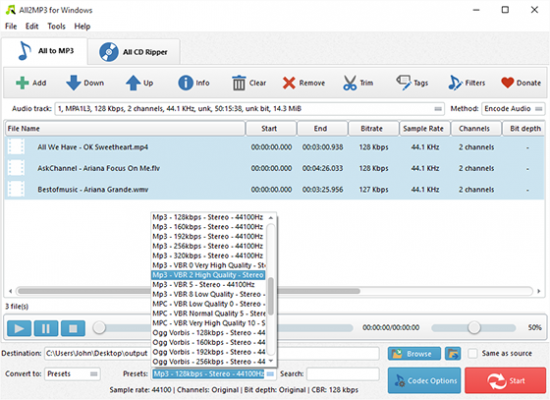 Step Four
Start the conversion, just wait for a while and you're done!
---
User questions and answers: Convert MP4 to MP3 on Mac/PC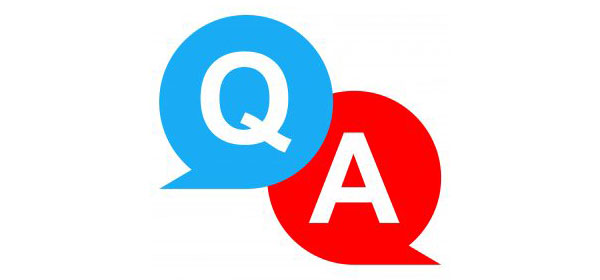 Q: How much time does it actually take to convert a video MP4 file into MP3?
A: Our All2MP3 for Mac/Windows is a fast, free MP3 converter and it usually takes 3 to 20 seconds to finish a regular conversion task on average. However, it may vary according to the size and length of the audio/video file as well as the capability of your computer and software/ hardware configurations.
Q: I want to convert my MP4 video to other video formats. Will All2MP3 support to do that?
A: All2MP3 for Windows/Mac can convert audio/video format into audio formats only. You may use our software: All2MP4 for Mac/Windows if you want to convert a video file. It can easily convert MP4 video (other videos), to many other types of video formats.
Q: Can I convert multiple audio files all at once?
A: Most of the free converters can limit you to only 1 file at one time, but that is not in our converter. You can surely do it, so just drag all the files you like to convert into All2MP3. The process is same as you convert a single file. You can convert MP4 to MP3 on Mac but iit's OK if you want to input multiple files in various formats at once.