You may have many musical files in WMA format on your Mac, Windows computer, cellphone, MP3 player, tablet, or USB flash drive and what if one day, you need the MP3 versions of all of them so that you can play or edit them in a certain app? I'm sure you've heard of 1 or 2 methods to convert WMA to MP3 on Mac, but here I'm going to provide two fastest ways to Convert WMA to MP3 Mac.
---
Using Online WMA to MP3 Converter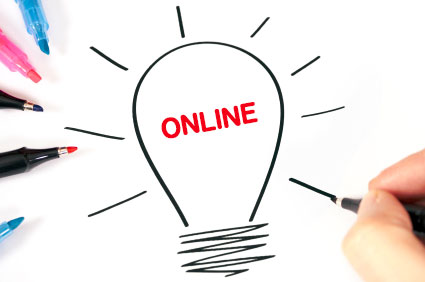 There are many WMA to MP3 converter out there and you could easily find them via Google. Most of them are very easy to use. Here's how they work:
First, go to the website of online WAV to MP3 converter you choose and wait until it's fully loaded.
Then, usually in a very obvious place, you will see a button with text "Upload", "Add Files" or something like that. Click on it and a window will prompt in which you can navigate to the folder where you save the WMA files you want to convert. Choose the WMA files to add them and then they will be uploaded to the server of the converter website.
If you are using a website designed specially for WMA to MP3 conversion, click on the button like "Convert", "Start" or something like that and the website will start the conversion task; if you are using a more powerful website that provides multiple options in formats and qualities, you should choose the format as MP3 and it's always a better idea to go for a bit of adjustment if you have more specific requirements.
When the conversion is finished, you need to download the converted MP3 via clicking on the button "Download", "Download Files" or something like that. That's how you get WMA converted to MP3 with online audio converters.
---
Here are a few online audio converters that can do the WMA to MP3 conversion:
http://audioconverter-online.com/
http://www.convertfiles.com/convert/audio/WAV-to-MP3.html
http://www.filezigzag.com/aif-en.aspx
---
However, online audio converters have drawbacks that can't be ignored or avoided:
You need fast and steady network to get things going;
Upload/download process takes time;
The speed of conversion varies due to the servers of different websites – some can be fast while others are like crawling;
Some services may not work because of regional restriction;
Some sites are made for very simple conversion without any adjustment and the output quality is poor.
Most of the online converters will limit you somehow: the file amount, the format, the duration, the size, etc. Their owners never get tired of settings restrictions for you because they always want you to do something for them to remove the restrictions: pay them, provide your email or more private info, follow their social accounts, download a desktop version of their service or download something that you don't need, etc.
Last but not least, they store your files, for some time at least. It's not safe if you don't want anyone to know what you are listening to and what type of music you are fond of. I know they all claim to remove the files after a certain period of time, but let's not put our trust on them if your audio is crucial and should be kept secret.
---
Then what's left for you to choose to Convert WMA to MP3 on Mac?
All2MP3 for Mac is one of the most reliable and easy Mac audio converter that can Convert WMA to MP3 Mac.
It's a 3-step procedure to convert WMA to MP3 on Mac using it.
Drag and drop your WMA files;
Choose output quality and path;
Convert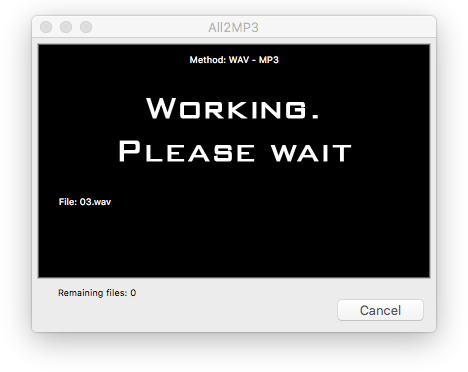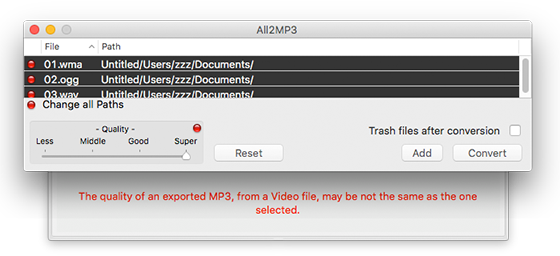 That is brainless. The only thing that may take some time is going to tresrrr.com to download it but its size is small. To Convert WMA to MP3 on Mac, All2MP3 for Mac is all you need. Just download it to experience the fastest conversion.