Whether you're extremely knowledgeable on technology or if you're a self-confessed 'know nothing', you would have definitely experienced and engaged with the MP3 audio format at some point during your life. It has been extremely common for many, many years and people use it repeatedly to listen to audio files, but in certain circumstances, you may want to convert that audio file into an alternative format on your Mac – you need a Mac MP3 Converter.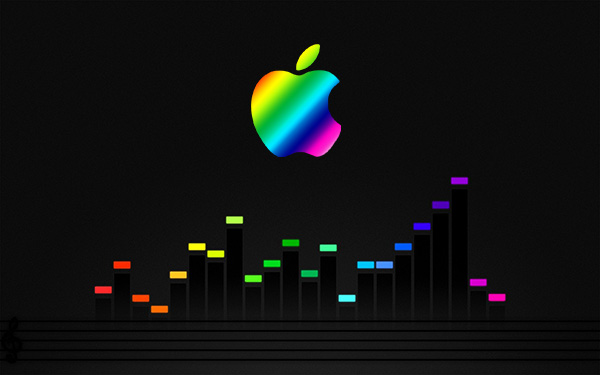 ---
Download Best MP3 Converter Mac Now!
There are many options here but let's cut to the point at the beginning:  Just like the truth that MP3 is the most popular audio format, All2MP3 for Mac is the best MP3 converter for Mac. Don't waste time if all you want is high-quality MP3 audio! Download it and you will be amazed by it's speed and awesome quality.
---
Best Mac MP3 Converter: Quick Overview
| Best Mac MP3 Converter | Price | Compatibility | Speed | Ease of Use | Overall Rating |
| --- | --- | --- | --- | --- | --- |
| All2MP3 for Mac | Free | Mac OS X 10.7 and above | (5 / 5) | (5 / 5) | (5 / 5) |
| HandBrake | Free | Linux, Mac OS, and Windows | (4.5 / 5) | (2 / 5) | (4 / 5) |
| Switch | Free | Windows, Mac OS, Android | (4.5 / 5) | (4.5 / 5) | (4.5 / 5) |
| iTunes | Free | MAC OS, Windows and iOS | (2 / 5) | (1 / 5) | (2 / 5) |
| To MP3 Converter for Mac | Free | Mac OS X 10.7 or later | (3.5 / 5) | (5 / 5) | (4.5 / 5) |
| MediaHuman Audio Converter | Free | Mac OS X 10.6 or later and Windows | (4 / 5) | (4.5 / 5) | (4 / 5) |
| Aolor | Free | Mac OS X 10.5 or later | (4.5 / 5) | (5 / 5) | (4.5 / 5) |
MP3 is widely recognized as being the most reliable format when it comes to the quality of your audio, so during the process of converting it to a new format, the original MP3 file will be condensed, which therefore may result in the standard of sound being sacrificed substantially. On the other hand, you may want to change your audio file from the opposite angle. What this means is that, instead of converting an MP3 into a substitute format, you may endeavor to change another format into the brilliant MP3.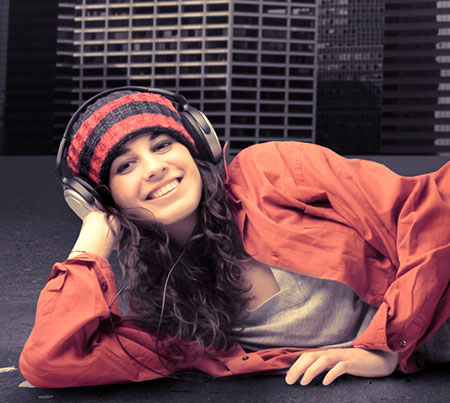 How We Pick The Best MP3 Converter for Mac
To choose an appropriate MP3 converter for Mac, it important to do some research. We've done the necessary research and testing to pick the best Mac MP3 converter out from the crowd. What we consider when picking out the best MP3 Converter for Mac:
Price
There are many free audio converters out there for Windows users but it's likely that Mac users have fewer options to deal with their audio conversion issues. Of course you can find payware somewhere but the chance is big that it provides nothing worthy of purchase. Professional users may not need guidance on picking the tools needed but for average users, it's important to choose a cost-effective product by following a rule – don't waste your money in vain unless you fully understand what you are up to. Free software is the best to do the job for most of us.
Format Compatibility
Sure you don't want to install dozens of converter for each of the formats you have and you need, which means you should look into the formats supported by the audio converter you choose. We've tested 200+ audio and video formats in our picked MP3 converter software to make sure that you can import as more types of audio and video files as possible without switching to Internet for another tool.
Efficiency
Nowadays you can always convert one or two audio files easily with an online audio converter but what if you need to convert hundreds(or even more) of audio files? It's not like you can upload them all to or download from online audio converters' server in a second – it's not realistic, especially when you are in an urgent need of the work. All the MP3 converter software we picked can batch convert MP3 files at a satisfying speed(150 files converted within 1 hour).
Simplicity
There are several quality software that can do the audio conversion work but they do no good to you if you are not a pro-level user because most of them are very complicated to use, unfriendly. What we look for is something that provides decent quality without needing you to dig into the menus and specs. Easy-to-use software with a clear-cut interface can also save you much time from finding the feature you need.
Usability
Some MP3 converters are for multiple purposes and they provide a bunch of abilities other than audio conversion like CD ripping, audio editing, tag editing, etc. You just take what you need. If you would like to do all your media tasks using one tool, go to these multi-purpose tools; if you prefer to let each of your tools focus on their own task, look for a tool with the specialty you need. Usually, fewer features mean less complication & more relaxation.
OS Compatibility & Mobility
The operating system compatibility is one factor to consider. If you need to work on different computers with different OS (Mac OS/Windows/Linux) and devices (iOS/Android), make sure you check on the developer's specs to see if the software support the system/device you need. If you are sticking to a certain operating system, a multi-platform software is not that necessary.
---
Most Popular MP3 Converter Software for Mac in the Market
So, to reduce the risk of jeopardizing the quality of your audio file, it would be incredibly wise to utilize a respected and effective piece of free software to convert it safely. There is a multitude of brilliant converters on today's market that will assist you in your quest to transform your favorite song from MP3 into a format of your preference, or similarly, adapt your much-loved musical into an MP3 audio file. But, the task of scouring the web to decide on which Mac MP3 converter software is the best on the market can be very time-consuming and tedious, so we've performed the hard work for you and found some of the leading ones for Mac.

---
HandBrake
| | | | | | | | |
| --- | --- | --- | --- | --- | --- | --- | --- |
| | Price | Formats | Efficiency | Simplicity | Usability | OS | Overall/Recommended? |
| HandBrake | Free | Source Formats | Very Fast | Hard for Average Users | Many Video Tools Included | OS/Devices Supported | Recommended to Pros Only |
| Rating | (5 / 5) | (5 / 5) | (4.5 / 5) | (2 / 5) | (4 / 5) | (4.5 / 5) | (4 / 5) |
HandBrake is an admirable choice when selecting an MP3 converter as it has many features that set it apart from the others. Intricate benefits such as a queuing tray so you can do large amounts of conversions in a batch, bitrate calculator so you can choose the quality output that is most suitable for you, live previews and iOS & Android device pre-sets really make this software a brilliant MP3 converter. Although, there are drawbacks due it being predominantly a video converter and occasionally the speed may dip.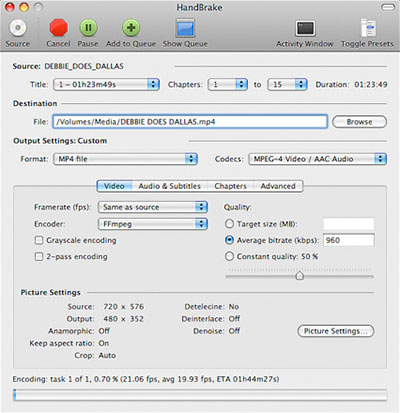 Pros
Multipurpose tool packed with many features
Queuing tray for batch conversions
Presets are provided for many options, including iOS and Android device presets
Cons
All the features and buttons on the interface are intimidating to many people, not very friendly to new users.
To get the best output, you'll have to manually tinker with settings, which requires much time and trial
HandBrake focuses more on video conversion and encoding instead of audio processing
Some bloatware comes with it
---
Switch
Price
Formats
Efficiency
Simplicity
Usability
OS
Overall/Recommended?
Switch
Free
($35-40 for Plus Ver.)
Source Formats
Very Fast
Very Easy
Some Audio Tools Included
OS/Devices Supported
Recommended to Experienced Users
Rating
(5 / 5)
(5 / 5)
(4 / 5)
(4.5 / 5)
(4 / 5)
(4 / 5)
(4.5 / 5)
Switch is another tremendous option for you when trying to source the correct converter for your needs. Its software is solely committed to audio conversions and its intelligent error protection aspect ensures that your audio file conversions are nothing short of perfection. Now, Switch is terrific at enabling you to select files quickly out of a wide array of formats and then converting them in an insanely short period of time. Nevertheless, this converter isn't transparently free; whilst you can convert up to 5 files at any given time, the free version ceases after about 30 conversions, so it resembles more of a free trial than a free version, which is something to bear in mind.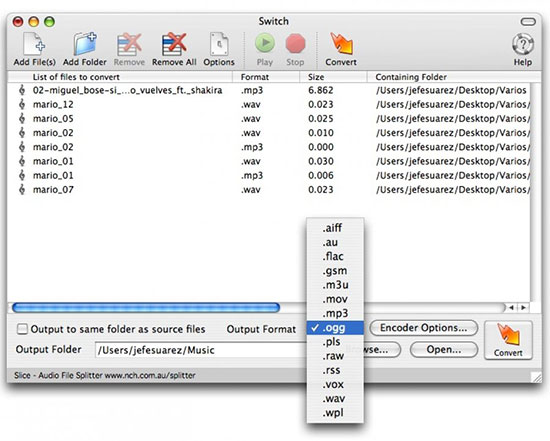 Pros
Easy selection of files
The conversion speed is fast
Many audio formats supported in Plus version so if you love it, go Plus
Cons
The free version comes with some limitations and you need to pay if you need to use it more often in some serious work
Supports fewer formats than its Plus version
Free version converts a limited number of audio files (5 files) at a time
It does not show conversion statistics
---
iTunes
Price
Formats
Efficiency
Simplicity
Usability
OS
Overall/Recommended?
iTunes
Free
Source Formats
(Very Limited)
Below Average
Difficult
Many Multimedia Tools Included
OS/Devices Supported
Not Recommended
Rating
(5 / 5)
(2 / 5)
(2 / 5)
(1 / 5)
(5 / 5)
(4.5 / 5)
(2 / 5)
In spite of the MP3 format being so popular, songs within your iTunes library aren't actually MP3, they're AAC. But fear not, because iTunes actually has an in-built MP3 converter of its own so if you desperately need an MP3 file its simple enough to convert from AAC. Moreover, don't forget to consider the potential quality loss from the original file, because when converting files from their original format, some quality may be deducted. In addition, this isn't a true, dedicated audio converter; it is very basic and is just aimed at creating an MP3 version out of the AAC files, so it doesn't offer any extra features.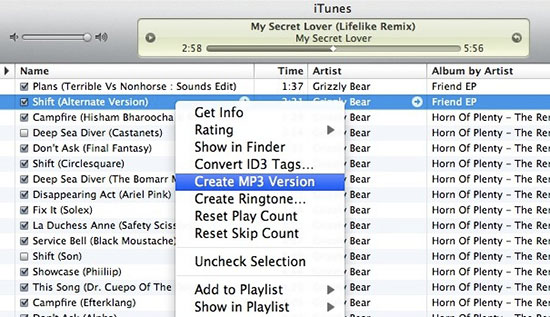 An excellent Apple software but let's face it: there are many better choices to convert MP3 and audio files than using iTunes. It's too complicated.
---
To MP3 Converter for Mac
| | | | | | | | |
| --- | --- | --- | --- | --- | --- | --- | --- |
| | Price | Formats | Efficiency | Simplicity | Usability | OS | Overall/Recommended? |
| To MP3 Converter for Mac | Free | Source Formats | Average | Very Easy | Some Audio Tools Included | OS/Devices Supported | Recommended |
| Rating | (5 / 5) | (5 / 5) | (3.5 / 5) | (5 / 5) | (3.5 / 5) | (3 / 5) | (4.5 / 5) |
To MP3 Converter for Mac is another well-known audio converter for Mac, it can deal with almost all kinds of incompatible issues. Specifically built-in more than 150 audio and video formats, this MP3 converter software supports seamlessly audio and video to MP3 conversion. It is also a full-featured tool for making improvements of the sound with volume adjusting and multiple audio effects. Thanks to its intuitive interface, working with To MP3 Converter for Mac is a satisfying thing and you can input an unlimited number of audio files into it for batch conversion.

Pros
It has a tag editor
It is integrated with iTunes and allows you to add converted files to an existing iTunes playlist or create a new one right after the conversion
The interface is extremely easy
Cons
Just like Switch, the "free" version is a limited version, with fewer features
---
MediaHuman
| | | | | | | | |
| --- | --- | --- | --- | --- | --- | --- | --- |
| | Price | Formats | Efficiency | Simplicity | Usability | OS | Overall/Recommended? |
| MediaHuman | Free | Source Formats | Very Fast | Very Easy | Some Audio Tools Included | OS/Devices Supported | Recommended |
| Rating | (5 / 5) | (3 / 5) | (4 / 5) | (4.5 / 5) | (3.5 / 5) | (4 / 5) | (4 / 5) |
What is also worth mentioning here is MediaHuman Audio Converter, which is an outstanding Mac MP3 converter on the market. It is entirely free to convert your audio files to MP3, WMA, AAC, FLAC, OGG and Apple Lossless format. You are allowed to batch convert audio files, export the converted files to iTunes library directly and even extract audio from video. Moreover, it provides the opportunity to adjust settings to satisfy all your needs for audio conversion.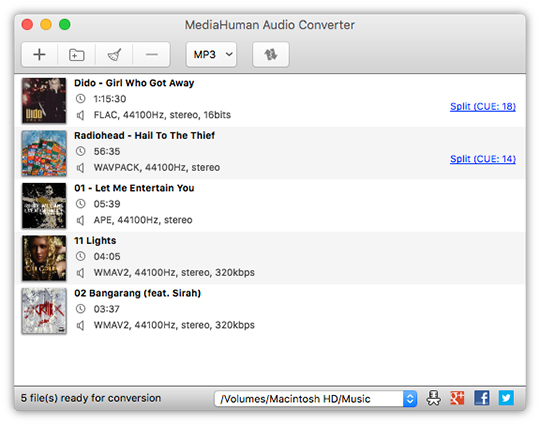 Pros
Easy to use interface
It supports many audio and video formats
It allows you to adjust the encoder, channel, audio bitrate, etc.
It can convert multiple files simultaneously
It supports iTunes
Cons
Simultaneous batch conversion is not that useful because mostly it will drag down your PC performance drastically
Not good at converting a large number of files
To convert several folders at once, you need to open each folder and select the files
---
Aolor
Price
Formats
Efficiency
Simplicity
Usability
OS
Overall/Recommended?
Aolor
Free

Source Formats
(Check "Tech Specs")
Very Fast
Very Easy
No Extra Tools
Mac OS X 10.5 or later
Recommended
Rating
(5 / 5)
(3.5 / 5)
(4.5 / 5)
(5 / 5)
(1 / 5)
(3 / 5)
(4.5 / 5)
If you just need a simple, ultra-easy audio converter program, then Aolor, the free MP3 converter software for Mac could be what you're searching for. As one of the most comprehensive audio converters software for Mac, it supports to convert audio files in any formats in seconds and extract audio from any video file. Plus, it is very easy to use and only one step of dragging and dropping the files will start the conversion.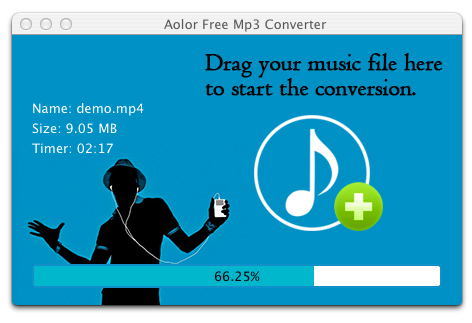 Pros
Super easy to use
Stylish interface
Cons
Not much quality options provided
The conversion speed is a bit slower than the ones above (except iTunes)
---
Best MP3 Converter Software for Mac
However, despite all those above being magnificent tools, if you desire a complete and ultimate MP3 converter for your Mac, then we recommend opting for All2MP3, which has been considered the very best MP3 Converter Software for Mac for almost 10 years. Now, the All2MP3 for Mac is a convenient converter which translates both audio and video files into MP3, but it also boasts of a plethora of great features. One of the stand-out features of this software is its simplistic drag & drop process. Although some other superb features include its ability to handle audio from any source, it's flexible output quality, its capability to convert video files into MP3 and its savvy utilization of AppleScript.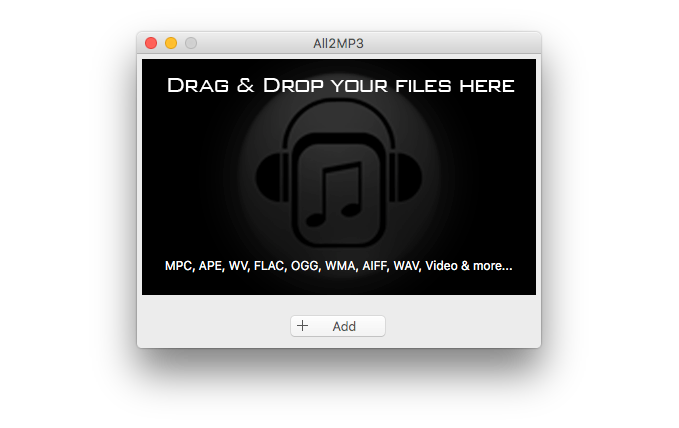 All in all, we feel that the best way to convert audio files to and from MP3 amongst 50 or so different formats is through the All2MP3 for Mac, the best MP3 Converter Software for Mac. It is entirely free and can be downloaded extremely speedily right now on your Mac.
How to Convert Audio to MP3 with Best MP3 Converter Software for Mac
Now you have launched All2MP3 for Mac, the best Mac MP3 converter. It actually need 2 steps to convert your audio to MP3.
Step 1. Input Audio
Drag and drop the audio you want to convert to the program window and you will be prompted with a window with a file list and several output options. And here's our suggestions: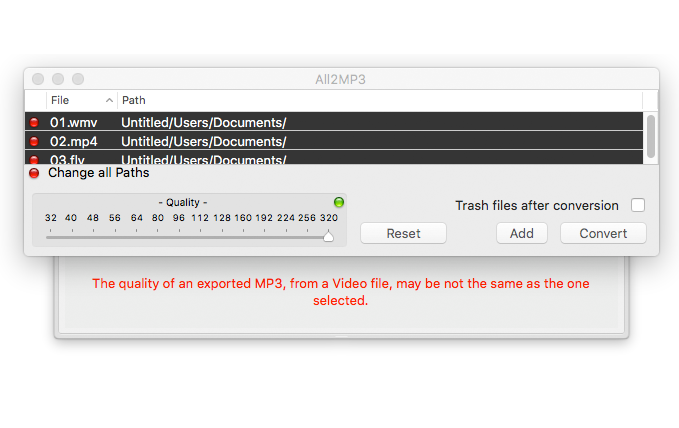 For average users who need a casual and fast conversion to get some playable MP3 files with "not bad" quality, SKIP the settings part ! The default settings will do and all you need to do is change the destination folder  via the "Change All Paths" button to output the converted audio files.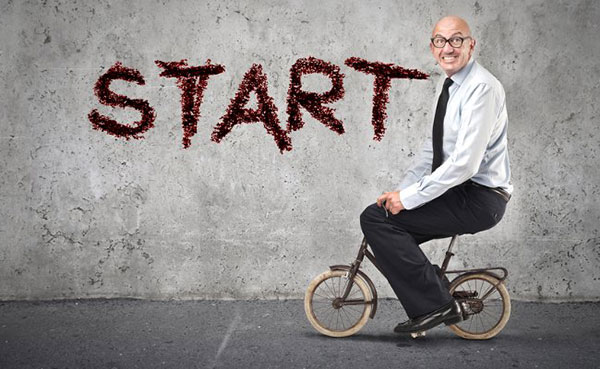 For experienced users who have specific needs in the quality, change the quality by dragging the slider on the "Quality" bar.  All2MP3 for Mac support bitrates between 32 Kbps and 320 Kbps.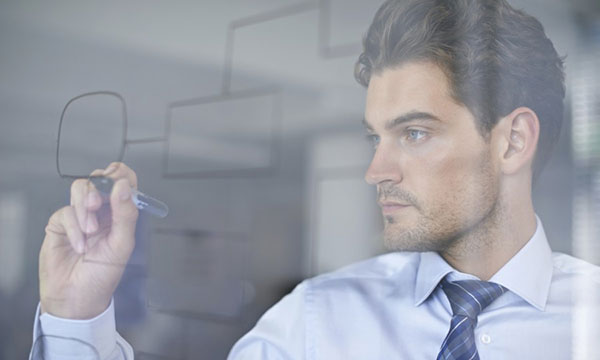 Step 2. Convert Audio to MP3
Hit the "Convert" button at the bottom to start conversion with our Mac MP3 converter and yes, it's done! All you need to do is wait now and if you input a single file, e.g., a 5-min song, it will be done in several seconds.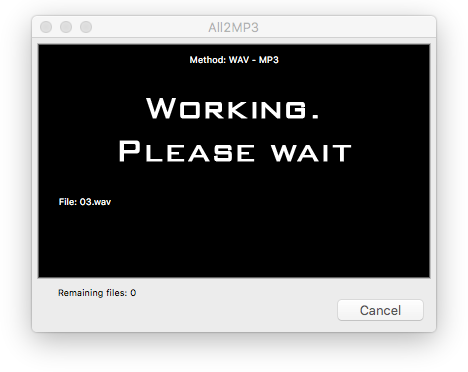 ---
Users' Questions about Mac MP3 Conversion (Q & A)
Q:
I'm trying to convert several of my albums in iTunes and the tracks are showing as AAC format in 128 Kbps. I need to convert these music to MP3 in the best possible quality, which is 320 Kbps. I'm a bit confused by the fact that the Kbps will be increased. Is this normal to happen when people convert AAC to MP3? Will I lose sound quality?
A:
No need to bother because once the audio files are in 128 Kbps, the sound quality won't get any better. That means raising 128 Kbps up to 320 Kbps won't do any good.
---
Q:
What can I do to save and MP3 to my Mac?
A:
To save MP3 on a Mac, press down the "Control" button while clicking the MP3 link and then choose "Download Linked File". Here is a much more detailed post about how to download MP3 files on Mac.
---
---
Q:
Why is MP3 much smaller than WAV or FLAC files?
A:
MP3 is a lossy format, which means it loses quality when you convert audio to MP3, the quality will be compressed and sound signals will be lost. Meanwhile, WAV is an uncompressed format and FLAC uses lossless compression. That's why FLAC is smaller than these 2 formats.
---
Q:
Am I able to play WAX file on my Mac? I'm looking for a tool to convert some .wax files to MP3 because these files are all I can get from a great site. I need them to create a listening quiz for my students in class but so far I haven't found a software or online service to do that.
A:
Usually, a WAV file is a metafile that points to another media file – that means you may not be able to play or convert WAX files directly. Some tools claim to be able to convert WAX format but you will not get a usable file if the source WAX file is a metafile.
---
Q:
Can I make MP3 smaller? I just got a song, that I want to use in a game of mine as BGM but it's too big for the game to use.
A:
Yes, you can convert MP3 on Mac to make it smaller. After you input your song into our Mac MP3 converter, you can see a "Quality" field at the left bottom of the prompt window. There is a bit rate slider there to adjust the output quality. If you want a smaller version of your song, just drag the slider to the left. Please notice that the smaller bit rate will reduce the file size, but the sound quality downgrade is inevitable. Please listen to the output MP3 to see if the quality meets your demand.
---
What You Can Do with Our Mac MP3 Converter
Now you've used All2MP3 for Mac, the best MP3 Converter Software for Mac to convert your audio to MP3, but it can also help you with various types of conversion, like:
Convert Audio to MP3 on Mac
Convert WMA to MP3 on Mac
Convert WAV to MP3 on Mac
Convert FLAC to MP3 on Mac
That's not all! All2MP3 for Mac supports VIDEO too:
Convert Video to MP3 on Mac
Convert MP4 to MP3 on Mac
Convert FLV to MP3 on Mac
Convert MOV to MP3 on Mac
---
Video Tutorial
How to Convert Audio to MP3 on Mac
Download Audio Converter for Mac for free to convert audio files on Mac!
---
How to Convert Video to MP3 on Mac
Download Audio Converter for Mac for free to convert video to MP3 on Mac!
---
How To Remove iTunes DRM For Free on Mac
Now you've have more than enough Mac MP3 converter software to do the conversion work for various usages. But what if you want to convert some DRM-protected music from iTunes? Can we even do that? Is is legal? There are ways to convert DRM music to MP3 and here's one.
If the tool in this video somehow does not work for your conversion, you can also try to record the music while it is being played. Here's an Mac audio recorder tool that can do this type of DRM audio recording. It may be a dumber way but it's the easiest way unless you can find a DRM convert that works.
---
Best Android Audio Converter Apps
Many of us are used to listening to music online now due to the decreasing cellular data price. We can have some music fun whenever and wherever there are mobile signals. However, mobile coverage is not as robust in rural areas and places where signals are somehow unavailable. In that case, you can't enjoy music unless you have these music downloaded on your phone.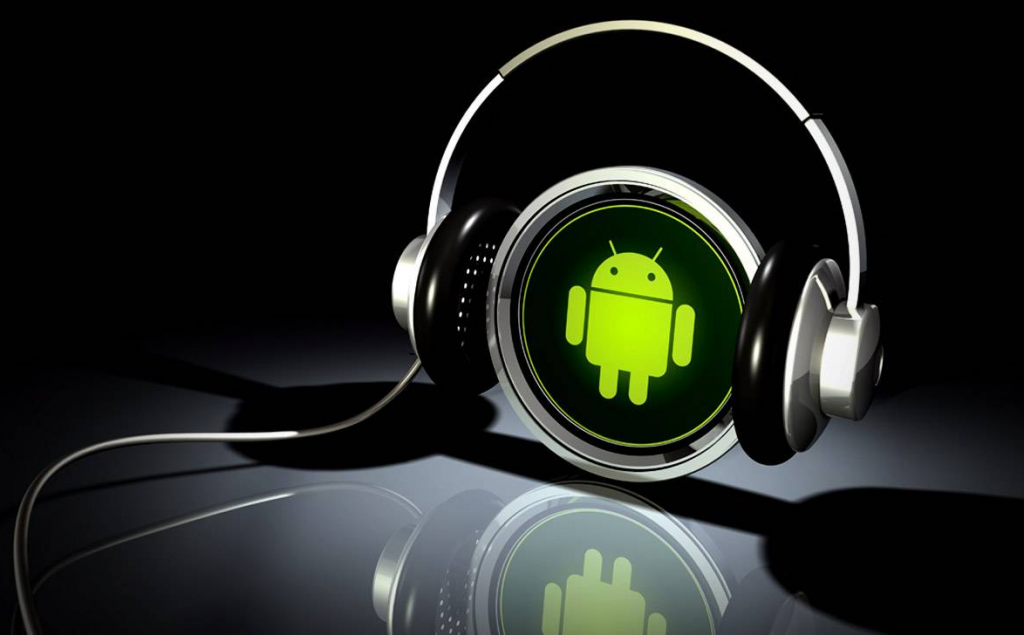 Sometimes you don't just download the music for listening: you may need to edit it, cut it or make ringtones from it. But as we know, smartphone apps don't support that many audio formats like the desktop software does. Usually, we need to convert the downloaded music to the target format so that you can use them in other mobile media processing apps. That's why you need an audio converter app on your phone. Here are several picks of great audio converter apps for Android. Just check them out before you make any careless decision.
---
MP3 Converter from Uplayer
MP3 Converter is a free Android audio converter app to convert MP3 files to other audio formats. It can also convert video to audio formats.
When you open the app, it shows you 4 buttons, which are Audio Converter, Video to Audio, Video Cutter and Audio Cutter. To convert the audio, just tap Audio Converter. After importing your MP3 track, you can tap the play button to listen to the track. Under the Format section, you can choose the output format between MP3, AAC, WMA, AC3, WAV and FLAC. Both VBR and CBR encoding are supported. You can change the output quality via three presets (min, med and max) but you can't change the detailed parameters. Finally, tap CONVERT to start conversion.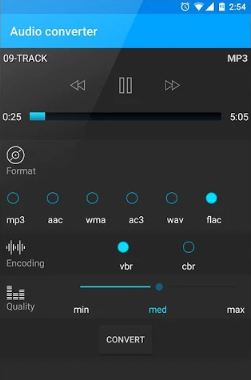 To convert video to audio, just tap the Video to Audio button. It works just like the audio converter but lacks some options: there is no video player and you can only output MP3 or AAC format.
In the Audio Cutter, you can perform audio cutting on a zoomable waveform. The Video Cutter works similarly. Both of the audio and video cutters provide players for preview and choosing the part you want.
MP3 Converter is a powerful yet easy audio converter for Android. It combines these tools so that you won't have to turn to other apps for help with some basic needs. If you just need a simple cutter, it even saves you some bucks.
---
M4a To Mp3 Converter from The AppGuru
This is a simple audio converter app designed to convert M4A to MP3, which means you can only import M4A audio and output MP3 audio while any other formats are not supported. It works for free but comes with ads. You can pay $2.99 to remove the ads. You can import and convert one file at a time.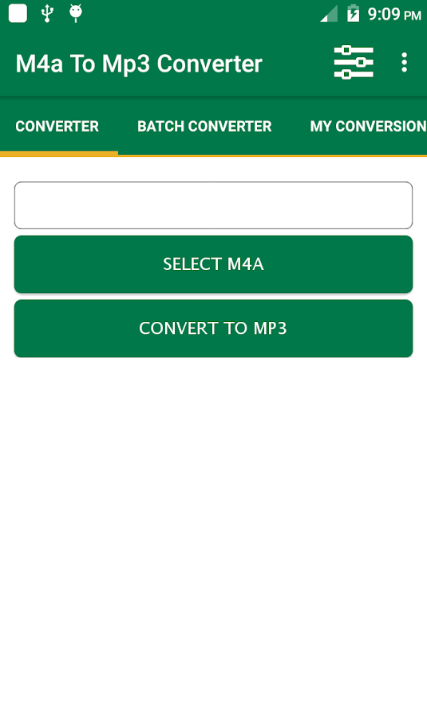 It allows you to set the audio bitrates ranging from 6 kbps to 320 kbps and it allows audio sampling rate between 32000 Hz and 192000 Hz. You can set the audio to be mono or stereo. The converted files will be saved in the Music folder.
---
Media Converter Pro from simonpham
Media Converter Pro (compatible with Android 4.1 and up) is a free and open-source audio converter app for Android integrated with FFmpeg encoding. It provides regular updates and supports more and more formats (currently supported output formats include MP3, AAC, FLAC, OGG, OPUS & MP4).
When you open the app, it shows you three buttons: Preset Commands, Job Manager and Settings. To convert your audio, tap Preset Commands; then, choose the audio files from the path (it will list the available tracks on your device according to the path you choose); choose the output path and set the output filename. Then your audio will be converted quickly. There is a job manager to help you manage your conversion, providing info of status, the progress percentage, file size, name, format, location, etc.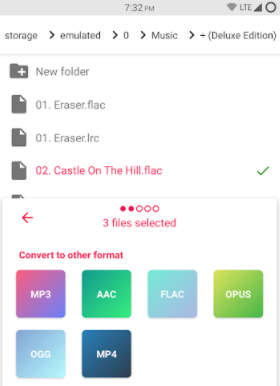 You can add multiple audio files to convert, which is more efficient than many other audio converter apps that can only handle a single file at a time. You can also input video to convert to MP4 format. Before conversion, you can choose the encoder from a dropdown menu. There is a slider on which you can change the output quality by dragging the slider to specify the bitrates. You can tick the "Trim audio silence" box if you need to remove the silence at the start or end of your audio files. You can also share the files.
Media Converter Pro is a very simple and fast Android audio converter which handles audio conversion (IMO, especially FLAC to MP3) well. The frequent updates may bring some bugs sometimes but the developer seems positive on interaction with users and solving the issues.
---
Audio Converter from Weeny Software
Audio Converter is a super easy free audio converter, merger and cutter app for Android. It has a familiar UI that every experienced user will find comfortable with: everything is in the right place where it should be. The most surprising feature is that it can convert audio files offline or online – its developer, Weeny Software's Aconvert.com, is providing online media and document conversion service and the audio converter app can make use of their server to convert your audio files, which means it won't have to occupy your phone CPU. You can choose to upload the audio files to their converter engine to convert and then download the converted files.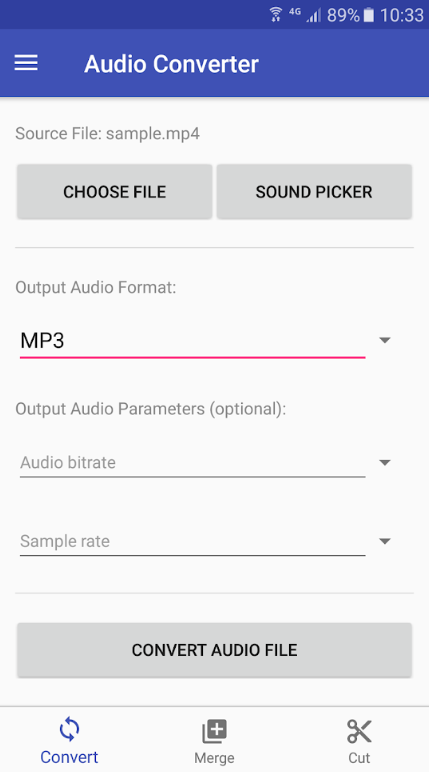 When you open the app, tap CHOOSE File to choose the audio file on your phone in a file browser; you can also use the SOUND PICKER to choose the best part of your audio to convert. Then, in the menus below, you can choose the output format and set the audio parameters including bitrate and sample rate. After that, just tap Convert to start conversion. You can't change the output location so you may have to dig the converted files out.
It supports video to audio conversion. There are also an audio merger and audio cutter. It's quite a compact audio toolkit to deal with normal audio processing needs.